A bill to protect the right of law-abiding citizens to transport knives interstate, notwithstanding a patchwork of local and State prohibitions.
The Senate Committee on Commerce, Science and Transportation passed the Interstate Transport Act of 2019 on April 3rd without any amendments.  S. 542 (2019-S. 542) is the same language to protect knife owners while traveling that passed the U.S. Senate last fall by Unanimous Consent.
"Obtaining a protection for law-abiding knife travelers has been a long-term goal and initiative of the American Knife & Tool Institute," said CJ Buck, AKTI President.  "The patchwork of knife laws throughout the United States in localities and states is not only very confusing, but difficult for individuals to find, understand and abide by.  We have been working with Senator Mike Enzi (R-WY) and Senator Ron Wyden (D-OR) since 2013 to pass an enhanced federal protection for knife owners that they have never had before, something gun owners have enjoyed since 1986.  It was a logical initiative for AKTI to support and we were very grateful when we found Senate sponsors."
The Interstate Transport Act will keep knife owners traveling from one state (point A) where their knife is legal to possess and going to another state (point B) where it is also legal from being charged with an illegal knife in jurisdictions (cities, counties and other states) that have different laws, provided the knife is kept in a locked container.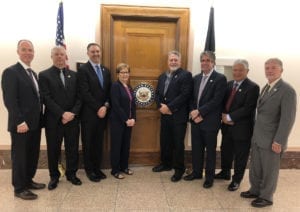 This legislative initiative is an important key to protecting everyone who travels across different states with knives.  Many law-abiding electricians, construction workers, fishermen, hunters, campers and others cross state lines daily and may unknowingly be a victim of breaking a knife law and face serious criminal charges for a knife that is legal where they live.
"We thank the Senate Commerce Committee for moving S. 542 swiftly through the legislative process again this year," said Jan Billeb, AKTI Executive Director.  "We are hopeful of accomplishing this important protection for knife users so they have the confidence to take and use their knives while traveling."
Members of the AKTI Board of Regents were in Washington, D.C., the first week of April for Capitol Hill meetings and were able to attend the Senate Commerce Committee meeting. (As always, AKTI members pay all their own expenses for AKTI meetings or events.)  
ITA was sponsored by Senator Mike Enzi (R-WY), with bipartisan cosponsors Senator Ron Wyden (D-OR), Senator James Risch (R-ID), Senator Martin Heinrich (D-NM), Senator Mike Crapo (R-ID), Senator Jeff Merkley (D-OR), and Senator,  and Chair of the Commerce Committee, Joe Manchin (D-WV).
You can read more about the Interstate Transport Act and how it protects individuals here.
To get updates on the progress of ITA, sign up for our email news.
Support our efforts by joining today!
Contribute to AKTI's Legislative Efforts to clarify and remove knife laws.
To learn more about this bill's history:
Enzi, Wyden Introduce Bill to Protect Law-Abiding Knife Owners
Senate Passes ITA, House Stalls
Federal Protection for Knife Owners Gaining Momentum
Senate Commerce Committee Passes ITA
AKTI Announces Re-Introduction of Interstate Transport Act
AKTI Presents "Common Sense Award" to Senators Mike Enzi and Ron Wyden
AKTI Works on Interstate Transport of Knives Since 2013