Be Safe. Not Sorry
Do NOT buy counterfeit knives!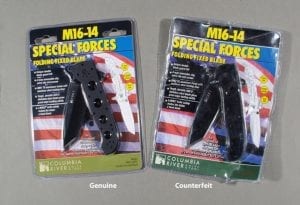 Counterfeit Knives Do Damage
Inferior quality means poor performance
Defective knives may not hold the sharpening edge
May cause injuries
Will not have a valid warranty
No way to get resolution to claims or for problems
Hurt the reputation of legitimate brands
Take income away from U.S. businesses
Counterfeiters have been known to support terrorist activities
Be Safe
Buy your knife from a reputable source
Compare prices
Get a satisfaction guaranteed return policy
Research the brand – know the product, the packaging and the warranty policy
Buyer Beware!
If it seems too good to be true, it probably is not worth the price!  
The only way to ensure that you are buying an authentic product is to purchase it directly from the company or through an authorized reseller. The fact that a product is being sold on eBay or other online sites is in no way a guarantee that it is a genuine, authorized product.
Questions?  Contact the appropriate person at our member companies.