The American Knife & Tool Institute Supports Knife Preemption Laws to Protect Law-Abiding Citizens
Summary: Some cities, municipalities, counties, and other local governments have enacted their own law banning the sale, possession, manufacture, or carry of certain types of knives. Some of these laws have been in place for several years, and perhaps not enforced, and might include archaic terms (Refer to AKTI's Approved Definitions), blade length, or other prohibitions that are more significant restrictions than the majority of the rest of the state.
It is the American Knife & Tool Institute's position that knife owners should not be expected to know and understand knife laws in multiple local jurisdictions where they may travel within their home state for work or recreation with their knife or edged tools.  It is unreasonable to expect individuals to research a patchwork of laws when carrying a valuable tool during everyday travel.
Preemption (statewide application and uniformity): Enacting knife preemption laws makes the state the sole authority on knife laws. No local government or political entity may enact any law more restrictive than state law.  The statewide uniformity of laws is not a new concept or initiative.  It has been used in other circumstances, such as firearms, ammunition, etc., to protect individuals from a myriad of laws.
Legislation: The majority of states have firearms preemption laws enacted due to the National Rifle Association's campaign to ensure consistency of laws for gun owners. We suggest that legislators include knives into these preemption laws, where appropriate. Legislators are encouraged to contact the American Knife & Tool Institute for assistance with wording or advice on knife legislation.
We proactively introduce and support knife preemption laws as essential to improving knife laws and protecting individuals.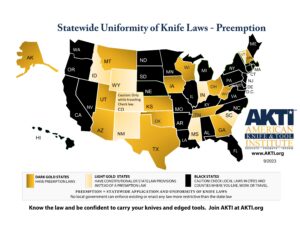 These states have knife preemption laws enacted:
Alaska  (since 2013)
Arizona  (since 2010)
Georgia  (since 2012)
Iowa (included in firearms and other weapons definition)
Kansas  (since 2013)
Montana (effective April 3, 2019)
New Hampshire  (since 2011)
Ohio (effective Sept. 13, 2022)
Oklahoma  (since 2015)
Tennessee  (since 2013)
Texas  (since 2015)
Utah  (since 2011)
West Virginia (effective May 31, 2020)
Wisconsin  (since 2016)
In these states, knife preemption is not necessary due to the nature of their state law or constitution, or there is other protection:
Colorado – Limited Preemption  (No statewide preemption law; however, Section 18-12-105.6 offers limited protection to knife owners by providing that state law prevails when someone is traveling in a private vehicle or other private means of transportation.  However, if you are not traveling in a private vehicle, local laws may apply.)
Idaho
Mississippi
New Mexico
South Carolina
Vermont
Wyoming