Description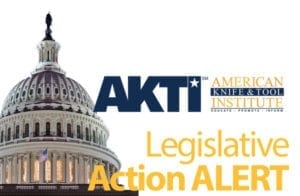 The costs involved in monitoring legislation and regulations, researching, hiring lobbyists and advocating for legislative changes are expensive. We can only continue with your help. Support AKTI with an additional contribution to our legislative fund.
Thank you for your contribution to our efforts. Your support will be used efficiently and effectively to fight restrictive knife laws and educate law enforcement and legislators.
Contributions or non-dues gifts to the American Knife and Tool Institute, Inc. (a 501(c)(6) nonprofit) association are not deductible as charitable contributions for income tax purposes. However, they may be deductible as ordinary and necessary business expenses subject to restrictions imposed as the result of legislative activities. Please consult with your tax advisor.