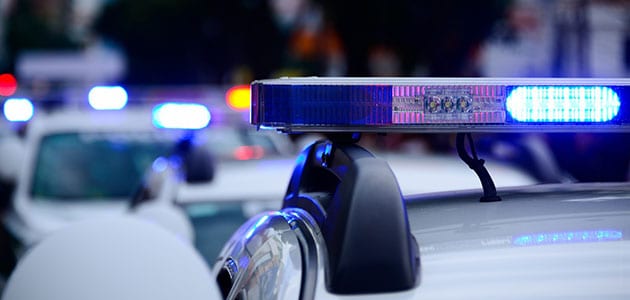 If you have an interaction with law enforcement while carrying your knife, here are a few things to remember.  This information is presented in stages based on where you are in the encounter with the law enforcement officer(s).   Keep a few things in mind during each stage and you will minimize problems.
The information provided below could not be nor is it intended to be legal advice, but practical tips for knife owners who have police contact. If you are concerned about specifics or this situation arises, consult a lawyer in your local jurisdiction.
Stage 1:  Law Enforcement Approaching
As the officer approaches, be calm, non-confrontational, and responsive to his or her requests.  Do not try to hide or dispose of items.  Never physically engage the officer or make threatening statements.  Keep your hands visible and do not make sudden movements or fidget.

Stage 2:  Interaction with Law Enforcement
Once engaged by the officer, you should immediately ask if you are free to leave.  If the officer says yes, leave immediately.  If the officer says no, tell the officer that you will comply with his requests but only after you have consulted with a lawyer.
Stage 3:  Arrest or Seizure
If you not free to leave assert your Miranda rights as soon as you can.  Tell the police the following:
I want a lawyer immediately.
I do not want to talk without my lawyer present.
I do not want to waive any rights.
Do not ask me to waive my rights at a later time.
I do not consent to any searches
Assert your right to a lawyer first and repeatedly.  It is the strongest Miranda right.
Stage 4:  Booking
After you are arrested you will be booked or processed.  You can give the police answers to these: your name, address, and telephone number.  Do not give them any other information.  Do not consent to any searches.  Assert your Miranda rights again.  Do not provide any passwords to digital devices or keys to physical items.  In the event the police do not agree to release you, ask for your bail to be set as soon as possible.
Stage 5:  Post-Booking Release
Once you are bailed out, hire an attorney.  Then begin writing down what happened, who witnessed what happened, witness contact information, and whether the encounter was recorded.  Do not discuss your case with anyone other than your attorney and certainly not on social media.
A few other considerations:
If you are arrested at home do not linger and do not consent to any searches.
If you are arrested in a car do not linger or consent to searches.
If you are arrested while away from your car, do not return or volunteer information about it, including its location.
BOTTOM LINE:
1.  Ask if you are free to leave and do so if you can.
2.  Assert your Miranda rights early and often.
3.  Hire a lawyer.
What if Your Knife is Confiscated?
This article was written by Anthony Sculimbrene, Esq., a New Hampshire criminal defense attorney who worked for 12 years for the New Hampshire Public Defender and has extensive trial experience.  He is an avid outdoorsman, blogger and contributes legal expertise to the American Knife & Tool Institute compliments of Microtech.