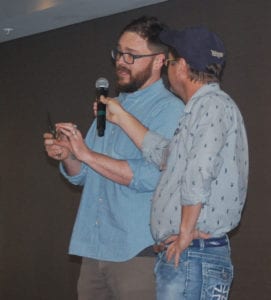 We're excited to announce that the 2020 Free to Carry fundraiser will be an online auction.  It will begin on August 1st and culminate on August 9th with the conclusion of Blade Show 2020.
You can preview amazing custom knives, factory limited editions, a get-away and more – and register to bid at 2020 FREE TO CARRY or www.auctria.com/auction/freetocarry
Would you like to contribute production knives, tools, and gear, factory tours trips or other items?  Fill out the form available here – https://bit.ly/3cpUBwd

If you are a custom knifemaker who would like to donate a knife, please fill out this form – https://bit.ly/2LNME8j

Additional Sponsorships are available.  If you would like to be a Sponsor this year, email us.
Thank you to everyone who has supported us in the past!  We are looking forward to having great auction items
Event Co-Chairs:
Mark Schreiber, President, CRKT
Joe Mc Swiney, CEO, SOG
Thank You to these 2020 Sponsors…  CRKT, American Outdoor Brands, W.R. Case, Chris Reeve Knives, SOG, J Harding Associates, The Evans Group
Donations to Support AKTI and our efforts to ensure you are FREE TO CARRY the knife of your choice by supporting our Legislative Initiatives. 
Check out the 2019 event.