FUNDRAISER AT THE BLADE SHOW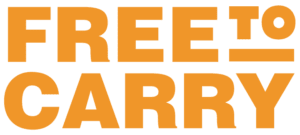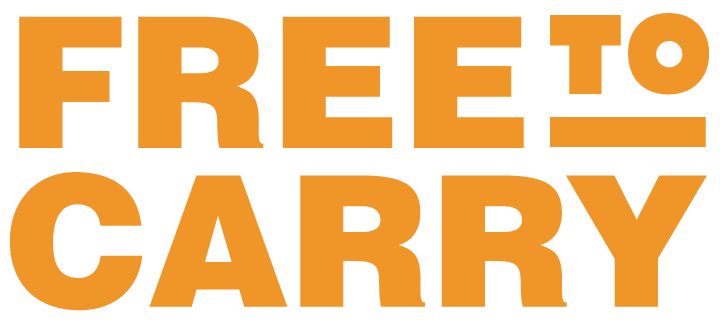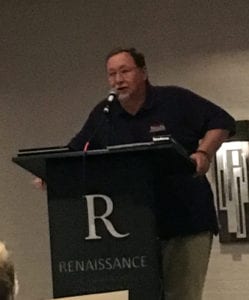 Join us for the 2018 Free to Carry Event on June 1st at 7 pm – 9:30 pm in Atlanta at the Renaisssance Waverly Hotel!
Friday, June 2, 2017 – Those that joined us had a great evening with their favorite custom knifemakers and knife company owners and their staff during the AKTI's "Free to Carry" Fundraiser at the Blade Show.  The evening was filled with food, drinks, silent and live auctions, prizes and good times. Custom makers were offered the option to donate 50% to a charity of their choice, but all chose to support the American Knife & Tool Institute and our legislative efforts.
Unique one-of-a-kind knives were donated by Tony Bose, Lucas Burnley, T.W. Downing, Alan Folts, D'Holder, Steve Jernigan, Russ Kommer, Marfione Custom Knives, Ken Onion, Jeff Park, Ken Steigerwalt, Brian Tighe, Ed Van Hoy, Tom Veff, Jesper Voxnaes, and Brad Zinker
There were generous donations from BTI Tools, Benchmade, Boker USA, Browning, Buck Knives, Camillus, Chris Reeve Knives, CRKT, Kai USA/Zero Tolerance, Leatherman, Ontario Knife Company, SOG, Spyderco and W.R. Case & Sons Cutlery.
A special thank you to Bruce Voyles for donating his time and services to be our auctioneer again and to Rod Bremer, CRKT, who served as chair of the event.
Thank You to Our Sponsors:  W.R. Case & CRKT, Platinum; Boker, Diamond; Buck Knives, Gold
2017 Donations to Support AKTI and our efforts to ensure you are FREE TO CARRY the knife of your choice.  Be sure to thank these makers and companies for their 
---
Slackers:  CPM 154, IKBS ball bearing pivot, 6AL4C titanium handles.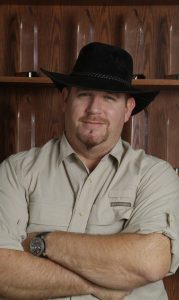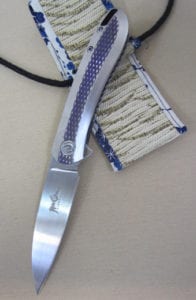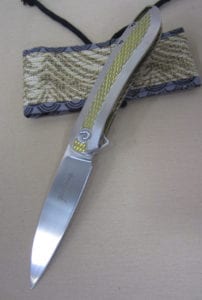 About Ken:  Ken is the real deal.  Inducted into the Blade Magazine Hall of Fame in 2008, he is recognized as one of the most innovative and successful knife designers of our time.  In 1996 he created the first commercially successful assisted opening mechanism that many knives use today.
---
Downing Upswept Hunter:  3-7/8″ Mirror polished ATS-34 blade with ivory handle and scrimshaw scrollwork. Includes tooled leather shealth.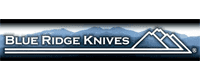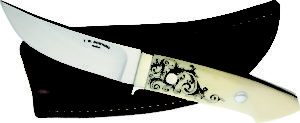 Donated by Blue Ridge Knives
About Tom:  Knifemakers Guild member since 1982 from Cuyahoga Falls, Ohio. I made my first knife in 1979.  I have enjoyed making knives for over 30 years and has found it rewarding in many ways. I have been fortunate tomeet many fine people from all over the world, both makers and just folks with a common interest in handmade knives. Originally, my goal was to be able to make a custom knife as ell as the known makers of the time. It was a challenge then, and of course, it still is today. I try to put my bset work into each piece, to make each piece unique and to create a knife that satisfies the imagination of each customers.
---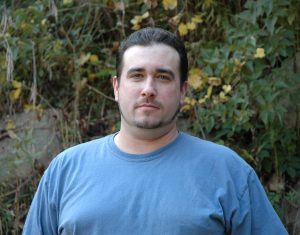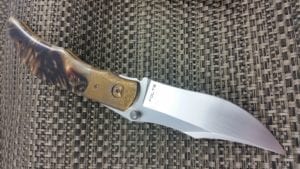 Folts Fancy Sultan – 3.8″ blade of CPM 154cm, 58-60HRC. Handle of custom Tim Kipps acrylic, zirconium backspacer with crystaline texturing.
About Alan:  When it comes to knives, Alan knows all about giving back to the people. He climbed the ranks in college by entering knives in art shows. Since then he's been adamant about teaching and passing on the skills of custom knife making to others. He specializes in one-of-a-kind fixed blades that have great ergonomics and sleek futuristic designs.
---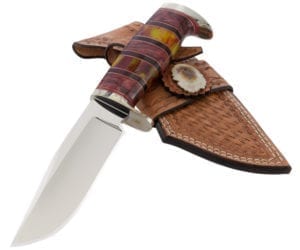 D'Holder Hunter:  440C mirror polish 5-1/2″ blade, hand-tooled woven leather shealth, nickel silver pommel-redmaple handle, blood amber, African backwood spacers.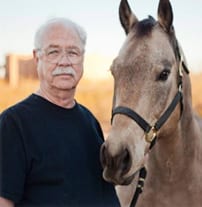 About D':  "For many years, I had done custom gun work as a hobby, and was asked to make a knife for a gentleman for whom I had built a custom rifle. The rest is history, I guess, since I haven't built a gun since I sold that first knife. The price was $8. That first knife was built in 1966 in Denver, CO…My specialty is fancy using knives with an occasional bowie thrown in for balance. I believe that the important aspects of knifemaking are craftsmanship, top drawer materials, and a steadfast work ethic…Over the years, my shop has been open to almost anyone who wanted to take the time to come by. Currently, over 75 makers of custom knives give me credit for strong influence on their work. It is my opinion that I got far more from them, than they ever got from me."
---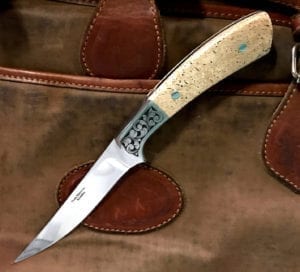 Kommer Hunter:  4.25″ length blade of 440C mirror polished. The handle is fossiized walrus jaw bone.  This exquisite hunter from Russ Kommer eatures a full tapered tang, 416 stainless steel bolsters with dovetails and Corby bolts for the scale.  The bolsters feature fine engraving by David Sheenan.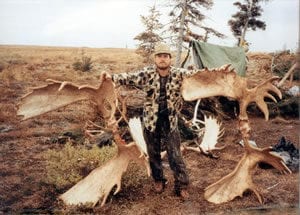 About Russ:  To say Russ is an avid outdoorsman is a bit of an understatement.  A professional fishing and hunting guide, he started making knives when one of his clients brought him a custom knife and dressed the entire moose – without sharpening it.  Since then he's made it his duty to build the kind of blades only he would use.
---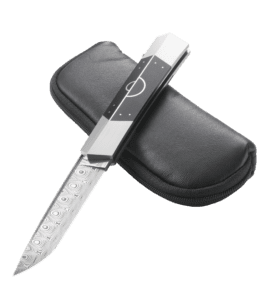 "Art Deco" Folder: 3.25″ blade of Damasteel "Twist" steel. Pen shell handle with inlaid silver and 14k gold.

About Ken:  Ever since he was a kid, if he needed a knife, Ken just made his own. His first one was built from a sawblade at the kitchen table using a vise, files and sandpaper. Needless to say, he's gone on to create more highly designed knives that have won him 11 BLADE Show awards in 7 consecutive years, including two best folders awards and one best folder of the year.  Ken also is a prolifiic inventor with his name on numerous utility patents.
---
Two Large Tighe Tac Twos:  3-7/8″ inch Compound ground blades RWL 34,  Drop Point and Tanto Blades, Button Lock Flippers, Anodized and Stone Washed Titanium Scales on handles, STBS bearing system and all the other great features included in the CRKT version.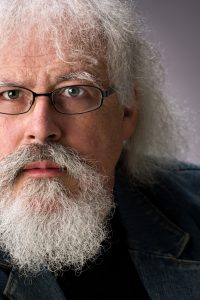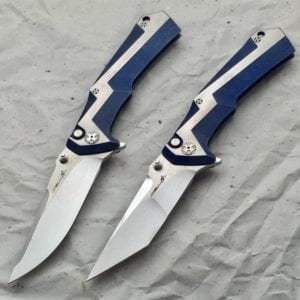 About Brian:  There are edged artisans…and then there's Brian Tighe.  Canadian "Renaissance Man," he is practiced in the art of metallurgy, photography and tool and die making. It's what helped him make the leap from a creator of high quality folding knives into the top 10 elite.
---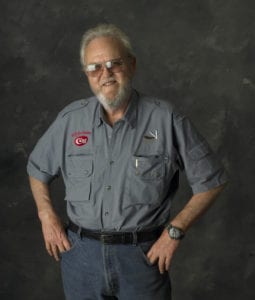 Bose Eureka Jack: Tony's standard quote applies – "I don't design knives, I bring old knies back from the grave." Tony considers the Eureka Jack to be the most elegant of all Jack knives. Extremely rare today, the pattern dates back to the great makers of Sheffield, England.  Tony added the Wharncliff pen blade to make the knife more versatile.  The Eureka Jack is 3-5/8″ closed and 3.0 oz. The Spear blade is 2.75″ with the Warncliff blade 1.95″. The Spear blade is made from 154CM and features a glazed finish with a cut swedge and French (long pull) nail mark. The Warncliff Pen Blade is also made from 154CM, features a glazed finish with a common swedge and standard nail mark. The backsprings are 154CM, with an extension spring used for the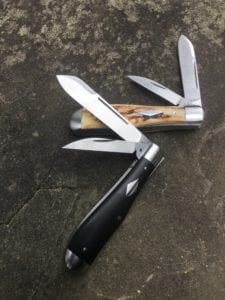 Wharncliffe blade. The smooth ebony handle features a pinned stainless diamond sheild, glazed finish stainless bolsters and stainless liners milled for improved blade fall.  All featues that Tony Bose knives are famous for.
The Companion Case/Bose Eureka Jack was crafted by longtime Case artisan Paul Lipps. A one-of-a-kind, it features genuine stag handles, 154CM Spear and Wharncliffe blades, milled liners, stainless bolsters and pinned shield.
About Tony: Tony Bose fashioned his first knife in 1972 from a power hack  saw blade he'd received from a friend. He'd work to perfect his skills for years before pursuing a  fulltime custom knife making career in 1990. Tony's impact was quickly felt across the industry,  winning Best Folding Knife Awards from the 1994 East Coast Custom Knife Show and the 1995  Blade Show with his own five­bladed Stockman designs. Today, Tony's work continues as a  member of the coveted Knifemaker's Guild, blending vintage patterns with modern steel blades,  stainless steel bolsters and springs to an unmistakable fit and finish.  His work attracts  enthusiasts from around the world who often wait years for their knives to be completed to his  satisfaction.  His knife making talent accentuates his true passion for his craft and his reputation  as a trusted businessperson, spirited philanthropist, devoted husband and father. Tony's son,  Reese, is also an accomplished custom maker.  The two carry on their knife making tradition  from their workshop in Shelburn, Indiana.
---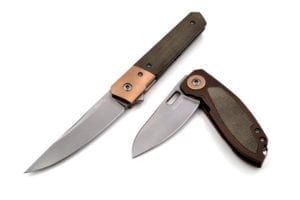 Burnley M69:  Framelock folder, 6.5″ OAL, with caged bearings.  3″ CPM154 blade with Zirwash finish, 59HRC. The handle is a titanium frame with green canvas micarts inlay and bronze pivot rings with titanium hardware. Includes BRNLY brand display pouch.
The M69 came out of a 365 sketch project (which, of course, has taken me well over a year). Every day I try to do a new knife sketch. Sometimes I come up with models that I plan to build, and other times my sketches are just exercises in design. The goal with the #BRNLY365 project was to give me the chance to continue being creative even when I was busy with production.
The M69 (my 69th sketch in the #BRNLY365 series) is an evolution of the Squid–a small EDC folder that's been a staple of my custom line and in production with CRKT since 2015. I wanted to keep some of the same feel and design language while carrying it over into a slightly larger, task-oriented folder.
Burnley Kwaiken:  Liner Lock Flipper Folder, 8.5″ OAL, with caged bearings. 3.5″ CPM 154 blade Zirwash finish, 59HRC.  Green Canvas Micarta; Bronze Bolsters; Titanium Liners; Titanium Hardware.  Includes BRNLY Brand Display Pouch.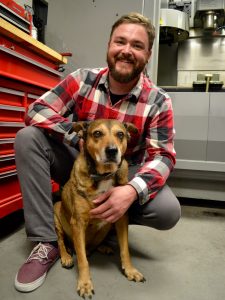 The Kwaiken Flipper was based off of my Kwaiken Classic–a cord-wrapped fixed blade. The Kwaiken Classic was a model that I designed to carry myself. It was almost entirely purpose driven with a useful blade length and shape, a secure neutral handle, and a flexible and effective carry system.
In 2009, Böker asked if I would design a folding knife based off of the Kwaiken Classic. While each model I make has its own following, the Kwaiken Flipper seems to be consistently popular across the board. If I had to hazard a guess as to why it has done so well, I would say it boils down to design simplicity.
About Lucas:  Lucas Burnley is founder and principal of Burnley Knives. For him, knives are a personal expression of independence, self-reliance and fun – ideas and philosophies he began formulating as a knife-toting 7-year old. He designs primarily in a style that he considers to be "contemporary tactical," blending  clean modern lines with tactical origins. Above all, he believes that utility shouldn't come at the cost of beauty. He loves many aspects of the craft, but is happiest conceptualizing and prototyping new ideas. Along with his custom line, Lucas works closely with production companies Böker and CRKT, making his designs available to a wider audience.
---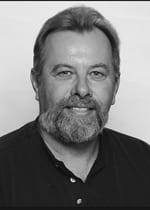 Appalachian Hunter:  6-3/4″ overall length, 3″ blade of stainless steel ladder pattern Damascus. Handle is 416 stainless steel bolsters engraved by Ed Van Hoy with mammoth ivory bark, tan with crackling. Includes brown leather fitted sheath.
About Ed:  Looking at the shelves in his shop, you'd almost think Ed specializes in awards rather than knives. But that just comes with the territory when you are pushing the limits with your designs. Just a few of his many highlights are: the A.G. Russell Most Innovative Folding Knife, Most High Tech Design-S.I.C.A.C, Best Fantasy Knife in the Ohio Valley Knife Show 2005, and Knife of the Year at the Blade Show 2004. Ed is living proof that if you love what you do, the rest comes easy.
---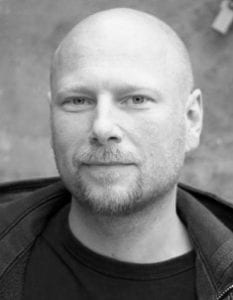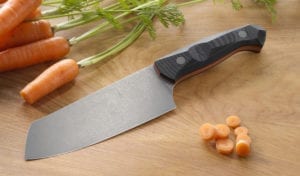 Santoku Noir:  6″ Blade of 12C27 Sandwick. Handle made from single layered carbon fiber and orange G10.  "The Santoku is my favorite kitchen knife both to make and to use. The kind of tool you simply 'melt together' with when you use it for a while."
About Jesper:  When Jesper needs to test a design, he only has to step into his own backyard. The harsh elements and conditions of the fjords and forest in his native Denmark do the rest. When he ws starting out no one was making the kind of knives he wanted to design so he learned by trial and error. Apparently his efforts paid off give his IF Award in 2013 for one of the Top European Designs.
---
Brad Zinker
Zinker Custom Urban Trapper: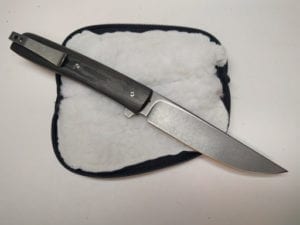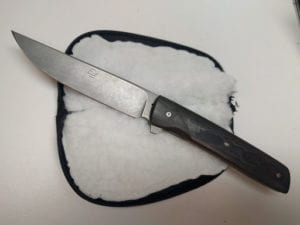 Liner lock flipper, stonewashed CP154 RC61.  Woodgrain fiber.
This design was inspired by the trapper Brad carried in his youth.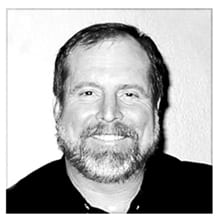 About Brad:  Brad Zinker is a custom knifemaker from Florida and voting member of the Knifemakers Guild. He makes some of the thinnest knives available and has a couple models currently in production with Boker. They are truly unique knives in the industry and the quality is second to none.
---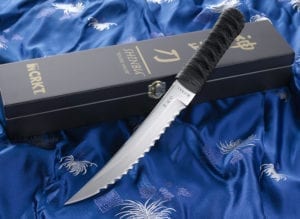 Customized Williams Shinbu:  Shinbu designed by James Williams.  9.25″ blade of YK30, high mirror polish, HRC 57-59.  Custom installed 15 (3/4″) Veff Serrations with highly polished, surgically sharp, Conve'ffd Edge.  Engraved with Tom's name and the date that he embellished the knife.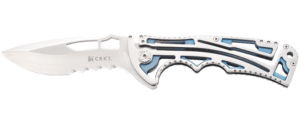 Customized Nirk Tighe:  Brian Tighe Design.  3.875″ blade of AUS8, high mirror polish, HRC 58-59. Handle is 420J2 stainless with Tinitride accents.  Custom installed 4 (3/4) Veff Serrations with highly polished, surgically sharp, Conve'ffd Edge.  Chrome polished blade spine, hand filed half-round jimping throughout the entire border of the knife scales.  Engraved with Tom's name and the date that he embellished the knife.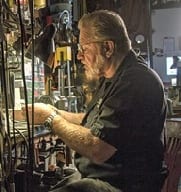 About Tom:  Without Tom many would be walking around with dull blades. The Edgeologist, as he is commonly known, began sharpening knives in an industry that demands it: meat cutting.  It wasn't long before he started applying his techniques to helpothers keep their blades sharp with his Veff Sharp Tools.  Many CRKT knives are also indebted to Tom for is original Veff Serrations and the Beff Flat Top Serrations which have proven to be the most efficient serration patterns to date.
---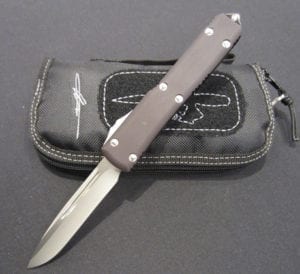 Ultratech:  Designed by Tony Marfione.  Out the front, two-tone double vapor blast blade finish, M390 blade steel, custom hollow ground blade by Tony, Mil-Spec anondized alloy handles.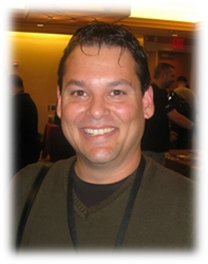 About Tony:  In 1994, just a year after the first prototypes were created in Anthony and Susan Marfione's apartment, the release of the UDT marked the official beginning of Microtech. The company began renting a building in Vero Beach, Florida, which quickly expanded to nearby empty buildings as the demand for a larger facility became apparent. Since then, Microtech has carved itself a place in history by building a long-standing tradition of innovation and quality that leaves an impression on its customers.
---
Steve Jernigan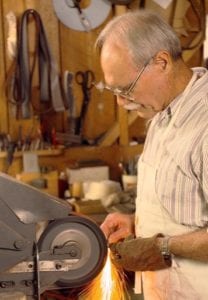 ASP Custom Ser. #62:  12-c-27 Sanvic blade steel, titanium liners and pocket clip. Black checkered G10 handle scales. Engraved scale – Amerian Knife and Tool Institute.
About Steve:  For as long as I can remember, I've had a knife permanently attached to my hand.  Growing up in Florida, I'd use it for hunting, fishing, scuba diving, spearfishing and underwater salvage. So it only made perfect sense that I started designing knives on my own.  Special note about Steve – He was AKTI's first individual member back in 1997!
---
Jeff Park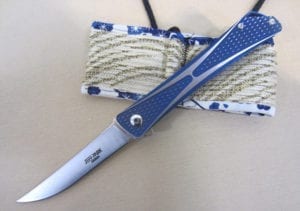 Crossbones:  CPM 154 blade steel, 6AL4V titantium handles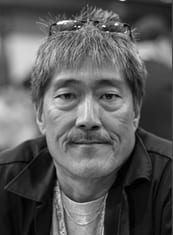 About Jeff:  One fateful day in 2005, I walked into Ken Onion's shop in Kaneokhi, Hawaii, and never left.  Well, that's not entirely true, but he's certainly and an impact as a world-class knifemaker and I've learned a thing or two along the way.  I'm a detail oriented guy, and by that I mean I'm an absolute perfectionist.  I hope it shows in my designs.
---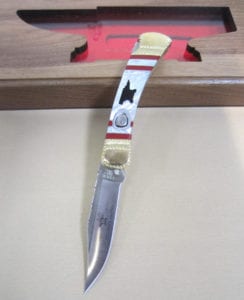 Buck 110 Inspiration Pained Pony:  Inspiration for this knife came from Painted Pony's special relationship with the Buck Family.  Buck 110 Auto with white pearl, red coral and jett onyx handle with a beautiful wooden case.
---
---
Portraits of Courage Signed Book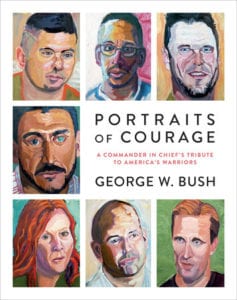 A VIBRANT COLLECTION OF OIL PAINTINGS AND STORIES BY PRESIDENT GEORGE W. BUSH HONORING THE SACRIFICE AND COURAGE OF AMERICA'S MILITARY VETERANS.  Signed by Special Forces Michael "Rod" Rodriguez and Jeremy James Valdez who attended the event and spoke briefly.
Donated by CRKT
---
Gerber G1-001 Series – Propel Auto Custom


Special donation by Gerber of proceeds from newly introduced G1 Series.  All upgrades on the G1-001 were meticulously considered, sourcing first-class materials and leveraging the master craftsmanship of the Portland, Oregon manufacturing facility. Each of the 20 hand built knives underwent a laborious 9 stage process, accumulating upwards of 60 hours each in production, processing, and assembly.  Read more
---
CRKT Ken Onion Mongrel Prototypes
Four special knives donated by CRKT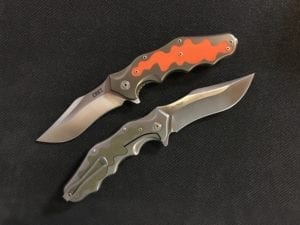 Mongrel Prototypes by Ken Onion:  Two of 10 prototypes made for customer consideration, only 4 remain.  Sleipner steel by Uddehorlm HRC 60-61. 6AL4V titanium handle with G10 inlays and IKBS bearings. Manufactured by Gianni Paletta, Lion Steel.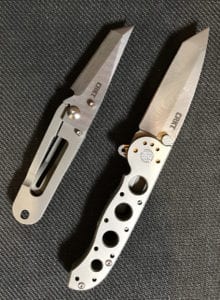 M16-12 Kit Carson Design and KISS Ed Halligan Design:  Damasteel blades. M16-02 is 3-1/8″ blade length. KISS 5500 has a 2-1/8″ blade. Hands are bead blast 6Al4V titanium.
These knives were made to commemorate two of CRKT's very early custom knifemaker designer friends. Both Kit Carson and Ed Hilligan left us less than a month apart in the Fall of 2014.  It ws a tough time for us at CRKT.  Both the KISS and he M16 series truly identify CRKT and have become iconic figures in the production knife world KISS and the M16 series truly idetify CRKT and have become iconic figures in the production knife world.  Both models are limited to 200 pieces.
---
Ontario RAT 3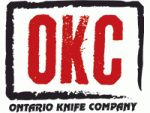 Donated by Ontario Knife Company

RAT 3 Mod Limited Edition:  Fixed blade hunter with overall length of 7.5 inches. Satin D2 58-60 HRC steel blade with walnut handle. Leather Scandinavian style pouch.  OKC created a very limited run of 300 units of high qualtiy, upgraded variants on their top-selling RAT 3 design.
---

Donated by Camillus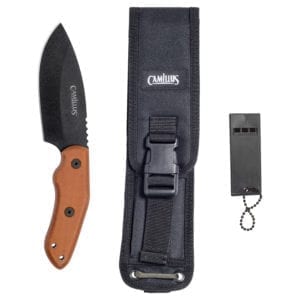 CK9:  4-1/2″ Blade 1095 High Carbon Steel with Black Traction Coating. Handle is tan canvas micarta. Ballistic nylon sheath that includes a survival whistle.  Made in America.
---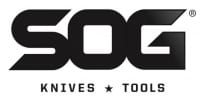 Donated by SOG

Sog Pillar Engraved by Spencer Frazer.
The U.S.A-made Pillar is full-equiopped iwth a full tang CPM S35VN steel blade with a stone wash and machine ground finish, canvas Micarta handle, and Kydex sheath with an adjustable, low-profile, locking mount. This workhorse fixed blade is built to handle any task. The canvas Micarta handle offers superior grip in wet or dry conditions and looks better the more it is used! This one is extra special with engraving by SOG's designer Spencer Frazer.
---
BTI Tools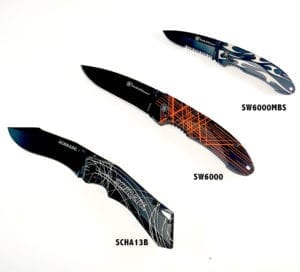 Donated three prototype knives – Scha13B, SW6000B, SW600MBS.  These designs were never produced.  Blade materials are AUS-8, 4034, and 4034, respectively.
---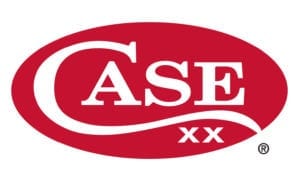 Four knives donated by W.R. Case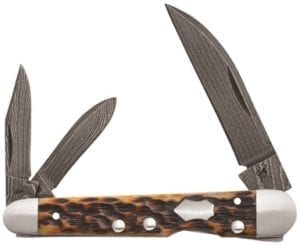 #7228 Case/Bose Damascus Lockback Whittler – One of 100 Produced:  3-7/8″ closed. Random carbon Damascus steel from Devin Thomas Damascus. The peachseed jigged dark molasses bone handle features a pinned badge shield, stainless bolsters, and stainless liners milled for improved blade fall.  All features that Tony Bose knives are famous for. Included leather pouch.  The goal with each Case/Bose collaboration is to produce as closely as possible in the Case factory one of Tony's custom knives. This Lockback Whittler, one of Tony Bose's most impressive designs, features a locking Wharncliffe blade with a short clip and pen blades.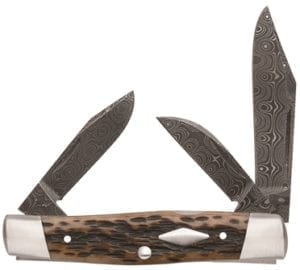 #7229 Case/Bose Damascus Cattle Knife – One of 100 Produced:  3-11/16″ closed. Raindrop carbon Damascus steel from Devin Thomas Damascus.  The peachseed jigged dark molasses bone handle features a pinned badge shield, stainless bolsters, and stainless liners milled for improved blade fall.  All features that Tony Bose knives are famous for. Included leather pouch.  The goal with each Case/Bose collaboration is to produce as closely as possible in the Case factory one of Tony's custom knives.  This Cattle Knife features clip, sheepfoot and short clip blades.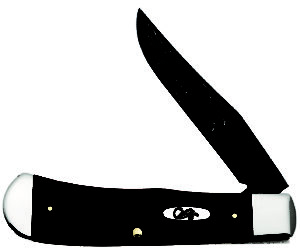 #31302 Sawcut Chestnut Damascus Backpocket – One of 500 Produced:  4-5/8″ closed. Clip Blade of random carbon Damascus steel from Devin Thomas Damascus. The sawcut chestnut bone handle features nickle silver bolsters, brass liners and Case oval script shield.  A limited production version of one of Case's Bose Catalog Collaboration Designs.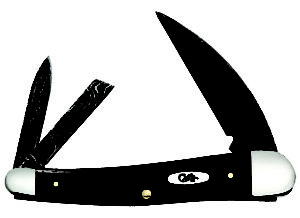 #31303 Sawcut Chestnut Damascus Seahorse Whittler – One of 500 Produced:  4″ closed. Wharncliffe, coping and pen blades of random carbon Damascus steel from Devin Thomas Damascus.  The sawcut chestnut bone handle features ickle silver bolsters, brass liners and Case oval script shield.  A limited production version of one of Case's popular traditional whittler designs.
---
Benchmade "The 87"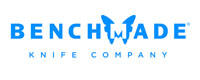 Donated by Benchmade
The past inspires the future.  2017 is Benchmade's 30th

anniversary.  The name of this knife reers ot the year Benchmade started making their first products – butterfly knives. It was 1987. But nothing about this billet titanium Bali-song™ is old school. Made in USA.  Blade is CPM-S30V (58-60 HRC) with billet titanium handle.
---
Chris Reeve Small Sebenza 21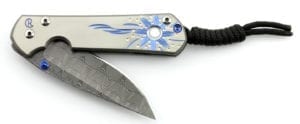 Donated by Chris Reeve Knives
Small Sebenza 21: Unique Graphic with Mother of Pearl Inlay. This is one of the beautiful one-of-akind graphics created by Chris Reeve artist Lisa L'Eveeue-Hague. Stainless basket weave Damascus by Devin Thomas. Titanium handle.  Calf skin shealth.
---
Boker Leo Damascus
Donated by Boker USA


110084DAM Leo Damascus: 300 layer Leopard Damascus, 60-61 degree HRC, 6061-T6 Aluminum, Ziacote wood inlays.  Forged out of the German battletank Leopard I, not available to the market, only used for the military. Boker Exclusive. A chromium-manganese and vanadium tool steel alloy was added to this extremely wear-resistant barrel steel. Pattern is "Small Pyramid."  Includes Certificate of Authenticity and gift box. Serialized.
---
Zero Tolerance 0392BLK – Serial #0026
Donated by Kai USA Ltd, Zero Tolerance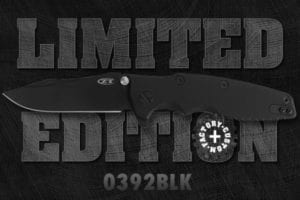 The 0392BLK was built as a partnership between Rick Hinderer and Zero Tolerance. The titaniumhardware is custom made by Rick Hinderer with a matte black finish.  ZT manufactures the blade with precision from CTS-204P steel and a matte black DLC coating. The handles are built from sturdy titanium with matte black DLC coating. A built-in flipper and the ball bearing system make the 0392BLK easy to open, so you can put it to work on the task at hand. Includes Certificate of Authenticity from Zero Tolerance and Rick Hinderer.
---
Zero Tolerance 0606CF- Serial #0026
Donated by Kai USA Ltd, Zero Tolerance

The 0606CF Factory Custom knife combines the talents of RJ Martin, Matt Martin, and ZT. It offers a clean, streamlined look with almost no visible front hardware.  The exception is the pivot. Built by Matt Martin, the 0606CF's oversized pivot cartridge features RJ's "pivotless pivot" design and ZT's KVT ball-bearing system. Oversized 3D-machined pivot endcaps call attention to this handsome feature. This good-looking knife's two-tone titanium handle has been 3D machined, anodized, machined again, then re-anodized—and topped off with a carbon fiber insert—to complete the distinctive look. The 0606CF also features a titanium frame lock with hardened steel lockbar insert, a carbon fiber backspacer, and 3D-machined titanium clip.  Includes Certificate of Authenticity from Zero Tolerance, RJ Martin, and Matt Martin.
---
Spyderco Magnitude C212CFP
Donated by Spyderco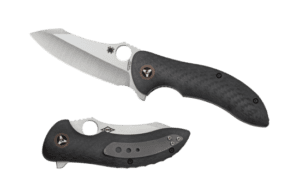 Designed by acclaimed custom knifemaker Peter Carey, the aptly named Magnitude is a highly refined LinerLock folding knife that offers impressive cutting performance and a full spectrum of one-hand opening options. In addition to a Kit Carson-inspired index-finger flipper, its blade also features a fully accessible Trademark Round Hole™ for swift one-handed opening with either hand. Hollow ground from high-performance CPM® S30V® particle metallurgy stainless steel, the dramatically profiled blade features a long, sweeping PlainEdge™ cutting edge, a full-thickness spine, and a stylish swedge (unsharpened bevel) that collectively offer an amazing balance of cutting performance and strength.
The Magnitude's equally impressive handle combines full skeletonized titanium liners, painstakingly machined solid twill carbon fiber scales, and a scalloped brown G-10 backspacer to create an extremely strong, ergonomic structure that is also visually stunning. The knife's distinctive pivot pin assembly is encircled by an inlaid brown G-10 accent and embellished with meticulously machined details. It also houses a pair of precision ball-bearing washers that give the blade an ultra-smooth, low-friction action. A custom-designed clip configured for right-side tip-up carry completes the package and ensures the Magnitude is always poised and ready when you are.
---
Spyderco Nirvana C199TIP
Donated by Spyderco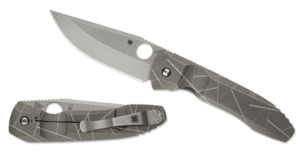 The winner of Blade Magazine's prestigious "Imported Knife of the Year" award, Spyderco's Nirvana faithfully translates the spirit and breathtaking attention to detail of knifemaker Peter Rassenti 's handcrafted custom design into an exceptional production folding knife.  The Nirvana's most distinctive feature is its one-piece handle, which is meticulously machined from a solid block of titanium to produce every detail—including the knife's high-strength Reeve Integral Lock (R.I.L.) mechanism. The beautifully contoured, exceptionally ergonomic handle is then matte finished and embellished with a spectacular CNC-machined geometric design that wraps around its entire outer surface.
Crafted from 4mm (.158-inch) thick CPM® S90V particle metallurgy stainless steel, the Nirvana's blade is equally impressive. The PlainEdge™ blade features a saber grind and clip-point profile for a superior balance of strength and edge geometry and boasts a stonewashed finish to match the knife's subdued handle. Spyderco's Trademark Round Hole™ provides leverage for swift, positive one-handed opening, while an hourglass clip on the handle offers convenient right-side, tip-up carry to keep this remarkable knife poised and instantly accessible.
---
Spyderco Para 3 C223GP
Donated by Spyderco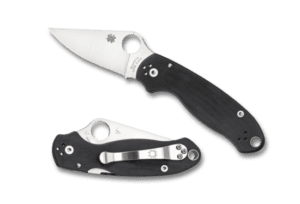 The Para 3 takes all the proven features and benefits of Spyderco's best-selling Para Military™2 and distills them into an even more compact all-purpose cutting tool. Its three-inch blade is precision machined from premium CPM® S30V® particle metallurgy stainless steel and features a full-flat grind for a superior balance of strength, point utility, and low-friction cutting performance. It includes a textured index-finger choil and thumb ramp that provide a solid purchase for a forward grip and offer enhanced control during precise cutting tasks. The blade's signature Trademark Round Hole™ clearly brands it as a member of the Spyderco family and is fully accessible to allow quick, positive, one-handed opening with either hand.
To keep the Para 3 slim and pocket friendly, it features a lightweight, open-backed construction style and its stainless steel liners are nested into machined recesses in the textured G-10 scales. This reduces the handle thickness and provides excellent structural support for the knife's patented Compression Lock™. Located in the spine of the handle, this high-strength mechanism locks the blade securely open during use, yet allows it to be closed easily and safely with only one hand. A four-position hourglass clip and an oversized lined lanyard hole complete the design, offering ambidextrous tip-up or tip-down carry and allowing the easy attachment of fobs and lanyards.
---
Leatherman MUT

Donated by Leatherman Tool Group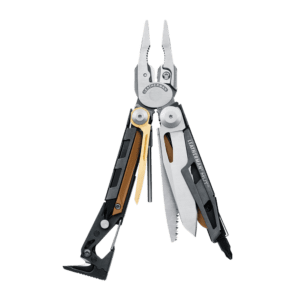 The Leatherman MUT is the first multi-tool that functions as both a tactical and practical tool for military, LE, or civilian shooters. The MUT features multiple areas on the tool threaded for cleaning rods and brushes and all the screwdriver bits are sized for standard military and civilian sighting adjustment work. Also built into the design of the tool is the flexibility to replace the most commonly used parts on the spot, using a simple Torx #8, keeping down-time to a minimum. With all this, a MOLLE sheath and scope adjustment wrench included, the Leatherman MUT may very well be the most efficient and useful piece in your kit.
---
Leatherman 25th Anniversary Wave

Donated by Leatherman Tool Group
This knife is a limited edition produced for Leather's 25th anniversary. They did a run of 999 tools. Tim Leatherman's signature is on the handle which is sterling silver. The blade material is 420 HC steel.
---
Leatherman Tread

Donated by Leatherman Tool Group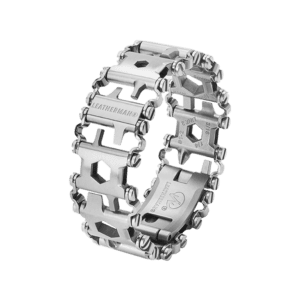 Anytime, anywhere. The functionality of a Leatherman tool, with you everywhere. Our engineers designed multiple tools in each 17-4 stainless steel bracelet link, making usable tools like Allen wrenches, screwdrivers and box wrenches available at a moment's notice. Adjustable to accommodate any wrist size and fully customizable with the links you need most, the Leatherman Tread is as stylish as it is functional.
---
Browning Limited Edition Whitetail Knife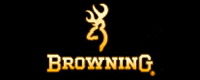 Donated by Browning
Whitetail Knife:  Only 200 of these knives were originally made.  It has been discontinued, making it a hard-to-find collector's item. Blade is 440 stainless steel with a genuine stag handle, brass pins and wood bolster.
---