FUNDRAISER AT THE BLADE SHOW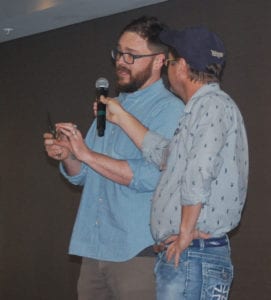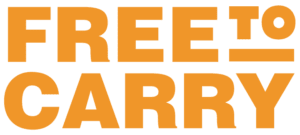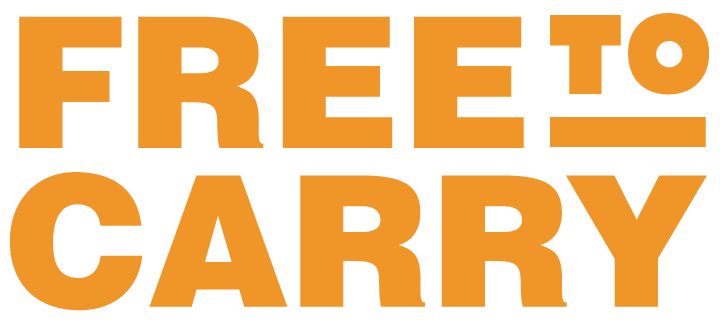 Join us on June 7, 2019
A TRIBUTE TO A.G. RUSSELL
at the Free to Carry Event
---
The 2018 Free to Carry Event on June 1st in Atlanta at the Renaissance Waverly Hotel was an evening of fun, great food and awesome donations and great bids and bidders!
Unique one-of-a-kind knives donated by Philip Booth, Tony Bose, Lucas Burnley, D' Holder (donated by Blue Ridge Knives), Mathew Lerch, Michael Prater, Richard Rogers, Steve Ryan, Brian Tighe,  Jesper Voxnaes, GiantMouse Knives and more.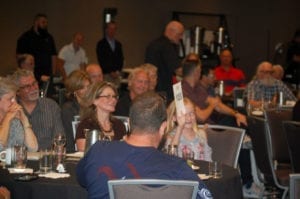 Special donations included a fishing trip with CRKT founder Rod Bremer, Portraits of Courage book by CRKT, and Buck Knives' new thirteen piece elk cutlery set.
Thank you these business members for items for the silent auction:  Benchmade, Buck, Boker, Camillus, Chris Reeve Knives, CRKT, Leatherman, Ruger, SOG, Spyderco, and W.R. Case & Sons.
Thank You to Our Sponsors:  W.R. Case & CRKT, Platinum;  Buck Knives & Boker, Diamond; SOG & Three Rivers Mfg, Gold
2018 Donations to Support AKTI and our efforts to ensure you are FREE TO CARRY the knife of your choice.   Be sure to thank these makers and companies. Hope to see you there next year on Friday evening of the BLADE Show!
---
A Day on the River with CRKT!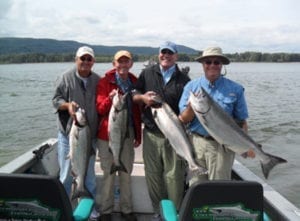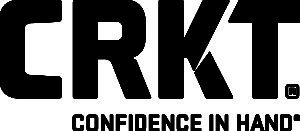 Donated by CRKT
A Day on the River with CRKT's Founder Rod Bremer
Fish for Fall Chinook Salmon in the world famous Pacific Northwest fisheries.
Guided Trip for Two with world famous guide….
October 2018 – Final dates to be determined with the guide and the lucky bidder
Included:

Roundtrip airfare for 2 to Portland, OR, from anywhere in the continental USA
Two Nights Lodging
All meals included
Fishing licenses, guide fees and transportation provided.
Occasionally Mother Nature can play some funny tricks on us during the fall, and every once in a while a heavy rain will come through and blow out the rivers and the guides won't go out.  Should this happen we'll do our best to entertain the lucky winners with some other unique NW experiences.   *Time permitting a tour of CRKT will be included.
---
Buck Elk Cutlery Set
Donated by Buck Knives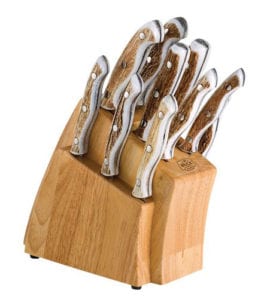 Buck's rustic elk cutlery set includes the 8″ Chef's knife, 8″ Slicer, Fork, 2 3/4″ and 4″ paring knives, a spreader, and six steak knives. With corrosion resistant 420HC stainless steel blades (spreader is 410HC) and authentic elk antler handles this set is great for preparing meals and to dress up any kitchen.   Knife block included. Hand wash only, not dishwasher safe. Made in the USA.
---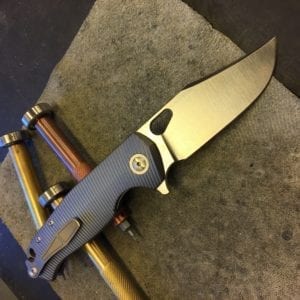 GMP-2 Special:  This knife was refinished by the two designers Jens Ano and Jesper Voxnaes.  A true "one-off."
---
Steve Ryan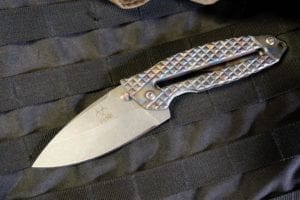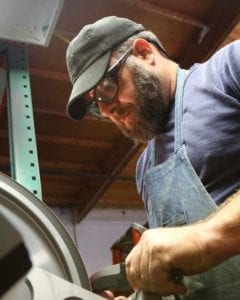 HDF:  Overall Length: 9 in; Blade Length: 4.5 in.; Cutting Edge Length: 4 in.; Blade Thickness: .145 in.; Weight: 7.7 ounces, Blade Material: CPM S35VN; Handle Material: Titanium.
---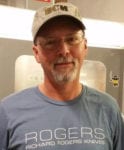 Cinco:  2.9 inch blade of CTS-XHP steel, handle bright blasted  titanium with carbon fiber inlay.  This model is a downsized version of the Cuatro. It is smaller, very thin and lightweight.  It has a sleek elegant look. The name, Cinco, was Philip's late father's nickname, and it comes after cuatro, so it seemed the perfect name.
About Richard:  Richard's aesthetic is form follows function in simple elegant form. He has been making knives since 1996. Each knife he makes is a reflection of his work ethic, dedication to detail, and his insistence on quality.  Richard's goal with each knife is to make it the best example of what that knife should be.
Donation:  100% to AKTI
---
Philip Booth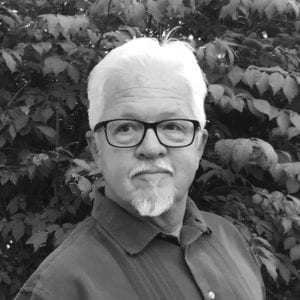 Minnow:  A new 2018 design. 1-1/2″ flat ground blade.  CPM 154 stainless blade, hand rubbed and polished finish. Handle is cow bone, dyed and jigged to look like horn, includes zipper pouch. The first Minnows were made in 1996 sized to fit in the watch pocket of jeans. The constantly changing designs, profiles and mechanisms keep the knife constantly fresh. There are over 350 Minnows since 1996.
About Philip:  Phil is a full time knifemaker who made his first knife in 1995.  He is a grinder, not a forger. Phil specializes in making mechanisms, using 18 different mechanism styles. He likes small pocket carry automatics, including double blades.
"Michigan, my home state, recently overturned our switchblade laws, making these knives legal to carry!! Thank you AKTI."
Donation:  100% to AKTI
---
Tighe Breaker Integral:  This is the third version of this classic design. It started out as a frame lock, then a button lock, and now the first integral button lock flipper.  The blade is 3-7/8″ RWL 34 Steel Spear Point with a satin finish. The handle is fluted titanium.  Another great innovation.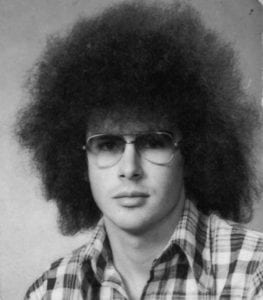 About Brian:  There are edged artisans…and then there's Brian Tighe.  Canadian "Renaissance Man," he is practiced in the art of metallurgy, photography and tool and die making. It's what helped him make the leap from a creator of high quality folding folding knives into the top 10 elite.
---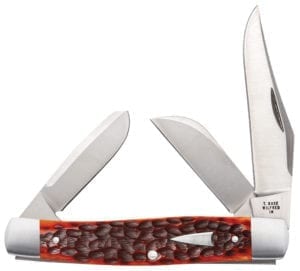 Bose Premium Stockman:  4-1/4″ closed, 4.3 ox. Clip Blade is 3.25″, Sheepfoot Blade 2.19″ and Spey Blade is 2.17″. The Clip Blade is made from 154CM and features a glazed finish, cut swedges and Standard nail nick. The Sheepfoot and Spey Blades are also made from 154CM, and feature a glazed finish with cut and common swedges and Standard nail marks. The backsprings are 154CM.  The Jigged Chestnut Bone handle features a pinned Stainless Arrowhead Shield, glazed finish Stainless Bolsters and Stainless Liers milled for improve blade fall.  All features that Tony Bose knives are famous for. Tony's standard quote applies – "I don't design knives – I bring old knives back from the grave." Inspired by a Depression Era 2 Blade Jack with a sweeping Clip blade, Tony modified the design into this 3 Blade Premium Stockman.
The Companion Case/Bose Premium Stockman was crafted by longtime Cse Artisan Paul Lipps. It also features Chestnut Bone Handles, 154CM Clip, Sheepfoot and Spey Blades, milled liners, stainless bolsters and pinned shield.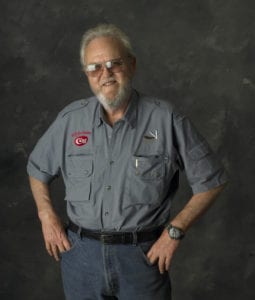 About Tony:  Tony Bose fashioned his first knife in 1972 from a power hack  saw blade he'd received from a friend. He'd work to perfect his skills for years before pursuing a  fulltime custom knife making career in 1990. Tony's impact was quickly felt across the industry,  winning Best Folding Knife Awards from the 1994 East Coast Custom Knife Show and the 1995  Blade Show with his own five­-bladed Stockman designs. Today, Tony's work continues as a  member of the coveted Knifemaker's Guild, blending vintage patterns with modern steel blades,  stainless steel bolsters and springs to an unmistakable fit and finish.  His work attracts  enthusiasts from around the world who often wait years for their knives to be completed to his  satisfaction.  His knife making talent accentuates his true passion for his craft and his reputation  as a trusted businessperson, spirited philanthropist, devoted husband and father. Tony's son,  Reese, is also an accomplished custom maker.  The two carry on their knife making tradition  from their workshop in Shelburn, Indiana.
Donation:  100% to AKTI
---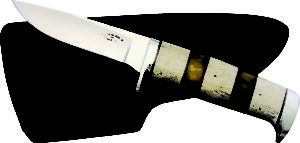 D'Holder Custom Hunting Knife:  ATS 34-Stainless fixed blade hunter, fossil walrus ivory and amber handle with leather sheath.
Donated by Blue Ridge Knives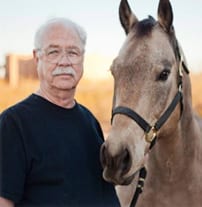 About D':  "For many years, I had done custom gun work as a hobby, and was asked to make a knife for a gentleman for whom I had built a custom rifle. The rest is history, I guess, since I haven't built a gun since I sold that first knife. The price was $8. That first knife was built in 1966 in Denver, CO…My specialty is fancy using knives with an occasional bowie thrown in for balance. I believe that the important aspects of knifemaking are craftsmanship, top drawer materials, and a steadfast work ethic…Over the years, my shop has been open to almost anyone who wanted to take the time to come by. Currently, over 75 makers of custom knives give me credit for strong influence on their work. It is my
opinion that I got far more from them, than they ever got from me."
Donation:  100% to AKTI
---
Odyssey:  3-1/2″ Blade, overall length 7-1/2″ liner lock custom Lerch knife, Mike Norris double stainless ladder Damascus, inlays are black pearl and 41655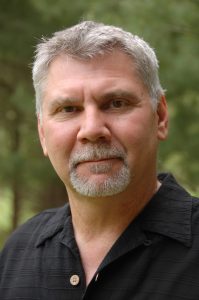 About Matthew:  What happens when you cross art and mechanics? You get something that looks like Matthew Lerch. Trained initially as a jeweler/watchmaker, he progressed into manufacturing and tool making. Now he has a few patents under his belt for innovations, like the Fire Safe®, and has been honored with some prestigious awards including the Buster Warenski award. Matt views knives as functional art, as evidenced in his Moxie™ and Blade Show award-winning Endorser™ design.
Donation:  50% to Shriners Hospital
---
Boker Leopard Folding Knife
Donated by Boker USA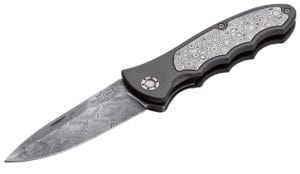 Leopard Damascus III 42 Collection:  The Boker Leopard-Damascus III 42 Collection features pure two-handed operation. It is refined with a stainless steel damascus inlay (180 layers, rose) that is artistically inserted by hand into the grip scales. The knife is given a completely new vibe, since the powdered metal damascus inlay ideally harmonizes with the hand-forged damascus blade (300 layers, 61 to 63 HRC) Leopard Damascus. The artistically forged blades from the canon tube steel of the Leopard battle tank are true gems in any high-end knife collection. A must for connoisseurs of Leopard Damascus knives. This collector's knife is numbered and  in a premium box with certificate. Includes screw mounted, relocatable clip (tip-up, tip-down).
---
Spyderco Paul Alexander Sliverax Flipper
Donated by Spyderco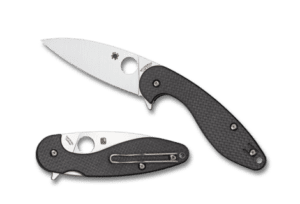 Sliverax:  Designed by automotive engineer and knife enthusiast Paul Alexander, the Sliverax is the first factory-made folding knife to combine Spyderco's Compression Lock™ mechanism with a flipper-style opener. Its sleek drop-point blade is crafted from CPM® S30V® stainless steel and proudly includes both a fully accessible Trademark Round Hole™ and an index-finger flipper to support a full spectrum of one-handed opening options with either hand. A full-flat grind gives it outstanding edge geometry and its slightly negative blade-to-handle angle enhances its cutting leverage and shortens its opening arc for swift, positive deployment.
The Sliverax's blade is supported by Spyderco's patented Compression Lock mechanism—a high-strength lock located in the spine of the handle to greatly reduce the risk of unintentional release during use. Its lightweight, open-backed handle design features stunning carbon fiber/G-10 laminate scales and nested stainless steel liners. This advanced construction style provides impressive structural strength, keeps the knife slim and pocket friendly, and offers a solid foundation for the knife's lock mechanism. To allow convenient carry and keep the Sliverax instantly accessible, its handle includes a reversible deep-pocket wire clip that can be configured for right or left-side tip-up carry.
---
Spyderco One-Eyed Jack™ Folder
Donated by Spyderco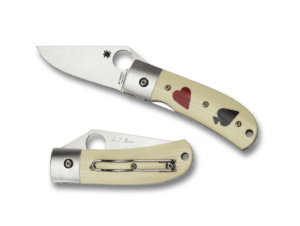 One-Eyed Jack:  Designed by acclaimed custom knifemaker A.T. Barr, Spyderco's One-Eyed Jack faithfully translates the painstaking craftsmanship of Barr's prized handmade creations into an extraordinary factory-made folder.  The One-Eyed Jack's full-flat-ground PlainEdge™ blade is crafted from premium CPM® S30V® stainless steel and includes a fully accessible Trademark Round Hole for easy, ambidextrous, one-handed opening. It is paired with a custom-quality handle featuring full, skeletonized stainless steel liners, stainless steel bolsters, and ivory G-10 scales. The obverse (near-side) scale is embellished with black and red G-10 inlays of a spade and a heart. These inlays are seamlessly fitted into the scale and both sides of the handle are thoughtfully contoured for a comfortable grip. As an extra touch of class, the stainless steel backspacer and the liners that form the foundation of the knife's sturdy LinerLock mechanism proudly showcase intricate decorative filework—a feature rarely seen on a production knife. A deep-pocket wire clip mounted to the butt end of the reverse-side scale allows discreet right-side, tip-up carry. With craftsmanship
that truly rivals the custom knife that inspired it, the One-Eyed Jack is a landmark achievement in manufacturing quality.
---
Spyderco Darn Dao™ Fixed Blade (by Bob Lum)
Donated by Spyderco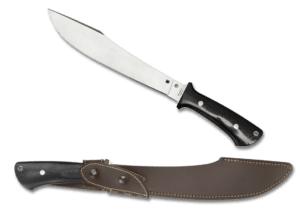 Darn Dao™:  The late Bob Lum was an incredibly skilled knifemaker with a remarkable talent for translating traditional Asian tools and weapons into modern form. One of his rarest custom designs, the Darn Dao, was inspired by the legendary "single knife" broadsword of the classical Chinese martial arts. After literally years in the making, Spyderco is extremely proud to translate that breathtaking design into a factory-made form.
The Spyderco Darn Dao faithfully translates every detail of Bob Lum's meticulously crafted custom design into an equally dynamic production knife. Its satin-finished blade is full-flat ground from thick CPM® 154 stainless steel—a state-of-the-art powder metallurgy stainless steel that offers increased toughness over the conventional ingot version of this alloy. The blade's unmistakable profile pays homage to the iconic weapon that inspired it, while adding a long, unsharpened swedge to ensure an acute point. For maximum strength and a deft balance, the gracefully curved blade has a tapered full tang that is flanked by contoured black G-10 scales. Like its historical inspiration, the Darn Dao's handle flares at the pommel to ensure a positive grip during high-speed manipulation. It also features a generously sized lined hole for the easy attachment of a lanyard and a modern integral double guard.
The Darn Dao comes complete with a high-quality zippered storage pouch and a handsome leather sheath with an integral loop for belt carry. The sheath's open-backed construction and thumb-break-style snap ensure positive retention, while still allowing a swift draw.
This amazing knife is also unique in that it is Spyderco's second "Flash Batch" product. Like our Sprint Runs, which are unique, limited-edition production runs of either current models or classic, discontinued designs, a Flash Batch is a truly distinctive, one-time-only event. A Flash Batch, however, showcases a brand new design that has not been previously produced and will never be duplicated in the exact same form again. To make them even more unique and collectible, Flash Batches are individually serialized with a laser-engraved number on every blade.
---
Leatherman Signal™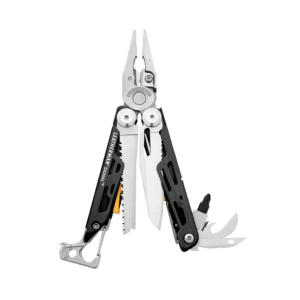 Donated by Leatherman Tool Group
Signal™: A multi-tool designed for adventure with a firestarter, hammer, one-handed blade and an emergency whistle. Sheath included.
---
Leatherman CHARGE® +

Donated by Leatherman Tool Group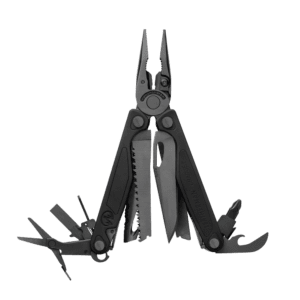 CHARGE® +: Crafted for everyday adventures, it features crucial tools including upgraded, replaceable wire cutters. Include sheath.
---
Leatherman SKELETOOL® CX

Donated by Leatherman Tool Group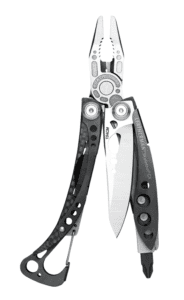 An ultra-light, full-size multi-tool with a knife blade made with premium 154CM steel. Includes sheath.
---
Leatherman RAPTOR®

Donated by Leatherman Tool Group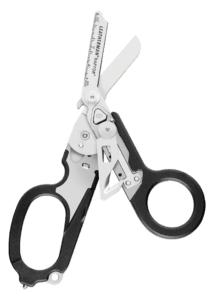 RAPTOR®:  Foldable medical shears with an oxygen tank wrench, strap and ring cutters and a carbide glass breaker. Holster included.
---
Ruger® Centennial Knife
Donated by Ruger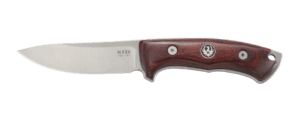 Ruger® Centennial Knife:  Designed by Bill Harsey. The Ruger® Centennial knife from CRKT® produced in honor of William B. Ruger's 100th birthday, is a stainless steel full tang fixed blade that is 100% hand crafted in the U.S.A.  This 4″ blade knife incorporates a rugged full tang and handcrafted laminate wood handles with embedded Ruger® eagle medallions affixed with stainless steel grip screws. The handles are contoured for positive grip even in wet conditions. Harsey gave the Centennial knife a sturdy, long swept, semi-drop point satin finish blade; this blade design is field proven for cutting efficiency. A 154CM blade steel was selected for excellent, long lasting edge retention. The design, shape, deep bevel grind and finish speaks to rugged, reliable Ruger®.
---
Chris Reeve Small Sebenza 21

Donated by Chris Reeve Knives

Small Sebenza 21:  It's so pretty, who could resist! Unique graphic with citrine inlay. 535VN, 59-60 RC blade, titanium handle with calf skin pouch.
---
CRKT Foresight™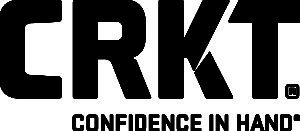 Donated by CRKT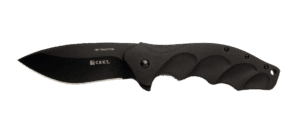 Foresight™:  Designed by Ken Onion.  First production, autographed by Ken Onion, folding knife with locking liner. 3.5″ plain blade of AUS 8, 58-59 HRC steel with an aluminum handle.
---
SOG Pillar
Donated by SOG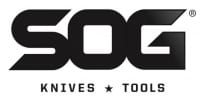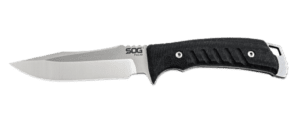 Pillar:  The USA-made Pillar is fully-equipped with a 5″ full tang CPM S35VN steel blade with a stone wash and machine ground finish, canvas Micarta handle, and Kydex sheath with an adjustable low-profile, locking mount.
---
SOG Tomcat 3.0
Donated by SOG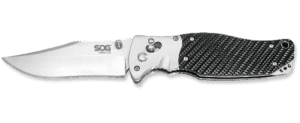 Tomcat 3.0:  SOG's first folding knife, the first generation Tomcat, set the standard for the large format lockback folders and won the award for Overall Knife of the Year in 1988. Today the redesigned TomCat 3.0 will still win a place in your hand.  Like a modern day tank, this heavy duty folder with a 3.75″ blade is big time armament but has the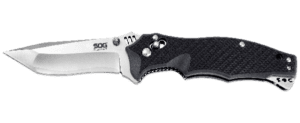 finesse to turn on a dime.
---
SOG Arcitech Jigged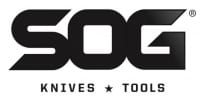 Donated by SOG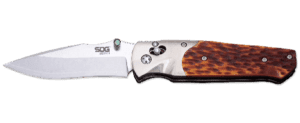 Arcitech Jigged:  A mirror polished san mai (VG-10 core laminated with 420J2 stainless steel) exotic 3.5″ blade uses SOG's Arc-Lock and Abalone jeweled thumb stud. The titanium bolsters meet old school jigged bone handles in a rare and beautiful combination. The color of the jigged bone handles vary in color from a deep maroon to flame yellow and black making each knife a unique piece. Investment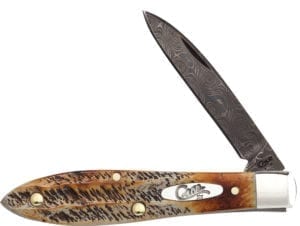 collectable and very limited production.
---
SOG Bowie 2.0
Donated by SOG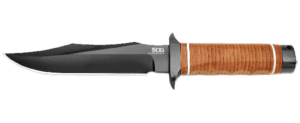 Bowie 2.0:  The original SOG Bowie that founded the company was based on a knife used by the Studies and Observation Group of the U.S. Special Forces and other elite soldiers in the Vietnam War. The SOG Bowie 2.0 has combined the traditional SOG Bowie with modern technology and materials and a 7.5″ blade.
---
Benchmade 781 Anthem

781 Anthem:  The first ever single piece, billet titanium AXIS knife. 3.5″ blade, manual open.
---
Camillus Les Stroud Fuerza

Donated by Camillus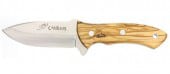 Les Stroud Fuerza:  Large Fixed Blade Hunter Knife.  4″ Blade, 8.5″ Overall, Full tang 440 stainless steel, Olive wood handle, leather sheath.
---
Camillus CK

Donated by Camillus
Camillus CK:  9.5″ Fixed Blade Knife.  4.75″ Blade.  1095 High Carbon Steel.
---
Case® Winkler Skinner Prototype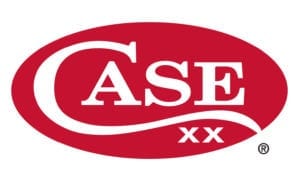 Donated by W.R. Case & Sons Cutlery Co.
Winkler Skinner Prototype:  This is the first knife in the American Heroes Series.  Designed by Daniel Winkler, in collaboration with Kevin Holland,a highly decorated veteran member of U.S. Special Operations. Normal production models of this knife are made in 80CRV2 with Caswell™ finish.  This knife was made with 154CM.  The length is 9-5/8″ overall with a trailing point blade 5.2″  The blade is flat ground distal tapered with a full tang.  It is skeletonized and tapered to reduce weight and improve balance. The handle is sculpted multi-camo G-10. It comes with a molded leather sheath reinforced to keep its shape.  Includes reversible belt attachment.  No photo currently available.
---
Case® Dam Blued Damas Tear Drop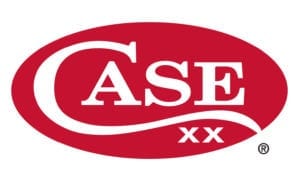 Donated by W.R. Case & Sons Cutlery Co.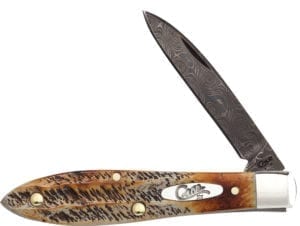 #34805 Case DAM Blued Damascus Tear Drop:  2.44″ Spear Blade.  Overall length is 3-5/8″, weighing 3.0 oz. The blade is blued raindrop carbon Damascus steel from Devin Thomas. Handle materials is Case 6.50 Bonestag® with nickel silver bolsters, nickel silver case, oval script shield and brass liners.  The Tear Drop pattern was designed for the Case Catalog by Tony Bose. This is a limited production model.
---
Case® Eureka Jack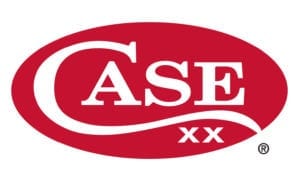 Donated by W.R. Case & Sons Cutlery Co.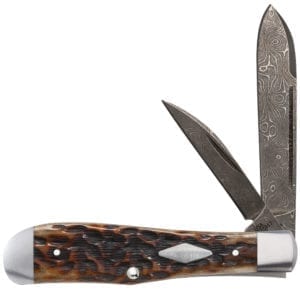 #7231 Case/Bose Eureka Jack – One of 100:  3-5/8″ closed length knife with a 2.75″ Spear Blade and a 1.95″ Wharncliffe Blade of Random Carbon Damascus Steel from Devin Thomas Damascus. The Peachseed Jigged Dark Molasses Bone handle features a pinned Diamond Shield, Stainless Bolsters and Stainless Liners milled for improved blade fall.  All features that Tony Bose Knives are famous for. The goal with each Case/Bose collaboration is to produce as closely as possible in the factory one of Tony's custom knives. Tony considered the Eureka Jack to be the most elegant of all jack knives.  Extremely rare today, the pattern dates back to the great makes of Sheffield, England. Tony added the Wharncliff Pen blade to make the knife more versatile. Proudly made in Braddord, PA.
---
Case® Wilford Lockback Hunter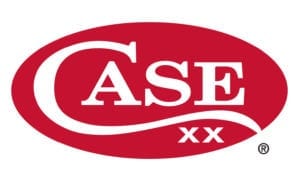 Donated by W.R. Case & Sons Cutlery Co.
#7417 Case/Bose Wilfred Lockback Hunter – One of 200:  4-5/8″ closed with 154CM Locking Flat Taper Ground Clip blade with cut swedge, standard nail mark and gimped spie. The Smooth Ebony Wood handle features a pinned Bowtie Shield, Stainless Bolsters and Stainless Liners milled for improved blade fall. Includes Leather Pouch.  All features that Tony Bose Knives are famous for. The goal with each Case/Bose collaboration is to produce as closely as possible in the factory one of Tony's custom knives. Tony considered the Eureka Jack to be the most elegant of all jack knives.  Extremely rare today, the pattern dates back to the great makes of Sheffield, England. Tony added the Wharncliff Pen blade to make the knife more versatile. Proudly made in Braddord, PA.
---
Gerber Empower Series Automatic

Donated by Gerber
Empower Series Automatic:  Based on the field-proven Propel, the Empower is an automatic knife that caters to the everyday carry consumer. Military-grade insight and materials evolve to bridge the gap between function and fashion: a daily workhorse wielding quick deployment and a safety-focused design that delivers aesthetically.  3.25″ blade.
---
Gerber Mark II Ltd Edition

Donated by Gerber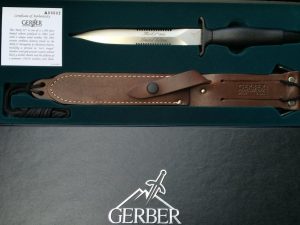 This Mark II is one of a 1,500 piece limited edition produced in 2002, each with a unique serial number. This version combines features found on the Mark II throughout its illustrious history, including a sprayed on 'cat's tongue' stainless steel grip powder-coated cardinal black, a leather sheath and the addition of a premium 154CM stainless steel blade.
---
Buck Infuri Limited Edition
Donated by Buck Knives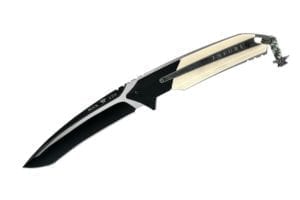 020 Infuri:  Created by Buck's own Mark McLean, this handcrafted knife features a CNC contoured Ivory G10 handle with black G10 bolster and a 154CM tanto blade in Cerakote® Graphite Black. Included is a genuine leather sheath with Tek-Lok belt clip for horizontal or vertical carry. Accented with a Buck anvil mini lanyard, this elegant knife combines unique materials with design ingenuity, creating a cherished heirloom that can be passed on through generations. This unique custom model 020 Infuri is one of a limited edition production of only 250 knives. Made in the USA.
---
Portraits of Courage Signed Book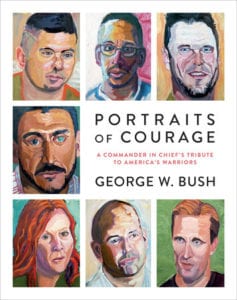 A VIBRANT COLLECTION OF OIL PAINTINGS AND STORIES BY PRESIDENT GEORGE W. BUSH HONORING THE SACRIFICE AND COURAGE OF AMERICA'S MILITARY VETERANS. Signed by Special Forces Michael "Rod" Rodriguez and Jeremy James Valdez who attended last year's event and spoke briefly.
Donated by CRKT
---