FUNDRAISER AT THE BLADE SHOW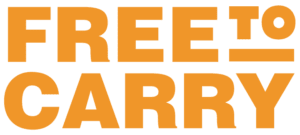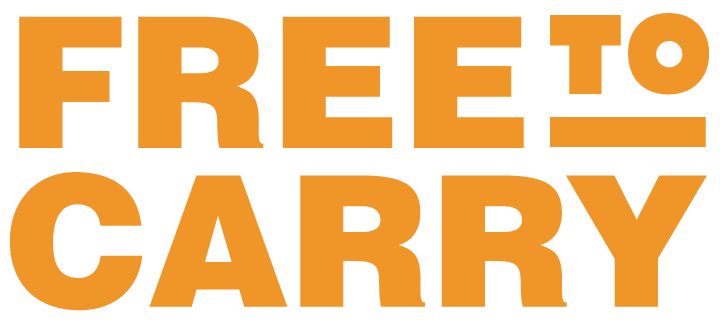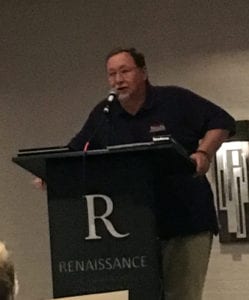 Join us for a great evening with your favorite custom knifemakers and knife company owners and their staff during the AKTI's "Free to Carry" Fundraiser at the Blade Show.  Bid on custom knives, limited editions, and unique items from custom makers and your favorite brands.  Proceeds benefit AKTI and legislative efforts to remove knife restrictions.  Custom makers are given the option to donate 50% to a charity of their choice.
Friday, June 2nd, 2017 – 7 pm – 9:30 pm
Kennesaw Ballroom, Renaissance Waverly, Atlanta, GA
Your chance to own a knife by these highly sought-after knifemakers:
Tony Bose, Lucas Burnley, Robert Carter, Alan Folts, D'Holder, Steve Jernigan, Russ Kommer, Ken Onion, Ken Steigerwalt, Brian Tighe, Ed VanHoy, Tom Veff, Jesper Voxnaes
Live Auction, Silent Auctions, Hors d'oeurvres & Drinks, Prizes
Tickets will be picked up at the entrance to the event and will include one drink ticket. Cash bar available.  Space is limited.  Individuals who purchase a ticket to attend will be given an Ambassador Individual members in AKTI (value $35).  Reserve your ticket now!
Thank You to Our Sponsors:  W.R. Case & CRKT, Platinum; Boker, Diamond; Buck Knives, Gold
2017 Donations to Support AKTI and our efforts to ensure you are FREE TO CARRY the knife of your choice.  Thank these makers and companies for their contributions.  More donations added daily.
Would you like to contribute?  Custom knifemakers can submit a donation using AKTI-Free-to-Carry-Knifemaker-Donation-Form.   Company members can submit donations using AKTI-Free-to-Carry-Company-Donation-Form.
---
Benchmade "The 87"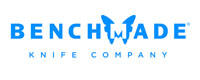 Donated by Benchmade
The past inspires the future.  2017 is Benchmade's 30th anniversary.  The name of this knife reers ot the year Benchmade started making their first products – butterfly knives. It was 1987. But nothing about this billet titanium Bali-song™ is old school. Made in USA.  Blade is CPM-S30V (58-60 HRC) with billet titanium handle.
---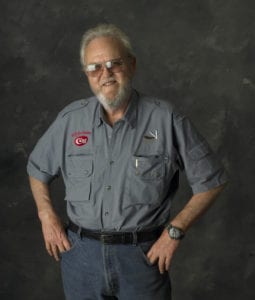 Bose Eureka Jack: Tony's standard quote applies – "I don't design knives, I bring old knies back from the grave." Tony considers the Eureka Jack to be the most elegant of all Jack knives. Extremely rare today, the pattern dates back to the great makers of Sheffield, England.  Tony added the Wharncliff pen blade to make the knife more versatile.  The Eureka Jack is 3-5/8″ closed and 3.0 oz. The Spear blade is 2.75″ with the Warncliff blade 1.95″. The Spear blade is made from 154CM and features a glazed finish with a cut swedge and French (long pull) nail mark. The Warncliff Pen Blade is also made from 154CM, features a glazed finish with a common swedge and standard nail mark. The backsprings are 154CM, with an extension spring used for the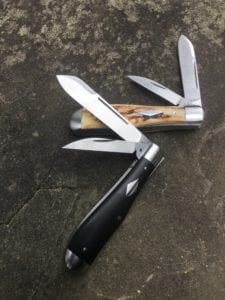 Wharncliffe blade. The smooth ebony handle features a pinned stainless diamond sheild, glazed finish stainless bolsters and stainless liners milled for improved blade fall.  All featues that Tony Bose knives are famous for.
The Companion Case/Bose Eureka Jack was crafted by longtime Case artisan Paul Lipps. A one-of-a-kind, it features genuine stag handles, 154CM Spear and Wharncliffe blades, milled liners, stainless bolsters and pinned shield.
Donation:  100% to AKTI
About Tony: Tony Bose fashioned his first knife in 1972 from a power hack  saw blade he'd received from a friend. He'd work to perfect his skills for years before pursuing a  full­yime custom knife making career in 1990. Tony's impact was quickly felt across the industry,  winning Best Folding Knife Awards from the 1994 East Coast Custom Knife Show and the 1995  Blade Show with his own five­bladed Stockman designs. Today, Tony's work continues as a  member of the coveted Knifemaker's Guild, blending vintage patterns with modern steel blades,  stainless steel bolsters and springs to an unmistakable fit and finish.  His work attracts  enthusiasts from around the world who often wait years for their knives to be completed to his  satisfaction.  His knife making talent accentuates his true passion for his craft and his reputation  as a trusted businessperson, spirited philanthropist, devoted husband and father. Tony's son,  Reese, is also an accomplished custom maker.  The two carry on their knife making tradition  from their workshop in Shelburn, Indiana.
---
Chris Reeve Small Sebenza 21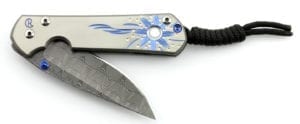 Donated by Chris Reeve Knives
Small Sebenza 21, Unique Graphic with Mother of Pearl Inlay. This is one of the beautiful one-of-akind graphics created by Chris Reeve artist Lisa L'Eveeue-Hague. Stainless basket weave Damascus by Devin Thomas. Titanium handle.  Calf skin shealth.
---
Two Large Tighe Tac Twos:  Anodized and Stone Washed Titanium Scales,
4 inch RWL 34 Drop Point and Tanto Blades, Button Lock Flippers and all the other great features as the CRKT version.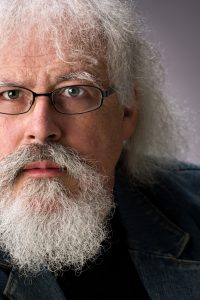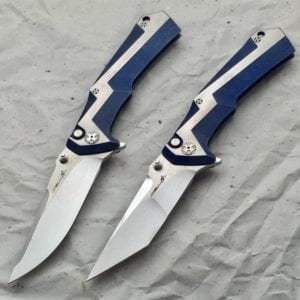 About Brian:  Brian Tighe is a Canadian "Renaissance man": tool and die maker, photographer and extraordinary custom knifemaker and CRKT knife designer. He says, "I started making knives because I always carried one and had a passion for them. When I was first introduced to custom knives, I knew I could make them as well, got hooked and never looked back. I knew from my experience how to cut metal, what tools were needed and how to achieve the top fit and finish. I test my knives by carrying one every day, and I use it for everything I need to do around the house and work. I also get a lot of feedback from customers who use my knives to make their living."  Pat Covert of American Handgunner has said, "Brian Tighe has risen from the rank and file of edged weapons artisans to the rarefied air of the top 10 elite. His sense of design is extraordinary, his pride of workmanship exemplary. These are qualities that have propelled Tighe to the top." His custom workshop is in Ridgeville, Ontario.
---
Boker Leo Damascus
Donated by Boker USA


110084DAM Leo Damascus 300 layer Leopard Damascus, 60-61 degree HRC, 6061-T6 Aluminum, Ziacote wood inlays.  Forged out of the German battletank Leopard I, not available to the market, only used for the military. Boker Exclusive. A chromium-manganese and vanadium tool steel alloy was added to this extremely wear-resistant barrel steel. Pattern is "Small Pyramid."  Includes Certificate of Authenticity and gift box. Serialized.
---
Zero Tolerance 0392BLK – Serial #0026
Donated by Kai USA Ltd, Zero Tolerance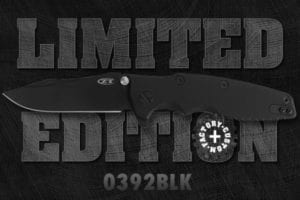 The 0392BLK was built as a partnership between Rick Hinderer and Zero Tolerance. The titaniumhardware is custom made by Rick Hinderer with a matte black finish.  ZT manufactures the blade with precision from CTS-204P steel and a matte black DLC coating. The handles are built from sturdy titanium with matte black DLC coating. A built-in flipper and the ball bearing system make the 0392BLK easy to open, so you can put it to work on the task at hand. Includes Certificate of Authenticity from Zero Tolerance and Rick Hinderer.
---
Zero Tolerance 0606CF- Serial #0026
Donated by Kai USA Ltd, Zero Tolerance

The 0606CF Factory Custom knife combines the talents of RJ Martin, Matt Martin, and ZT. It offers a clean, streamlined look with almost no visible front hardware.  The exception is the pivot. Built by Matt Martin, the 0606CF's oversized pivot cartridge features RJ's "pivotless pivot" design and ZT's KVT ball-bearing system. Oversized 3D-machined pivot endcaps call attention to this handsome feature. This good-looking knife's two-tone titanium handle has been 3D machined, anodized, machined again, then re-anodized—and topped off with a carbon fiber insert—to complete the distinctive look. The 0606CF also features a titanium frame lock with hardened steel lockbar insert, a carbon fiber backspacer, and 3D-machined titanium clip.  Includes Certificate of Authenticity from Zero Tolerance, RJ Martin, and Matt Martin.
---
Spyderco Magnitude C212CFP
Donated by Spyderco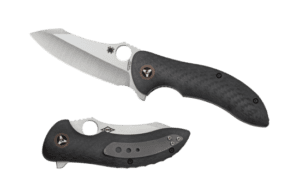 Designed by acclaimed custom knifemaker Peter Carey, the aptly named Magnitude is a highly refined LinerLock folding knife that offers impressive cutting performance and a full spectrum of one-hand opening options. In addition to a Kit Carson-inspired index-finger flipper, its blade also features a fully accessible Trademark Round Hole™ for swift one-handed opening with either hand. Hollow ground from high-performance CPM® S30V® particle metallurgy stainless steel, the dramatically profiled blade features a long, sweeping PlainEdge™ cutting edge, a full-thickness spine, and a stylish swedge (unsharpened bevel) that collectively offer an amazing balance of cutting performance and strength.
The Magnitude's equally impressive handle combines full skeletonized titanium liners, painstakingly machined solid twill carbon fiber scales, and a scalloped brown G-10 backspacer to create an extremely strong, ergonomic structure that is also visually stunning. The knife's distinctive pivot pin assembly is encircled by an inlaid brown G-10 accent and embellished with meticulously machined details. It also houses a pair of precision ball-bearing washers that give the blade an ultra-smooth, low-friction action. A custom-designed clip configured for right-side tip-up carry completes the package and ensures the Magnitude is always poised and ready when you are.
---
Spycerco Nirvana C199TIP
Donated by Spyderco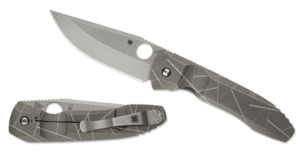 The winner of Blade Magazine's prestigious "Imported Knife of the Year" award, Spyderco's Nirvana faithfully translates the spirit and breathtaking attention to detail of knifemaker Peter Rassenti 's handcrafted custom design into an exceptional production folding knife.  The Nirvana's most distinctive feature is its one-piece handle, which is meticulously machined from a solid block of titanium to produce every detail—including the knife's high-strength Reeve Integral Lock (R.I.L.) mechanism. The beautifully contoured, exceptionally ergonomic handle is then matte finished and embellished with a spectacular CNC-machined geometric design that wraps around its entire outer surface.
Crafted from 4mm (.158-inch) thick CPM® S90V particle metallurgy stainless steel, the Nirvana's blade is equally impressive. The PlainEdge™ blade features a saber grind and clip-point profile for a superior balance of strength and edge geometry and boasts a stonewashed finish to match the knife's subdued handle. Spyderco's Trademark Round Hole™ provides leverage for swift, positive one-handed opening, while an hourglass clip on the handle offers convenient right-side, tip-up carry to keep this remarkable knife poised and instantly accessible.
---
Spyderco Para 3 C223GP
Donated by Spyderco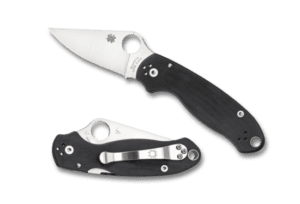 The Para 3 takes all the proven features and benefits of Spyderco's best-selling Para Military™2 and distills them into an even more compact all-purpose cutting tool. Its three-inch blade is precision machined from premium CPM® S30V® particle metallurgy stainless steel and features a full-flat grind for a superior balance of strength, point utility, and low-friction cutting performance. It includes a textured index-finger choil and thumb ramp that provide a solid purchase for a forward grip and offer enhanced control during precise cutting tasks. The blade's signature Trademark Round Hole™ clearly brands it as a member of the Spyderco family and is fully accessible to allow quick, positive, one-handed opening with either hand.
To keep the Para 3 slim and pocket friendly, it features a lightweight, open-backed construction style and its stainless steel liners are nested into machined recesses in the textured G-10 scales. This reduces the handle thickness and provides excellent structural support for the knife's patented Compression Lock™. Located in the spine of the handle, this high-strength mechanism locks the blade securely open during use, yet allows it to be closed easily and safely with only one hand. A four-position hourglass clip and an oversized lined lanyard hole complete the design, offering ambidextrous tip-up or tip-down carry and allowing the easy attachment of fobs and lanyards.
---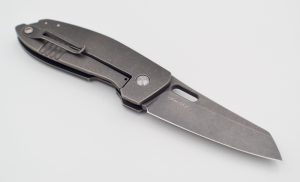 Pictured is the Burnley M69 donated last year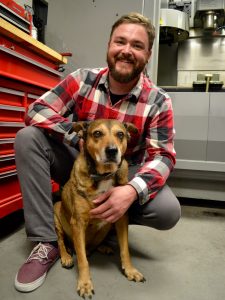 About Lucas:  Lucas Burnley is founder and principal of Burnley Knives. For him, knives are a personal expression of independence, self-reliance and fun – ideas and philosophies he began formulating as a knife-toting 7-year old. He designs primarily in a style that he considers to be "contemporary tactical," blending  clean modern lines with tactical origins. Above all, he believes that utility shouldn't come at the cost of beauty. He loves many aspects of the craft, but is happiest conceptualizing and prototyping new ideas. Along with his custom line, Lucas works closely with production companies Böker and CRKT, making his designs available to a wider audience. As a resident of Albuquerque New Mexico, Lucas is a connoisseur of both green and red chile.
---
Brad Zinker
Zinker Custom Urban Trapper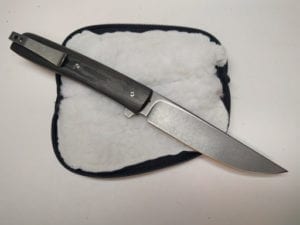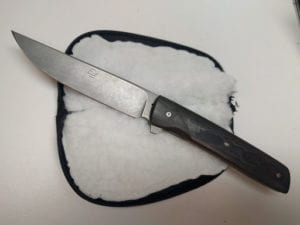 Liner lock flipper, stonewashed CP154 RC61.  Woodgrain fiber.
This design was inspired by the trapper Brad carried in his youth.