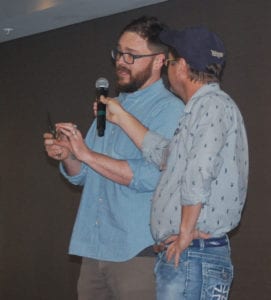 Thank you to everyone who has supported us in the past for the event at the Blade Show and this year's 2020 Free to Carry online auction!  We had a very successful fundraiser August 1 – 9 and sincerely appreciate the support!
Brian Tighe, Ken Steigerwalt, Matthew Lerch, Richard Rogers, Tony Bose donated custom knives.
Other items were donated by:  Al Mar Knives, American Outdoor Brands, Benchmade, Boker USA, Chris Reeve Knives, CRKT, Fox Knives, Leatherman Tool Group, Master Cutlery, SOG, Spartan Blades, Spyderco, The Evans Group, WE Knife Co., Willey Knives, William Henry, WithArmour Knives and Tools, Work Sharp, W.R. Case & Sons Cutlery and Luxury Manzanillo.
Event Co-Chairs:
Mark Schreiber, President, CRKT
Curtis Smith, Vice President of Marketing, American Outdoor Brands
A special Thank You to these terrific 2020 Sponsors…  

Donations support AKTI and our efforts to ensure you are FREE TO CARRY the knife of your choice by supporting our Legislative Initiatives. 
You can always Contribute to AKTI throughout the year.
Check out the 2019 event.