"Common Sense Award" Recognizes the Senators' Bipartisan Leadership on a Federal Initiative to Better Protect Citizens from Complex and Burdensome Government Regulations
Cody, WY (September 30, 2015) – The American Knife & Tool Institute (AKTI) today presented Senators Mike Enzi, R-WY, and Ron Wyden, D-OR, with the "Common Sense Award." The award is designed to honor Members of Congress who have worked across party lines to further common sense legislation.
In its first ever presentation, AKTI honored Senators Enzi and Wyden for their tireless work on the Interstate Transport Act (formerly called the Knife Owners' Protection Act- KOPA), a bill that will ensure federal protection for lawful knife owners from the current patchwork of state and local knife laws.
"Knives are an essential tool for hunters and various occupations and the right to carry them with you when you're on the road is something that should be protected," Enzi said. "With thousands of knife laws across the country, our legislation provides a common sense solution that respects the rights of states while providing the protection that knife owners need to ensure they can travel without fear of prosecution."
"No one benefits from the confusion and legal limbo surrounding how lawful knife owners can transport their knives," Wyden said. "This common-sense bill provides clear rules that respect state laws, ensure public safety and protect the rights of knife owners."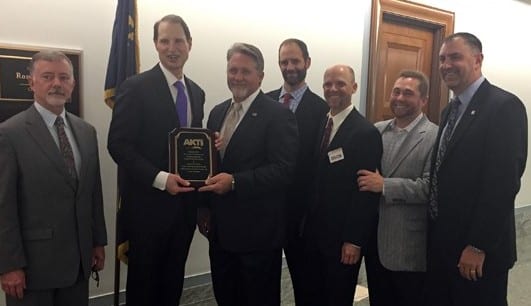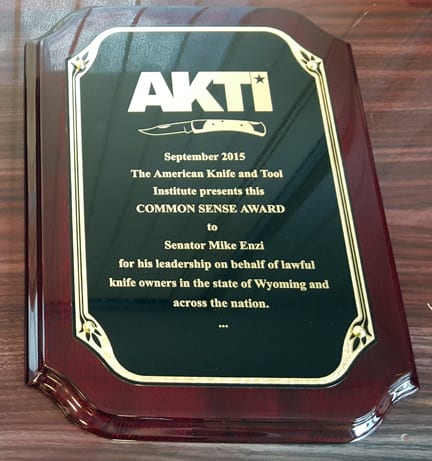 Under current U.S. code, lawful gun owners are allowed to transport firearms legally in both the state of origin and the state of destination, provided they are properly stored and in accordance with all federal restrictions. However, no such protection exists for knife owners wishing to transport knives to and from states in which they are legal, but through jurisdictions with varying requirements. KOPA would allow legal interstate travel for knives, provided the knives are transported to and from states where the law allows possession of said knives, and they are transported in closed containers. The bill, S. 1315, which has passed the Senate Committee on Commerce, Science and Transportation, and is co-sponsored by Senators Mike Lee, R-UT, Joe Manchin, D-WV, John Thune, R-SD, and Martin Heinrich, D-NM.
"Since our inception, AKTI has looked to partner with legislators operating above partisan politics and interested in bringing sound, practical solutions for people who depend on knives in their daily lives," said CJ Buck, AKTI President and Co-Founder. "It has been an honor to work with Senators Enzi and Wyden on common sense legislation that brings clarity to people who travel with knives as part of their daily professional and recreational activities."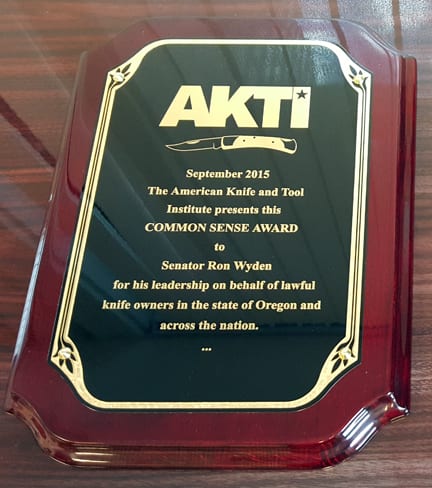 For nearly 20 years, AKTI has served as the go-to resource for knife owners looking to ensure that they comply with all local, state, and federal laws related to knives. One of the biggest complaints and points of confusion AKTI hears about from lawful knife owners involves the interstate transport of knives. While citizens are making every effort to comply with patchwork state and local laws, it has become clear that there is the need for a federal protection for sportsmen, hunters, and other law-abiding knife owners that does not interfere with state and local restrictions on knife use.
Read more about the Knife Owner's Protection Act