Quick Legal Facts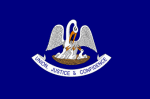 Statewide Preemption:
No.
Concealed Carry:
Intentional concealment of automatic knives is prohibited. See discussion
Minors:
No restrictions.
Schools:
Knives may not be carried on school property including schools buses or at school functions.
Major Cities with Knife Ordinances:
Baton Rouge, New Orleans, Shreveport
At a Glance:
Louisiana law prohibits "the intentional concealment on one's person of any 'switchblade knife'".  (14:95) This prohibition does not apply to assisted opening, gravity, or other one-hand openable knives.
Relevant Statutes:
LSA-R.S. 14:94.  Illegal use of weapons or dangerous instrumentalities
LSA-R.S. 14:95.  Illegal carrying of weapons
LSA-R.S. 14:95.1. Possession of firearm or carrying concealed weapon by a person convicted of certain felonies
LSA-R.S. 14:95.2.  Carrying a firearm or dangerous weapon by a student or nonstudent on school property, at school-sponsored functions, or in a firearm-free zone
LSA-R.S. 14:95.10.  Possession of a firearm or carrying of a concealed weapon by a person convicted of domestic abuse battery and certain offenses of battery of a dating partner
Restricted Knives:
None.
Concealed Carry:
There is no issue as to open or concealed carry of knives, except for automatic knives which may not be intentionally concealed 'on one's person'. (See below discussion on 'intentional concealment').
Restrictions on Sale or Transfer:
None.
Restrictions on Carry in Specific Locations/Circumstances:
Knives may not be carried on the property of elementary, secondary, high schools, or vocational-technical schools. This restriction also applies to school buses and school functions/activities.
No.
Major Louisiana Cities with Knife Restrictive Ordinances:
Baton Rouge – § 13:95, Prohibits the manufacture, ownership, possession, custody or use of any switchblade.
New Orleans –  § 54-342, Prohibits, among other things, possession and carry of any switchblade. § 54-342, Prohibits possession of weapons at demonstrations.
Shreveport –  § 50-135.2, Prohibits possession of weapons at government facilities and facilities owned by the City.
Discussion:
Automatic Knives
(Bias Toward Closure)
In May of 2012 an amendment to the Louisiana law, initiated by AKTI, incorporated the bias toward closure concept into 14:95 and clarified that various one-hand operable knives could be legally owned and carried in that state. This amendment remains as sub-part (4) (b) of 14:95. Thus, there is no issue with respect to 'assisted opening' knives or other types using a thumb stud or declivity to enable one-hand use.
(Intentional Concealment)
In August of 2018, another amendment to 14:95 removed the prohibition on the possession or use of 'switchblade' knives, and allows such knives to be carried except when the knife is intentionally concealed. There has not been appeal court-level consideration of this amendment since it became effective. Fortunately, there is guidance from the Louisiana Supreme Court which has arisen from several cases involving the application of the same intentional concealment standard to handguns.
The seminal case is State v. Fluker, 311 So 2d 863 (1975) which involved an individual armed with a .38 revolver carried in a belt holster on the right hip. He was a businessman who typically carried the handgun when he was transporting the daily cash receipts. The defendant was observed driving erratically and stopped by a police officer. The discovery of the handgun and attendant circumstances was described in the Supreme Court opinion as follows:
Approaching from defendant's rear, he noticed a small, brown holster housing the pistol attached to defendant's belt on his right hip. Defendant wore no outer clothing, such as a coat or jacket, that otherwise hid the holster and gun from view. It was admitted that enough of the gun protruded from the holster to make it recognizable as a pistol. The officers disarmed defendant and arrested him on the charge for which he was eventually prosecuted.
The trial judge applied precedent from an 1885 case and found the defendant guilty because the weapon was not in 'full view'.  The Louisiana Supreme Court traced the history of the prohibition back to 1813, when it was first enacted, and then through various amendments including a 1942 amendment which incorporated the concept of 'intentional concealment'. The court stated:
In sum, the trial court erred in its application of the mechanistic standard that obtained under prior laws. The appropriate test to be applied in prosecutions for illegal carrying of weapons is whether, under the facts and circumstances of the case as disclosed by the evidence, the manner in which defendant carried the weapon evinced an intent to conceal its identity. Applying this interpretation of the statute to the facts of this case, we find no evidence of an intentional concealment of the weapon. Defendant wore the gun in a holster on his hip in open view. The gun was exposed, except for that portion in the holster. There was no attempt to conceal its identity. It was fully admitted by the arresting officers that the weapon was sufficiently exposed to be fully recognizable as a pistol. Hence, we find no evidence to substantiate this conviction. (italics supplied for emphasis).
The conviction of Mr. Fluker was set aside. A similar result occurred several years later in the Louisiana Supreme Court case of State v Bowen, 376 So2d 147 (1979) which involved a man and his wife seated in a hotel restaurant. Some officious intermeddler noticed that man had a pistol although there was no mention of misconduct or other circumstances which indicated a need for heroic action or police intervention. The opinion of the court describes the circumstances as follows:
The witness stated that the hand grip of the pistol was protruding from defendant's waistband. Defendant and his wife were sitting at a table across from each other. At this point, Cox left and called the police. On returning to the dining room, he saw defendant take the pistol from his waistband and place it on a ledge of a large plate glass window adjacent to the table where defendant and his wife were sitting. After a word or two with his wife, defendant removed the weapon from the ledge and placed it in his wife's open purse located between them on the floor. At this point, the police arrived. The arresting officer testified that he observed the weapon in defendant's wife's open purse and immediately arrested defendant for carrying a concealed weapon.
The defendant was convicted of carrying a concealed handgun. Upon appeal to the Louisiana Supreme Court, the conviction was set aside, and a judgment of acquittal entered. The court observed:
. . . we find no evidence of defendant's intentional concealment of the weapon on his person. Defendant wore the pistol in his waistband in plain view in such a way that it was immediately recognizable as a gun. This manner of openly carrying the pistol contradicts a finding that defendant intended to conceal the weapon. When defendant removed the pistol from his waistband and placed it on the window ledge, the weapon was in full view. Finally, when defendant placed the pistol in his wife's open purse on the floor, it was clearly visible to anyone who passed by. The placement of the pistol in the purse in this manner negates a finding that defendant either intended to conceal the weapon or have the weapon on his person. Hence, we find no evidence to support the conviction.
The same reasoning and the same 'test' announced in State v. Fluker would apply to knives. A part of a folding knife with a pocket clip, for instance, visible above the hem of the pocket, should also be "immediately recognizable"' as a knife. Use of a pocket clip, as opposed to carrying the same knife resting within the pocket of a garment, should be viewed as clearly inconsistent with a desire or intention to conceal the knife.
The issue of whether under 14:95 a knife or other weapon is intentionally concealed is a question for the jury. We cannot definitively state what amount of partial visibility and what combination, if any, of the knife, pocket clip, and clothing, will or will not be found to constitute intentional concealment. A conviction for a first offense violation of 14:95 can result in a fine of not more than $500, and/or imprisonment for not more than 6 months. A decision to carry an automatic knife in Louisiana should be made carefully and must involve an ongoing assessment of how the State v Fluker test would be answered. Ask yourself, "Does the manner in which I'm carrying this knife lead others to believe that I intend to conceal the fact that it is a knife?" Seek a second opinion to the same question from a family member or friend.  If there is any doubt, make appropriate adjustments.
Law Enforcement – Military
While there is a law enforcement exception in 14:95 for law enforcement personnel, that exception does not apply to automatic knives. Accordingly, law enforcement personnel including sheriffs, sheriff's deputies, state, and local police may not carry automatic knives intentionally concealed.
Louisiana law allows municipalities considerable latitude with respect to local governance. Section 14:95 (F) expressly provides that convictions for violating such local laws may apply for purposes of repeat offender sentencing:
For purposes of determining whether a defendant has a prior conviction for a violation of this Section, a conviction pursuant to this Section or a conviction pursuant to an ordinance of a local governmental subdivision of this state which contains the elements provided for in Subsection A of this Section shall constitute a prior conviction.
Updated August 5, 2019, by Daniel C. Lawson