Quick Legal Facts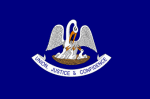 Statewide Preemption:
No.
Minors:
No restrictions.
Schools:
Knives may not be carried on school property including schools buses or at school functions.
Major Cities with Knife Ordinances:
Baton Rouge, New Orleans, Shreveport
At a Glance:
Effective August 1, 2022, the Louisiana law no longer prohibited "the intentional concealment" on one's person of any automatic/switchblade knife.
Relevant Statutes:
LSA-R.S. 14:94.  Illegal use of weapons or dangerous instrumentalities
LSA-R.S. 14:95.  Illegal carrying of weapons
LSA-R.S. 14:95.1. Possession of firearm or carrying concealed weapon by a person convicted of certain felonies
LSA-R.S. 14:95.2.  Carrying a firearm or dangerous weapon by a student or nonstudent on school property, at school-sponsored functions, or in a firearm-free zone
LSA-R.S. 14:95.10.  Possession of a firearm or carrying of a concealed weapon by a person convicted of domestic abuse battery and certain offenses of the battery of a dating partner
Restricted Knives:
None.
Concealed Carry:
There is no issue as to open or concealed carry of knives.
Restrictions on Sale or Transfer:
None.
Restrictions on Carry in Specific Locations/Circumstances:
Knives may not be carried on the property of elementary, secondary, high schools, or vocational-technical schools. This restriction also applies to school buses and school functions/activities.
No.
Major Louisiana Cities with Knife Restrictive Ordinances:
Baton Rouge – § 13:95, Prohibits the manufacture, ownership, possession, custody or use of any switchblade.
New Orleans –  § 54-342, Prohibits, among other things, possession and carry of any switchblade. § 54-342, Prohibits possession of weapons at demonstrations.
Shreveport –  § 50-135.2, Prohibits possession of weapons at government facilities and facilities owned by the City.
Discussion:
Automatic Knives
(Bias Toward Closure)
In May of 2012, an amendment to the Louisiana law, initiated by AKTI, incorporated the bias toward closure concept into 14:95 and clarified that various one-hand operable knives could be legally owned and carried in that state. This amendment remains as sub-part (4) (b) of 14:95. Thus, there is no issue with respect to 'assisted opening' knives or other types using a thumb stud or declivity to enable one-hand use.
Louisiana law allows municipalities considerable latitude with respect to local governance. Section 14:95 (F) expressly provides that convictions for violating such local laws may apply for purposes of repeat offender sentencing:
For purposes of determining whether a defendant has a prior conviction for a violation of this Section, a conviction pursuant to this Section or a conviction pursuant to an ordinance of a local governmental subdivision of this state which contains the elements provided for in Subsection A of this Section shall constitute a prior conviction.
Updated August 5, 2019, by Daniel C. Lawson