With a lot of gratitude and a bit of sadness, we wish Happy Retirement to attorney Daniel C. Lawson. Dan has been an invaluable asset to AKTI's mission to provide accurate law and legal information about knives.
"We appreciate all you have done to support AKTI over the years and your incredible contributions to our organization and industry. We will sorely miss working with you," said Mark Schreiber, President of CRKT and AKTI's President, on receiving Dan's announcement of stepping away from active involvement.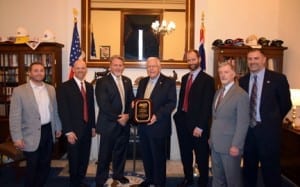 Dan Lawson began providing volunteer services to the American Knife & Tool Institute in early 1999 while originally at a Pittsburgh law firm in the outdoor pursuits practice group. His letter of introduction to the new organization provided some background, "around the age of 11 or 12, I started making knives out of old files, which I shaped using a bench grinder. My father was a machinist, so I had access to this type of equipment. The handles were made from kit string, which I had soaked in glue, and then wound around the tang to create the shape I desired."
In addition to authoring and updating the knife laws of all fifty states and D.C. on the AKTI website, Dan's contributions have included drafting the AKTI Approved Knife Definitions, AKTI Protocol for Measuring Knife Blade Length, Understanding Bias Toward Closure and Knife Mechanisms, model knife law wording, and numerous Know Your Knife Laws articles which Knife Magazine has published for AKTI. Dan provided input on proposed legislative changes and worked closely with AKTI's Legislative Committee, attending trips to Washington, D.C., to advocate and answer legislators' questions.
Dan has been a regular participant at the Blade Show, asking questions in the AKTI booth and participating in seminars and AKTI events.
"I learned a great deal from working with Dan about knives, knife laws, and reading and interpreting statutes that have been valuable in my ability to help AKTI and our members," said Jan Billeb, AKTI Executive Director. "I will miss his assistance helping with questions for individuals and his expertise about all things knives."