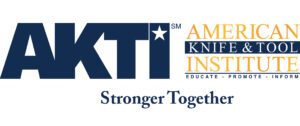 Recognizing the vibrancy and successes of the knife industry, the American Knife and Tool Institute (AKTI) is hosting a "Stronger Together Industry Celebration Event" on June 3 at the 2022 Blade Show being held in Atlanta.
The invite-only event will see the presentation of the inaugural "Les de Asis Industry Integrity Award," celebrate two years' worth of legislative victories, and explore the state of the industry. It will also kick off AKTI's important Free to Carry online fundraiser and provide ample networking opportunities for professionals within the knife industry.
One of AKTI's co-founders, Les de Asis began in the knife industry in 1979 and went on to incorporate Benchmade Knives in 1987. He passed away on Feb. 21, 2020. Now named in his honor, the Les de Asis Industry Integrity Award recognizes individuals of outstanding character who have made selfless contributions to the knife and tool industry.

"AKTI's Board of Regents were wholly enthusiastic to change the name of our 'Industry Integrity Award' to honor Les," said CRKT President Mark Schreiber, who also serves as president of AKTI. "Given the events of the last two years, we haven't been in the position to gather as an industry and properly acknowledge Les and his tireless work on behalf of the knife community and AKTI."
 American Outdoor Brands, Case Knives, CRKT, and GSM Outdoors are already committed supporting sponsors. Event sponsors are Benchmade, Boker USA, Buck Knives, and The Evans Group. Additional sponsorship comes courtesy of Fox Knives. Attendance to the event will be limited and RSVPs are required.
Jan Billeb, Executive Director of AKTI, said the organization continues to seek additional sponsors for both the Blade Show event and the Free to Carry event. Free to Carry is an online auction that raises funds that allow AKTI to serve as an advocate for reasonable, rational knife laws and works to make sure Americans can make, carry, and use the tool that best fits their needs. 
"Committing to some level of sponsorship allows members of the knife industry to reinforce their appreciation for AKTI's legislative successes and help fund ongoing initiatives that promote knives as valuable tools," said Billeb.
For inquiries about sponsorship, contact akti@akti.org.