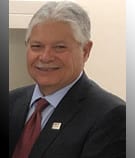 The American Knife & Tool Institute (AKTI) and our industry has lost someone very special who was passionate about life, his family and friends and all things knives. With extreme sadness we had to say goodbye last week to Les de Asis, Founder of Benchmade Knife Company, and Co-Founding Board of Regent Member of the American Knife & Tool Institute.
Les was innovator, advocate and friend.  He believed in the mission and methods of the American Knife & Tool Institute and never faltered in his 100% support.  Les de Asis and Benchmade Knife Company were instrumental, along with CJ Buck and Buck Knives, in assuring the formation and success of a solid nonprofit organization to advocate for the interests of the knife community.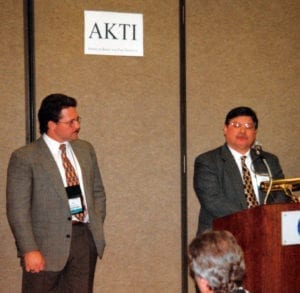 From the beginnings in 1997 up to the present, Les de Asis was personally involved with the initiatives and successes of the American Knife & Tool Institute. He served as the organization's first president from 1998 to 2001 and was actively involved on the Board of Regents and legislative committee since then, most recently participating in an AKTI 2019 trip to Washington, D.C. (pictured below) to encourage passage of AKTI's two federal initiatives:  Freedom of Commerce Act and the Interstate Transport Act.
Les will be greatly missed on the AKTI Board of Regents and throughout the knife industry.  Our thoughts and prayers go out to the de Asis family and the Benchmade community.  This is a great loss.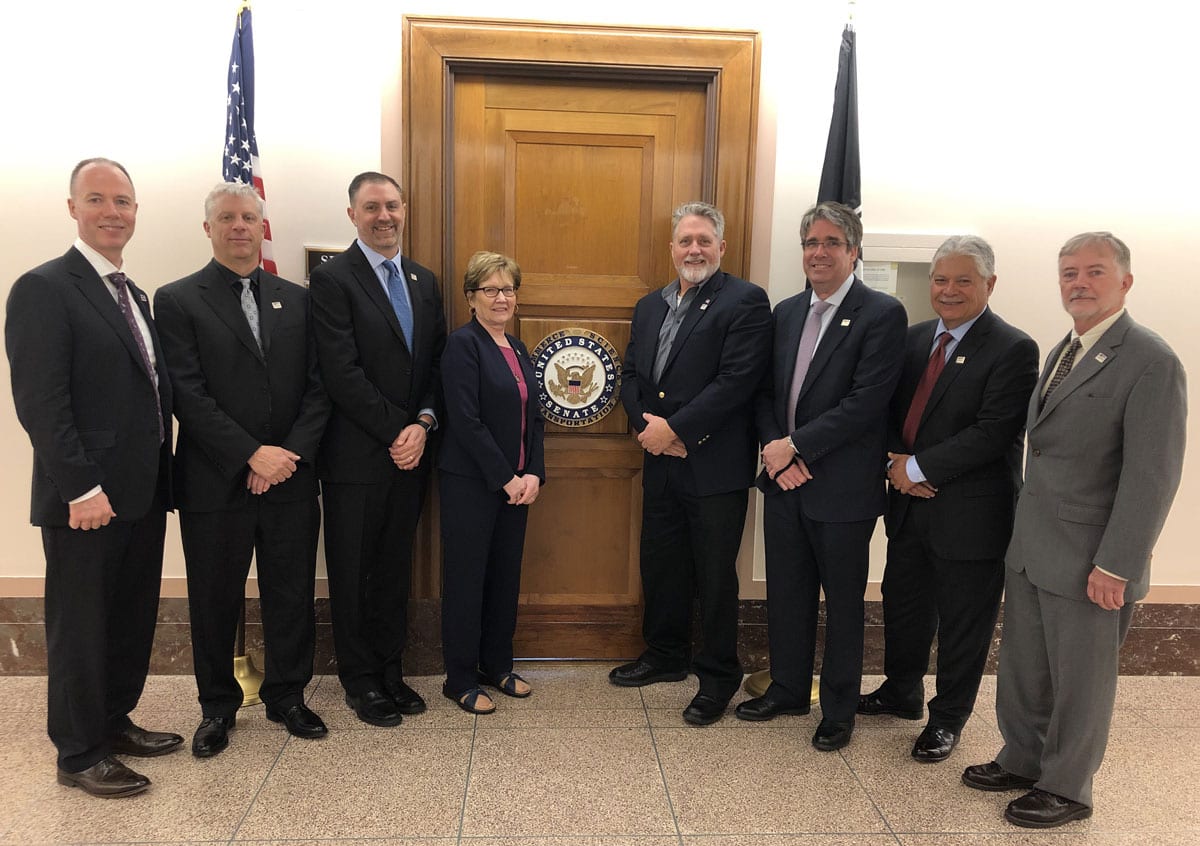 AKTI Board: Joe McSwiney (SOG), Kurt Ronacker (Boker), Mark Schreiber (CRKT), Jan Billeb (AKTI), CJ Buck (Buck Knives), John Sullivan (W.R. Case), Les de Asis (Benchmade Knife Company), Daniel C. Lawson, Attorney.
Sharing Thoughts…
Jon de Asis accepting Blade Hall of Fame on behalf of his dad.

Jan & AKTI team,

Thank you all for giving him great pride, camaraderie, and satisfaction over the years. He was always excited and passionate about our industry and AKTIs efforts to drive progress where it matters. I know he will be supporting from above with the same energy forever.

Thanks again for giving him a purpose he was proud about.

Jon de Asis (son and President of Benchmade Knife Company)

---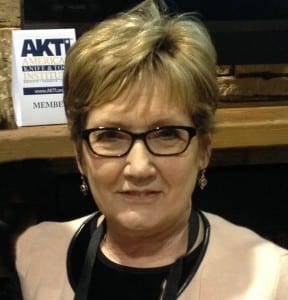 Having worked with Les during the forming plans of AKTI in 1997 and ever since, I feel the tremendous loss of a good friend, as well as an incredibly passionate advocate and supporter of AKTI and the industry.  The forming years of AKTI were the beginnings of great comraderie and sharing of aspirations for businesses and the entire knife business. We enjoyed socializing, updating about families and an occasional golf game.  I will miss Les forever at AKTI meetings, but even more so the occasional call just to check in.  I am proud to have known Les and to consider him a friend and colleague.
---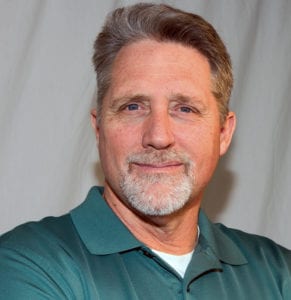 I lost a dear friend last week.
As you navigate through life you run into people that stick.   People who care, live with integrity and challenge you to step up your game.
Les was that friend.
I want to share a couple of personal stories.
It was in the mid-90's that Les and I really started to build a relationship.  It was a legislative challenge in California involving an unreasonable expansion of what could be labeled a "dirk or dagger," and thus not legal to carry.  We worked together with legislators and were successful, but, we saw the need for the creation of an industry group and began the foundation of the creation of the American Knife & Tool Institute (AKTI).  While we were successful in California, our bigger AKTI victory was a few years later achieving the addition of "bias toward closure" into gravity statutes and creating the first objective criteria for how to define a "gravity knife".
Sometime early on we got to talking about one of my favorite past times which was stand-up tuna fishing.  Les wanted to give it a try so we took our sons, Jon and Josh, on a two-day tuna fishing trip out of my home town, San Diego..  We slayed 'em and had a great trip.
Our industry has lost something really special.  Les stopped by our booth at SHOT Show and I waved but did not step out of the meeting I was in.  Now I very much wish I would have.
To Roberta, Jon and Melissa, you are in my prayers and on my heart.  These are sad days, however, as we remember my father who we lost back in 2015, we more often laugh at those recollections then shed tears.  Les was such a character I am sure you have plenty of those stories.
---

Les and I only socialized on occasion, but I always felt that if I needed anything all I had to do was call.  I first met Les when I still worked for Kershaw Knives back in the early '90's, he came out of the back of his new shop in Oregon City with grease under his nails and a smile on his face.  I think he was just happy to be back in the game after an untimely business event in California that forced him to drastically change his business model…bottom line he was a true survivor.
In 2001 CRKT was paid a visit by US Customs and the results were not good.  The Custom Specialist reported to me that we were selling illegally imported switchblades (liner locks and frame locks) and notified me that we were to cease selling virtually 70% of our inventory!  Needless to say I was stunned and really didn't know exactly where to turn.  After several sleepless nights I started to get some good advice from our freight forwarder and an attorney that specialized in importation issues that got the ball rolling.  At the time I was aware of a new industry association (AKTI) but really didn't know too much about it, so I called Les de Asis, one of the co-founders of AKTI, and wondered how it might be able to help our fledgling little company in crisis.  Les jumped into action rallying all of the knife and tool companies in the Portland area to help us develop an action plan, he even footed the bill for the meeting room at a neutral site.  We came away with an introduction to AKTI's attorney, Dan Lawson, who provided invaluable case law to support our plea to US Customs.  In no small part Les helped us save our company as we successfully navigated the seizure and came away with only a few bumps and a very expensive lesson.
Since our scape with U.S. Customs almost 20 years ago, Les has come to my aid on a number of significant business issues never once indicating that he expected anything in return for his sage advice or observations.  Without ever expressing it outright, I believe that Les' actions always demonstrated his commitment to the industry, wanting it to thrive even if it meant that his company might have stiffer competition on an immediate basis as AKTI fought to remove or lessen overbearing and confusing knife laws locally and nationally.
Personally I'll certainly miss seeing Les at the trade shows, he always made it a point to stop in to see how we were doing.  Professionally Les de Asis was a true friend of the industry and his absence will be sorely felt.
---