This article appeared in Knife Magazine in February 2021.
Know Your Knife Laws – Tools or Weapons
By Daniel C. Lawson, Attorney and Knife Expert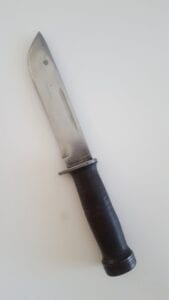 A few states in the United States do not restrict specific knives that law-abiding adults may carry. Wisconsin, New Hampshire, Indiana, South Carolina, and Idaho – among a few others – allow individuals to make that decision without regard to government-imposed restraints.
Some states restrict the carry of knives by name; "dirks, daggers, and stilettos" are among the most frequently listed. Blade length, alone or in combination with another factor, is also a common basis for restriction. A Texas statute, § 46.01, defines a "location-restricted knife" as a knife having a blade longer than five and one-half inches. Knives in that category are prohibited in specific locations such as schools, court facilities, polling places, and airports.
A Georgia statute § 16-11-125.1 provides for restrictions to a "knife" defined as:
a cutting instrument designed for the purpose of offense and defense consisting of a blade that is greater than 12 inches in length which is fastened to a handle.
The Georgia law has two required elements. The blade must be longer than 12 inches, and it must be an item or "instrument" designed for the purpose of offense or defense. In other words, for the knife to be a "weapon," it must have a blade longer than one foot. This statute has the desirable feature of at least one objective with an easily determined characteristic, namely blade length. Only if the blade exceeds the specified length do we need to consider whether it was "designed for the purpose of offense or defense."
Several states have enacted restrictions based solely on the characterization of a given knife as being a weapon. A statute in Maine, § 2001-1 B, provides a concealed carry restriction for variously named knives and impact weapons along with any other "dangerous or deadly weapon usually employed in the attack on or defense of a person." Knives for hunting, fishing, and trapping are excluded from the prohibition.
In State v Jones, 46 A3d 1125 (2012), the Maine Supreme Court set aside a conviction based on the possession of two manual pocketknives with blades measuring three inches. No evidence was presented that the knives were designed for the purpose of offense or defense. The physical characteristics mentioned by the trial judge to support the conviction included "size," "heft," and "serrated edges."
The court, in its written findings of fact and conclusions of law, noted 'the size, the heft, and the sharp and serrated edges of the [blades]' and that 'these knives would easily do significant damage to human tissue, human organs and major arteries.' However, such a description could be given of any knife and renders Jones's knives indistinguishable from those that the Legislature has expressly exempted from the prohibition against concealment.
 "Heft" is simply another word for weight, as determined by lifting an object or holding it in one's hand. Obviously, a standard less reliant on caprice was required.
The Maine Supreme Court went on to establish the requirement to be applied:
Accordingly, whether a knife is a 'dangerous or deadly weapon usually employed in the attack on or defense of a person' for purposes of [§2001] requires a fact-specific inquiry to determine whether the knife is designed for use against human beings or whether its primary function is to attack or defend a person.
This ruling contemplates that a prosecution under the statute will be expected to present evidence to establish the contention that a given knife was either designed for – or primarily used as – a weapon. The Maine statute, and similar laws in other states, are problematic because there is a widespread misperception that many knives are designed and/or primarily used as weapons.
The most widely recognized military-issued knife of the 20th Century was the USMC "Ka-Bar." The knife has been duplicated by various makers and remains popular with military and civilian users. A version featuring a blue synthetic handle targeting the newly established U.S. Space Force is now offered.  The Ka-Bar knife was adopted by the U.S. Marines in November 1942, when the hard-fought Guadalcanal Campaign had been raging for over three months. The design selected was based on a "hunting" knife, the Marbles "Ideal" model.
Given its military origins, many outside the knife community wrongfully assume the USMC Ka-Bar knife and similar knives have been designed as weapons. It was intended for utility which includes opening cartons, cutting vegetation, and various tasks. Many of those knives, including one issued to my father as a WW 2 Marine, returned home and were carried as hunting and general utility knives.
Another example of a military knife from World War II that has wrongfully been weaponized is the "Quartermaster" knife produced by Cattaraugus Cutlery and Case Knives. It featured a thick, straight-back blade and a heavy pommel. The knife was designed for personnel in "supply" roles who constantly dealt with wooden crates and stubborn packaging of material. Surviving specimens can be found at online auction sites listed as "Commando" knives.
A custom knifemaker, now Randall Made Knives, gained fame in World War II with the Model 1 "Fighting Knife" purchased by many for use in that war's various theaters. It is an excellent knife and remains in production almost 80 years later. The Randall Model 5 "Camp and Trail Knife" features the same blade shape but with a finger guard. The Model 1 has a cross hilt and sharpened swedge. The differences between the two models mentioned are very subtle. Under Maine law, the differences could mean up to one year in jail and a fine of $2,000 if we differentiate based on the name associated with the knife.
Tool – as opposed to a weapon – design is also a factor in West Virginia knife law where § 61-7-2 provides the following definition for "knife":
'Knife' means an instrument, intended to be used or readily adaptable to be used as a weapon, consisting of a sharp-edged or sharp-pointed blade, usually made of steel, attached to a handle which is capable of inflicting cutting, stabbing or tearing wounds. The term 'knife' shall include, but not be limited to, any dagger, dirk, poniard or stiletto, with a blade over three and one-half inches in length, any switchblade knife or gravity knife and any other instrument capable of inflicting cutting, stabbing or tearing wounds. A pocket knife with a blade three and one-half inches or less in length, a hunting or fishing knife carried for hunting, fishing, sports or other recreational uses or a knife designed for use as a tool or household implement shall not be included within the term "knife" as defined herein unless such knife is knowingly used or intended to be used to produce serious bodily injury or death.
This definition is rather cumbersome and includes archaic and vague terms, specifically "poniard," but does state that the restriction does not apply to a "knife designed for use as a tool." A definitional statute in Utah, § 76-10-501, suggests that weapon/tool factors are to be considered along with others, such as circumstances of possession, and applies to both unlawful use and simple possession:
(b) The following factors are used in determining whether any object, other than a firearm, is a dangerous weapon:

(i) the location and circumstances in which the object was used or possessed;

(ii) the primary purpose for which the object was made;

(iii) the character of the wound, if any, produced by the object's unlawful use;

(iv) the manner in which the object was unlawfully used;

(v) whether the manner in which the object is used or possessed constitutes a potential imminent threat to public safety; and

(vi) the lawful purposes for which the object may be used.
Presumably, a jury in Utah would be asked to consider the purpose for which a given knife was made, along with whether it constitutes an imminent threat to public safety. A search of Utah case law yields no examples of what would constitute such a public safety threat.
The knife features assumed to indicate a weapon include a serrated blade, a "locking"' blade on a folding knife, double edges, and a cross hilt. Blade serrations are useful for cutting fibrous material such as seat belts/shoulder harness straps. Locking mechanisms are a highly desirable safety feature for folding knives, and cross hilts help maintain a boundary between the hand and the cutting edge or whatever is being cut. Double-edged knives are not necessarily weapons. The celebrated Puma "White Hunter" is just one example of a sporting knife with opposing sharp edges.
It is absolutely not my intention to denigrate in any way the USMC Ka-Bar, the Randall #1, or the Cattaraugus 225Q Quartermaster knife. (My own collection includes at least one of each.)  All provided excellent service and kept soldiers and Marines alive, and they will continue to do so. The Quartermaster knife is no less important because it was intended for use by persons very slightly removed from the front lines.
It is important that those of us in the knife community strive to avoid reinforcing myths and misperceptions about knives. To educate, promote, and inform are among the functions of the American Knife & Tool Institute for the benefit of the entire knife community.  It behooves all of us to participate as appropriate in this effort.
Edged tools may not be as colorful or as controversial as edged weapons. An appreciation of our edged weapons is helpful to understanding both our history and our culture.
Join AKTI
Sign up for emailed news