This article appeared in Knife Magazine in May 2020.
Know Your Knife Laws – The Misunderstood Dirk
By Daniel C. Lawson, Attorney and Knife Expert

Statutes in thirty U.S. states, as well as the District of Columbia, impose some restriction on the possession or carry of a "dirk." At least nine states have repealed statutes regulating any "dirk." Most of these various "dirk" statutes can be traced to the nineteenth century when concealed carry of weapons restrictions were first enacted.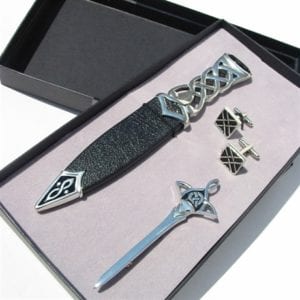 If one is curious about dirks, some history is available online from various sources that concern Scottish culture. Dirks were probably brought to the U.S. by emigrants from Scotland.
Very little guidance is provided in either statutory or decisional law as to what differentiates the dirk from any other knife. Most case law from across this country involving dirks arises from attempts to indiscriminately or elastically apply a dirk restriction to some other non-restricted knife for the mere sake of a conviction.
One such example is the Kentucky Supreme Court case of Knox v. State, 6 S.W.2d 318, decided in 1928, where the defendant had been charged with two different counts for possession of a knife. One of the counts was that he carried a concealed "dangerous weapon, to wit a dirk. The other alleged the same knife was "a bowie knife, Arkansas toothpick, [or] other knife and weapon of like shape and size." He was convicted and then appealed to the Supreme Court, which examined what was alleged to be a dirk, bowie, or Arkansas toothpick:
The knife was introduced and made an exhibit, and is now before us. As described in the record, the knife opens and shuts, and is not too large to be carried in a trousers pocket as pocketknives are ordinarily carried. The record contains no suggestion that it resembles either a dirk or a bowie knife.
Prohibiting dirks was applied expansively in the Knox case to a simple pocketknife. A similar approach occurred in the case of People v Ruiz, decided by a court in California that same year.
Defendant Ruiz was observed by Southern Pacific security agents carrying a suspiciously wrapped bundle, and he was detained. At some point in the process, it was discovered that the bundle was copper wire, presumably stolen from the railway yard. The defendant also had a knife which was described as a "British bayonet":
It appeared in evidence that the weapon in question was a bayonet with part of it filed off, which could be worn on the body; that it resembled a British bayonet; that there was no such thing as a British dirk; that the weapon resembled a dagger in every particular, except that a dagger is more pointed, and not quite so heavy.
California law prohibited the concealed carry of any dirk or dagger. The dilemma was that the item was a modified British bayonet and, as observed by the court, "there was no such thing as a British dirk." Expediently, their solution was to charge defendant Ruiz with two counts; the first of which alleged he possessed a dirk, and the second alleged he possessed a dagger. (No charges regarding the stolen copper wire were mentioned in the case, likely due to the lack of evidence apart from the circumstances.)  Rather than attempting to prove that the "British bayonet" was a dirk, or alternatively a dagger based on various design aspects, the jury was, in effect, invited to "toss a coin" if it decided to convict. The jury's verdict that the knife was a dagger was upheld on appeal.
The California fix for this problem "gap" in knife restriction was an all-encompassing statutory definition, § 16470, for dirk or dagger, which in part reads:
As used in this part, "dirk" or "dagger" means a knife or other instrument with or without a handguard that is capable of ready use as a stabbing weapon that may inflict great bodily injury or death . . .
The nouns "dirk" and "dagger" in the existing California statute are simply an unnecessary – and perhaps a confusing intermediate step to a restriction that applies to any "knife or other instrument." Eventually, the California Supreme Court reversed a conviction where the "dirk" was an ersatz "swiss army" slip joint pocketknife in People v Castillolopez, 371 P.3d 216 (2016).  (An amicus curiae brief written by this author was filed in this case on behalf of the American Knife & Tool Institute to support the defendant's position.)
Yet another example of elastic application of a statutory "dirk" restriction appears in Virginia, where the dirk restriction was applied to a "butterfly" knife. In the case of Delcid v Virginia, 526 S.E.2d 273 (2000), the defendant argued at trial that his butterfly knife did not conform to the judicially established definition of a dirk which held it to be a knife with two sharp edges and a point and the knife in question had a single sharp edge. The trial judge ruled that the knife was "a dirk with one side," thus avoiding controlling authority from a higher court in the state. The conviction was upheld on appeal.
Nine years later, in the case of Thompson v Commonwealth 673 S.E.2d 469, the Virginia Supreme addressed to misuse of the weapons statute in another dirk-conviction-butterfly-knife case:
As we have stated previously, "[i]t is … the role of the General Assembly, not this Court, to craft any needed revisions to Code § 18.2–308(A) and to decide what items to include within the statute's proscription."  The General Assembly can certainly include a butterfly knife or balisong as one of the prohibited weapons enumerated in Code § 18.2–308(A) if it is so inclined.
The Virginia Supreme Court correctly observed that it is a legislative function to write statutes but seems to suggest that the remedy is including yet another knife name (butterfly) on the prohibited list when removing an ambiguous or misunderstood term such as dirk might be the better approach.
State legislatures created ambiguity by fixing on the dirk as a menacing knife without providing guidance as to exactly what characteristics render dirks especially dangerous and require restriction. Some legislatures have compounded the problem by creating dirk "hybrids," such as the dirk knife2 in Massachusetts and other states. A Nebraska statute restricted any "bowie knife, dirk or knife with a dirk blade attachment." The Nebraska Supreme Court could only surmise what a "dirk blade attachment" was but held it did not apply to the defendant's steak knife. (State v Williams, 352 N.W.2d 576 (1984). The restriction has since been repealed.
Those of us in the knife community likely have a mental image of a dirk, which probably features a symmetrical in-profile blade, 8 to 10 inches in length, with a single sharp edge. There is no cross-guard hilt with a handle featuring a Celtic knot or Scottish thistle motif. That differs from the way it has been applied.
The American Knife & Tool Institute suggests that the distinction as to what is, or is not lawful, should be based on functional and measurable standards as opposed to aesthetics or national origin.
---
1"Dirk Knife" is a clasp knife having a large blade like that of a dirk. (Commonwealth v Miller,497 N.E.2d 29)