This article appeared in Knife Magazine in April 2021.
Know Your Knife Laws – The Bowie Knife Frenzy
By Daniel C. Lawson, Attorney and Knife Expert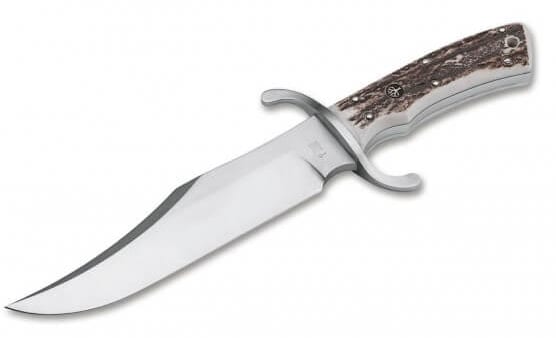 On the evening of July 4, 2005, a Portsmouth, Virginia, police officer approached one Shay Demond Gilliam as he was riding a bicycle in a Walgreens parking lot. A concerned citizen had complained about "suspicious activity." The individual dismounted the bicycle and produced his identification card. As he seemed unsteady and had the odor of consumed alcohol, he was arrested for public intoxication. A search, incident to arrest, revealed a sheathed fixed-blade knife approximately 12 inches in length in a back pocket.
Gilliam was charged with possession of a concealed weapon. In § 18.2-308, Virginia law provides that it is unlawful to carry in a concealed manner any "dirk," "bowie knife," or "any weapon of like kind." The arresting officer identified the item at the trial as a "long black-handled knife." Gilliam appealed the conviction, asserting that the knife was not restricted under the law.
The Virginia Appeals Court Gilliam v Commonwealth, 642 S.E.2d 774 conceded that the item was clearly not a "dirk" as it did not have "two sharp edges." The Court then went on to state that the "distinctive" bowie-shape blade1 was not determinative if the knife had one sharp edge and a point:
Here, although the knife's blade does not have the distinctive shape of the bowie knife—that is, a slight dip in the dull, upper portion of the blade—the knife has other similar characteristics of the bowie knife. Specifically, it has 'a single sharp edge, a dull … flat edge and a point.'
The conviction was affirmed, and the Gilliam case became part of the 175-year-old criminal litigation struggle as to what actually constitutes what is labeled a bowie knife.
James Bowie gained some notoriety in 1826 when Norris Wright fired a pistol at Bowie during an encounter in Alexandria, Louisiana. A state of hostility had existed between the two men for some time. The bullet from Wright's pistol struck Bowie but was deflected by a silver dollar in Bowie's coat pocket. Bowie, undaunted by the shot, attacked Wright with his bare hands and would have likely killed him had friends close by not intervened. Bowie had a leather sheath fashioned for his "hunting knife," which, after that, he routinely carried.2
The Sandbar Fight in September 1827 brought national notice to Bowie.  The sandbar was an island in the Mississippi River where the river defined Louisiana and Mississippi's boundaries.  Neither state claimed the island as territory.  It was a preferred site for conducting duels, as jurisdictional uncertainty would hamper whatever legal consequences might develop. Samuel Wells and Dr. Thomas Maddox resolved to conduct a dual on the island. Each duelist was accompanied by a "second" individual, who served as his spokesperson, as well as a physician.  Each duelist was also accompanied by a small contingent of close friends and relatives. Significant hostility existed between the members of the two groups. Norris Wright (mentioned above) was a member of the Maddox group. Bowie was aligned with the Wells contingent.
The actual duel ended after each had fired two pistol shots that missed their target. By prior agreement, this resolved the duel and whatever had provoked it. A fight then erupted between the two groups. Bowie was, evidently, a priority target.  At the outset, Bowie was shot in the hip but managed to get too close to the shooter, who then struck Bowie on the head with the pistol. The impact broke the pistol and caused Bowie to collapse. While Bowie was on the ground, Norris Wright fired a pistol at him but missed. Wright then drew a cane sword which he plunged into Bowie's chest. Wright then placed a foot on Bowie and attempted to withdraw the sword blade, but Bowie pulled Wright down and onto his knife, with which he disemboweled Wright. Bowie regained his feet with the sword still embedded. Several pistol shots were fired at him, and although he was struck by another bullet, he wounded one of his attackers with a knife. The Maddox group, minus the now-deceased Norris Wright, retreated.  A doctor was able to remove the sword and stop the bleeding from Bowie's various wounds.3
Accounts of the Sandbar Fight appeared in newspapers across the country. The reports variously described Bowie as using a "big knife" or a "large butcher knife."
Who among us would not have wanted a similar knife? The demand for "Bowie" knives exceeded the capacity of domestic makers. British industrial producers from cutlery centers such as Sheffield, England, responded as well. British-made bowie knives surged onto the U.S. market in the early 1830s.
This widespread currency in bowie knives came into collision with a developing opposition to the practice of dueling. Legislation intended to curb the practice was in place in several states in the 1820s. It is likely that the celebrity of James Bowie, deriving from dueling and his deadly use of knives, simultaneously increased the demand for and disapproval of "bowie knives."
Bowie knife restrictions were enacted in various states. The Tennessee law, representative of these restrictions, passed in 1837 prohibited persons from:
"wearing, under their clothes or concealed about their persons, any bowie-knife, Arkansas toothpick, or other knife or weapon in form, shape, or size resembling such bowie-knife or Arkansas toothpick."
Uncertainty as to what was included in the Tennessee law soon became an issue. In early 1843, one Stephen Haynes was observed with a large knife. He was charged with possession of a concealed bowie knife and, alternatively, with wearing a knife in size resembling a bowie knife. Five witnesses testified about the knife, described as 15 to 18 inches in length. Two stated it was a bowie knife. The other three identified it as a "Mexican pirate knife."  Haynes was convicted under the alternative count of "resembling" a bowie knife.
On appeal challenging vagueness, the Tennessee Supreme Court in Haynes v State, 24 Tenn. 120 (1844) recognized the uncertainty but suggested satisfactory protection was afforded by the courts:
But, it may be asked, what is to protect against conviction when the words of the statute cover the charge, and its true spirit and meaning does not?
We answer the judge and jury who try the case. We can not presume that the latter would find, or the former permit, a verdict to stand where the offense charged was not of the character designed to be prohibited by the statute.
The Tennessee court was confident that the statute would not be applied, for example, to pocketknives:
to hold that it applied to knives used altogether for lawful purposes, and such as peaceable persons, not given to brawling and stabbing, carry in their pockets, would be a violation of sense and of every rule of construction as applicable to statutes of this kind.
There are at least two significant problems with the approach suggested by the Tennessee Supreme Court.
Firstly, a jury in the Texas case, Phoenix v State, 281 S.W. 567 (1926), convicted the defendant under a bowie knife prohibition where the item in question was a folding pocketknife with a blade of 3 and ½ inches.
Secondly, the U.S. Constitution requires explicit standards within criminal restrictions, as the Supreme Court stated in Grayned v City of Rockford, 408 U.S. 104 (1972):
because we assume that man is free to steer between lawful and unlawful conduct, we insist that laws give the person of ordinary intelligence a reasonable opportunity to know what is prohibited, so that he may act accordingly. . . if arbitrary and discriminatory enforcement is to be prevented, laws must provide explicit standards for those who apply them.
The American Knife & Tool Institute suggests that restrictions based on an identifier such as "bowie" fall far short of explicit standards. During the bowie knife frenzy, the legislation created was intended to address the destructive vestige of trial by combat. Those laws, some of which remain in effect, were well-intended but defective from the outset. The term "bowie knife" remains in common use and is casually applied to a broad range of knives without common characteristics apart from a sharp edge and blade that tapers to a point.
Sign up for monthly email news to Stay Informed about AKTI's legislative initiatives. You can also join or support AKTI's efforts to provide information to give you the confidence to carry the knife and edged tool of your choice.
1The knife, identified as model "MCR-11", featured a tanto grind. Images are available online.
2Clifford Hopewell, James Bowie Texas Fighting Man, 25, 26.
3Ibid, 31-32.