Quick Legal Facts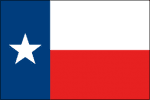 Statewide Preemption:
Yes. Effective September 1, 2015
Concealed Carry:
No restrictions.
Minors:
May only carry blades 5.5 inches or longer under specific conditions.
Schools:
Schools are weapons free zones.
Critical Dimensions:
More than five-and-one-half inches blade length considered location "restricted knife."
Summary
Adults and juveniles (people under 18) can carry knives with blades less than 5.5 inches anywhere.  Adults may carry knives with blades 5.5 inches or longer anywhere other than a few restricted locations.  Juveniles may not carry blades 5.5 inches or longer at all, unless they are: 1) supervised by an adult; 2) at their home, in their car, or their boat, or 3) on their way to a home, car, or boat. No specific knife designs are restricted.
At a Glance
Right to Bear Arms/2nd Amendment Equivalent:
Article 1, Section 23 of the Texas Constitution. Texas's right to bear arms, unlike the Second Amendment, includes an explicit limitation–allowing the legislature to regulate weapons for crime prevention.  The Second Amendment as interpreted by Heller now applies to Texas via federalism and McDonald.
Relevant Statutes:
Restricted Knives:
Knives with blades 5.5" or longer are considered location restricted knives.  See above.
Concealed Carry:
No restrictions.
Yes, since Sept. 1, 2015. Texas Local Government Code section 229.001(a)(1); one narrow exception – localities can issue weapons restrictions different from state law to curb or contain a riot or insurrection.
Adoption of Heller:
Yes, but appeals court only; first adopted in Ross v. State, 2015 Tex. App. LEXIS 8045 (Tex. App. Ct. 2015).  Not yet applied to knives.  Note: As recently as 2003, Texas explicitly refused to apply the Second Amendment to Texans.  See Ex parte Perez, 2003 Tex. App. LEXIS 4670 (Tex. App. Dallas June 3, 2003).  McDonald requires Texas to do so now.
No, but only because the ban on automatic knives (switchblades), previously found at TPC sec. 46.01 (11), was repealed entirely in 2017 making the bias-toward-closure-language used to distinguish between automatics and assisted opening knives unnecessary any longer.
Discussion
Texas knife laws were substantially revised in 2017.
No specific designs are restricted after the revision.  Switchblades, Bowie knives, and others were restricted and now are not.  The focus of Texas law is on three different things: the age of the party carrying the knife, blades 5.5 inches or longer, and certain locations.  Knives with blades 5.5 inches or more are called "location-specific knives" in the TPC.
Adults can carry knives with blades less than 5.5 inches anywhere in the state. (subject to limitations pursuant to federal law for federal facilities like courts, post offices, and military bases).  Adults cannot carry location-specific knives in any of the locations referenced in TPC 46.03 (listed above).
Juveniles are more restricted.  Juveniles, on their own, may not carry a knife with a blade over 5.5 inches anywhere other than their home, car, or boat or on their way to one of those three locations.  When supervised by a parent, juveniles may carry knives with a blade 5.5 inches or longer in any of the locations not specified in TPC 46.03.  Additionally, it is a crime to sell, give, transfer, or rent a location-restricted knife to a juvenile.  Juveniles can be sold such a knife if they have written parental consent or if it is not a sale, if the parents consent.  There is no guidance either way about transfers between family members, such as if an underage person inherits a location-restricted knife from a deceased parent. There is very little case law regarding the transfer to minors law and all of it involves firearms.  If a weapons-offense occurs within 300 feet of a school, the penalty for the offense is one level higher than it would be normally.  See TPC sec. 46.11.
The exceptions provision of the Texas weapons laws which apply to civilians, here TPC sec. 46.15 (b)(2) and (b)(3), indicates that TPC sec. 46.02, which includes the juvenile ban on location-specific knives, does not apply when traveling or hunting.  There are no cases interpreting this provision post-2017 revision and all reported opinions seem to deal exclusively with firearms and not knives.  The "traveling defense" is exceptionally narrow.  See Illingworth v. State, 156 SW3d 662 (Tex. Ct. App. Ft. Worth, Jan. 13, 2005).  In Illingworth the court lays out a relatively comprehensive survey of the "traveling defense" in Texas.  It notes that the law regarding the traveling defense is an inconsistent mess.  Essentially, a person is a traveler when they are on their way to a place, but ceases to be a traveler once they arrive.
The blade length provision was interpreted in Rainer v. State (see below).  In that case the court held that the "blade length" is defined not as the length of the sharpened portion of the edge, but, instead, as "the cutting portion." "Cutting portion," according to Rainer, is the non-handle part of the knife.  Thus, even if the sharpened edge is less than 5.5 inches, the knife is still a location-restricted knife if the non-handle portion is 5.5 inches or longer.
Texas AKTI Case Summaries
Rainer v. State, 763 S.W.2d 615 (Tex. 1989)
The blade length restriction in Texas law references the cutting portion of the knife, not the sharpened edge.