Quick Legal Facts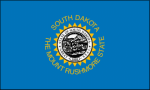 Statewide Preemption:
No.
Concealed Carry:
Not an issue.
Critical Dimensions:
None noted.
The South Dakota State Constitution is concise as to the right of citizens to bear arms.
The right of the citizens to bear arms in defense of themselves and the state shall not be denied.

Const. Art. 6, § 24
Prohibited Knives:
There are no prohibited knives in South Dakota. A statewide prohibition as to switchblade knives was repealed in 2006.
Concealment:
Not an issue. There are no general limitations on the carrying of knives concealed or openly carried.
Critical Dimensions:
None noted.
Schools:
In 2013, the state of South Dakota implemented a school sentinel program, which allows for certain persons trained and licensed to have weapons on school grounds. 13-64-1. The possession of a "dangerous weapon," which can include a knife, on school grounds by someone not licensed is prohibited.