Quick Legal Facts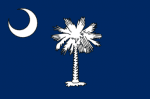 Statewide Preemption:
Yes. Statewide uniformity of criminal law is required by the state constitution.
Concealed Carry:
South Carolina has a concealed deadly weapon statute.
Schools:
There is a specific prohibition for any knife with a blade over two inches long, as well as a general prohibition to any type of weapon., in schools.
Major Cities with Knife Ordinances:
Charleston, Columbia, Greenville
At a Glance:
South Carolina does not generally restrict the public carry of knives.  The primary South Carolina statute pertaining to knives is 16-23-460 captioned "Carrying concealed weapons; forfeiture of weapons." It provides that the prohibition to carrying concealed weapons does not apply to, among other things, "dirks," "knives," and "razors."
There are no state restrictions on the possession of knives, with the understandable exception for inmates of state and local correctional facilities. (24-13-440) and knives with a blade length longer than two inches on primary and secondary school property.
Relevant Statutes:
16-23-405. Definition of "weapon"; confiscation and disposition of weapons used in commission or in furtherance of crime
16-23-430. Carrying weapon on school property; concealed weapons
16-23-460. Carrying concealed weapons; forfeiture of weapons
16-23-490. Additional punishment for possession of firearm or knife during commission of, or attempt to, commit a violent crime.
Restricted Knives:
None.
Concealed Carry:
There is no issue under South Carolina law as to concealed carry of knives unless the knife is "used with the intent to commit a crime or in furtherance of a crime."
Restrictions on Sale or Transfer:
None.
Restrictions on Carry in Specific Locations / Circumstances:
Knives with a blade exceeding two (2) inches may not be carried on any elementary or secondary school property except by law enforcement officers or authorized school personnel. There is no statewide airport restriction.
Yes.  Constitutional "preemption" obtains based on Article 8 Section 14 of the South Carolina  State Constitution.  (See discussion below.)
Discussion:
Local Ordinances, Preemption
Ordinances in several cities in South Carolina, including Columbia, Charleston, and Greenville, contain knife restrictions inconsistent with state law. The Office of the South Carolina Attorney General has analyzed the ordinances in response to a constituent inquiry by an AKTI member. The response provides:
It is this Office's opinion that a court would likely hold the local knife ordinances listed in the request letter are inconsistent with state criminal law and, therefore, violate S.C. Const, art. VIII, § 14 . . . It is this Office's understanding that the listed ordinances were enacted prior to the 1996 and 2008 amendments to S.C. Code Ann. §§ 16-23-405, -460. At the time the ordinances were enacted, the statutory definition of weapon included "a knife with a blade over two inches long." S.C. Code Ann. § 16-23-405 (Supp. 1987). Further, Section 16-35-460(C) was subsequently amended to list "dirks, slingshots, metal knuckles, knives, or razors" as exceptions to the prohibition against carrying concealed weapons. S.C. Code Ann. § 16-23-460(C) (2015). When the ordinances were adopted, the cities certainly drafted the ordinances to comply with the general state law. However, due to the amendments discussed above, the ordinances continue to criminalize conduct that the General Assembly has since authorized. (Citations omitted)
A complete copy of the above-quoted letter is available here.
Law Enforcement – Military
There is an exception in 16-23-460 (Carrying Concealed) and in 16-23-430 (School Grounds) for law enforcement.
South Carolina CCW
There is some incidental benefit to one holding a South Carolina Concealed Weapon license, or a license afforded reciprocity, with respect to possession of a knife with a blade longer than two inches while on school property. Such a knife can be secured in a motor vehicle in the same manner as provided for securing a firearm. There may also be some incidental benefit under 16-23-460 (B) (1); however, the existence and scope of any such benefit have yet to be considered by the courts.
Updated October 1, 2022, by Daniel C. Lawson