Quick Legal Facts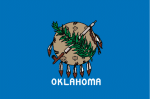 Statewide Preemption:
Yes
Concealed Carry:
Not an issue.
Critical Dimensions:
None noted.
Since 2015, Oklahoma has been liberalizing its knife laws.  Effective November 1, 2015, switchblade knife was removed from Oklahoma's prohibited weapons statute.  In 2016, daggers, bowie knives, dirk knives, and sword canes were removed from the list of unlawful items.  The statute was amended recently and, effective on November 1, 2018, the weapons statute will provide as follows:
It shall be unlawful for any person to carry upon or about his or her person, or in a purse or other container belonging to the person, any pistol, revolver, shotgun or rifle whether loaded or unloaded or any blackjack, loaded cane, hand chain, metal knuckles, or any other offensive weapon, whether such weapon be concealed or unconcealed….
Okla. Stat. tit. 21 , § 1272. (Emphasis added.) The statute specifically provides that it is not intended to prohibit the use guns and knives for hunting, fishing, educational, or recreational purpose.
Oklahoma law focuses on restricting the carrying of firearms and impact weapons.  While knives are excluded from the unlawful carry law, people who carry edged weapons other than knives—tomahawks, axes, machetes, throwing stars—should be cautious.  Those weapons might be treated as "other offensive weapons" under the statute.
Concealment:
Not an issue.
Critical Dimensions:
None noted.
Schools:
The possession of any weapon specified in Okla. Stat. tit. 21 , § 1272 on school grounds is a felony. Okla. Stat. tit. 21 , § 1280.  There are narrow exceptions to that rule for hunter's safety courses and knives secured in vehicles used to transport children to school, so long as the vehicle does not remain on school property.
Statewide Preemption:
Yes (effective November 1, 2015)