Quick Legal Facts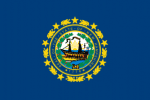 Statewide Preemption:
Yes.
Concealed Carry:
Not an issue.
Minors:
New Hampshire has no laws regarding the sale or transfer of knives to minors. It does, however, for instance, prohibit the sale of paint ball guns and/or BB guns to minors.
At a Glance:
New Hampshire does not restrict the possession of knives by law-abiding individuals.
Relevant Statutes:
625:11 General Definitions.
159:3 Convicted Felons.
159:19 Courthouse Security.
159:26 Firearms, Ammunition, and Knives; Authority of the State.
642:7 Implements for Escape and Other Contraband. 
Restricted Knives:
There are no restricted knives except for persons previously convicted of a felony.
Concealed Carry:
There are no restrictions on open or concealed carry.
Restrictions on Sale or Transfer:
None.
Restrictions on Carry in Specific Locations/Circumstances:
Deadly weapons, which, by definition, may include knives, are prohibited in any Courthouse. Knives are included within the ambit of 'implements for escape and other contraband' which may not be possessed by any 'person in official custody.'
Statewide Preemption:
Yes.  Municipalities or political sub-divisions may not restrict knives.
Discussion:
The most obvious risk to an individual in New Hampshire who possesses a knife is that he or she might inadvertently stray across the southern border of the state into Massachusetts where very restrictive knife laws and felony convictions for violations thereof obtain.
Updated January 17, 2020, by Daniel C Lawson
Comments:
The "Live Free or Die" state of New Hampshire is among the most tolerant states in the country regarding ownership of knives, stemming from the work of State Representative Jenn Coffey, a former EMT, who took on the cause to allow New Hampshire citizens to carry the knife of their choice.  In 2010, Representative Coffey introduced and championed HB1665 which removed all restrictions on switchblades, daggers, dirks, and stilettos from New Hampshire law.