Quick Legal Facts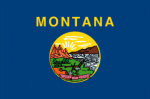 Statewide Preemption:
Yes.
Concealed Carry:
Not an issue.
Schools:
The possession of a knife with a blade of 4 or more inches, a sword, or a straight razor is prohibited in schools. § 45-8-361, MCA.
Critical Dimensions:
None.
At a Glance:
Any knife may be carried openly or concealed.
Relevant Statutes:
45-8-352. Restriction on local government regulation of knives
45-8-361. Possession or allowing possession of weapon in school building-exceptions-penalties-seizure and forfeiture or return authorized—definitions
Restricted Knives:
None.
Concealed Carry:
Not an issue.
Restrictions on Sale or Transfer:
None noted.
Restrictions on Carry in Specific Locations / Circumstances:
A knife with a blade 4 inches or longer may not be possessed or stored in "school buildings" defined as all buildings owned or leased by a local school district that are used for instruction or for student activities. A violation may be punished by a fine not to exceed $500, a jail term not to exceed 6 months or both.
Statewide Preemption:
Yes.  Effective April 3, 2019, local governments may by ordinance or regulation restrict the possession of knives on property leased or owned by the local government entity, but may not otherwise enact or enforce any restriction on the ownership, use, possession, or sale of any knife.
Discussion:                              
2017 Legislation Regarding Knives
A bill labeled H.B. 251, which became law in April 2017, amended 45-8-315 and 45-8-316. The effect of the amendments was the removal of non-firearm weapons from 45-8-316. Cutting instruments that were removed included dirks, daggers, swords, and knives with blades 4 inches in length or longer. The amendment also removed the residual clause "or other deadly weapon" and changed the caption of 45-8-316 from "Carrying concealed weapons" to "Carrying concealed firearms." The 45-8-315 definition of "concealed weapon" was changed to mean a concealed firearm.
Montana citizens and those visiting the state may exercise their own judgment as to the selection and carry of knives.
Updated August 21, 2020, by Daniel C. Lawson