Quick Legal Facts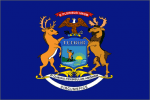 Statewide Preemption:
No.
Concealed Carry:
Fixed blade knives may not be carried concealed or carried in a vehicle, subject to a few very limited exceptions.
Schools:
Schools are weapons free zones in Michigan.
Major Cities with Knife Ordinances:
Detroit and Lansing.
At a Glance:
Pocketknives are not restricted under Michigan state law. The prohibition on automatic knives was removed in October 2017. Fixed blade knives may be carried openly.
Double-edged fixed blade knives or "double-edged nonfolding stabbing instruments" are disfavored in Michigan. It is a felony punishable by imprisonment up to 5 years and a fine not to exceed $2,500 to carry any "dagger, dirk, stiletto, double-edged non folding stabbing instrument" concealed. The same prohibition also applies to any other dangerous weapon; or the possession of such items "in any vehicle operated or occupied by the person."
The issue of what is a "dangerous weapon" involves fact issues and evidence beyond double edges.  This is discussed in more detail below.
Relevant statutes:
750.222a. Doubled-edged, nonfolding stabbing instruments (pertains to items fashioned from stone by knapping or conchoidal fracturing)
750.226. Armed with intent to use dangerous or deadly weapon or instrument
750.227. Concealed weapons, carrying
750.231. Exceptions to §§ 750.224, 750.224a, 750.224b, 750.224d, 750.227, 750.227c, and 750.227d
750.237a. Weapon free school zones; violations and penalties; applicability
380.1313. Reporting and disposition of dangerous weapons found in possession of pupils
Restricted Knives:
There are no forbidden or prohibited knives under Michigan state law. Knives are not mentioned in 750.224 which pertains to weapons which cannot be manufactured, sold, or possessed.
Concealed Carry:
It is unlawful to conceal carry a dagger, dirk, stiletto, double-edged nonfolding stabbing instrument, or any other "dangerous weapon."
Restrictions on Sale or Transfer:
None noted.
Restrictions on Carry in Specific Locations / Circumstances:
Schools K through 12 including private or parochial including school buses are weapon free zones.
No, local knife restrictive laws are not preempted by state law. Detroit and Lansing are among selected Michigan municipalities with a knife restrictive ordinance. No such ordinance is noted in Grand Rapids.
Discussion:
Automatic Knives
Automatic knives are not restricted by Michigan state law. Such knives were restricted under a statute repealed effective in October 2017 which described the prohibited knives as follows:
        Pocket knife opened by mechanical device, unlawful sale or possession

         Sec. 226a. Any person who shall sell or offer to sell, or any person who shall have in his possession any knife having the appearance of a pocket knife, the blade or blades of which can be opened by the flick of a button, pressure on a handle or other mechanical contrivance . . .
The legislation which repealed the former Section 226a did not create a separate category for "out the front" knives, for example. Rather, it eliminated the restriction on any pocketknife which could be opened by means of a mechanical contrivance.
Daggers and Double-Edged NonFolding Stabbing Instruments
Michigan law 750.227 Concealed weapons, carrying, states:
Sec. 227. (1) A person shall not carry a dagger, dirk, stiletto, a double-edged nonfolding stabbing instrument of any length, or any other dangerous weapon, except a hunting knife adapted and carried as such, concealed on or about his or her person, or whether concealed or otherwise in any vehicle operated or occupied by the person, except in his or her dwelling house, place of business or on other land possessed by the person.
A case involving a "throwing knife" illustrates the distinction between daggers, and nonfolding stabbing instrument and any other dangerous weapon. One John Lynn was operating a motor vehicle when he was stopped because of "loud exhaust." The arresting officer then learned that his operator's license had been suspended and that he did not have the required insurance on the vehicle. A search incident to arrest revealed marijuana and two fixed blade knives with an overall length of 14 inches.
Lynn was convicted by the Kalamazoo Circuit Court (trial level) on several charges including 750.227 (1) as set forth above. The evidence concerning the knives included the fact that the while knives were double-edged, and not designed for stabbing, they could be used to stab. The appealed the weapon conviction to the Court of Appeals argued that "double- edged nonfolding stabbing instrument was vague." The Court of Appeals (intermediate appeal level) reversed the weapon conviction and remanded the case for a new trial. The prosecution sought review of the remand by the Michigan Supreme Court which reversed the Court of Appeals in its decision People v Lynn, 586 N.W. 2d 534 (1998). The Supreme court stated:
750.227 (1) in effect provides that several categories of knives and stabbing instruments are dangerous weapons per se. If the jury finds that the object is a 'dagger,' 'dirk,' 'stiletto,' or a 'double-edged nonfolding stabbing instrument,' no further inquiry is required regarding whether the item is within the class of weapons the carrying of which in a vehicle is prohibited.
We interpret "nonfolding" as a synonym for fixed blade. This is consistent with People v Cofer (unreported):
The knife was admitted into evidence. The descriptions in the testimony include that the knife is double edged, sharpened on both sides, fixed (nonfolding), its blade eight or nine inches long . . .
  We suggest that any fixed blade double-edged knife is within the class of knives restricted by 750.227 (1).  
 "Any other dangerous weapon"
The wording of 750.227 (1) has been difficult for Michigan courts. It lists daggers, dirks, and double-edged nonfolding stabbing instruments and then mentions in the same sentence "any other dangerous weapon except a hunting knife adopted and carried as such." In the case of People v Brown, 277 N.W. 2d 155 (1979), the Michigan Supreme Court made clear that neither all pointed instruments, nor all knives, are "dangerous weapons."
The defendant in the Brown case had a machete protruding from under the seat of his car when he stopped by officers for "running a red light." He was convicted of violating 750.227 (1) on the charge that the machete was a dangerous weapon. The prosecution's case was based entirely on possession and the possibility that a machete could be used as a weapon. The Michigan Supreme Court reversed the conviction:
Accordingly, we today reaffirm the principles set forth in People v. Vaines and hold that where a defendant is charged with carrying a "dangerous weapon" contrary to 750.227, the burden is on the prosecution to prove that the instrument carried by the defendant is a dangerous weapon Per se or that the instrument was used, or intended for use, as a weapon for bodily assault or defense. The fact that a pointed instrument, such as a machete, has great potential as a dangerous weapon does not render it a dangerous weapon Per se. Thus, in the instant case, mere proof that defendant knew that a machete could be used as a dangerous weapon does not support a conviction under 750.277.
The ruling in the Brown case is that a knife – not within the dagger, dirk, stiletto, or  nonfolding stabbing instrument  per se class – can be a "other dangerous weapon" only if it can be established that the individual carrying it used it, or intended to use it as a weapon for bodily assault or defense.
Michigan law is unquestionably restrictive of fixed blade or "nonfolding" stabbing instruments but does not specifically address moveable or non-fixed blade double-edged knives. Double-edged folding knives are uncommon due to practical limitations which involve a sharp edge being exposed when the knife is in the closed position. Automatic and assisted opening knives may feature double-edged blades since thumb or finger purchase on the blade is not required. Out-the-front designs sometimes feature double-edged blades.
We suggest a very cautious approach to the concealed carry of any double-edged knife folding or out the front knife in Michigan as it subject to challenge as a "dangerous weapon."
"A hunting knife adopted and carried as such"
The Michigan Court of Appeals in the case of People v Payne, 446 N.W.2d 629 (1989) held that a double-edged fixed blade knife cannot be considered for the hunting knife exception. The exemption was not allowed in the case of People v Wright, 296 N.W. 2d 46 (1980) where the defendant carried a fixed-blade knife concealed while he was in the Lansing, Michigan, City Hall. He was not attired for hunting and it was not hunting season.
Concealment
The concealment standard in Michigan is based on decisional law. Whether a weapon is concealed is an issue to be decided by the jury unless the evidence is clear.  Absolute invisibility is not required in to establish concealment. The test as set forth in the case of State v Jones 162 N.W. 2d 847 (1968) is:
a weapon is concealed when it is not discernible by the ordinary observation of persons coming in contact with the person carrying it, casually observing him, as people do in the ordinary and usual associations of life.
One should not assume that pocket clip carry is openly carried.
Armed With Intent
Concealment is not an element of 750.226 Armed with intent to use dangerous or deadly weapon. This section applies to the knives restricted under 750.227 and includes any knife "having a blade over 3 inches in length." A violation occurs if one goes armed with intent to use the weapon unlawfully against another. To "go armed" simply requires that the person move from one location to another with the weapon, and that he had the unlawful intent when departing from the first location. People v Mitchell 835 N.W. 2d 615 (2013).
Law Enforcement / Military
Michigan law 750.231 provides exemptions from the 750.227 restriction for law enforcement and military members. The exemption extends to members of the Reserves while attending, or traveling to and from, drills or places of assembly.
This section does not apply to the weapon free school zones, although 750.237a provides exemption specific to schools.
Consequences
Unlawful carrying offenses under 750.226 and 750.277 are felonies under Michigan law. The maximum penalty can be imprisonment up to 5 years and / or a fine not to exceed $2,500.
Updated November 2, 2020 by Daniel C. Lawson