Quick Legal Facts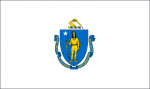 Statewide Preemption:
No.
Concealed Carry:
No an issue.
Schools:
Knives are prohibited from all schools, from the elementary level to university campuses. M.G.L.A. 269 § 10(j).
Major Cities with Knife Ordinances:
Boston, Salem
Critical Dimensions:
One-and-a-half inches is maximum blade length for an automatic knife.
At a Glance:
The body of Massachusetts law concerning knives is not easily capsulized. The primary statute regarding the possession and carrying of knives, found at 269 § 10 sub-section (b), is a single sentence consisting of almost 400 words. It states that one may not "carry on his person" – including in a vehicle –  any: stiletto, dagger, ballistic knife, dirk knife, automatic knife having a blade longer than one and a half (1 ½) inches, a knife with a double-edged blade, or device which enables a knife with a locking blade to be drawn at a locked position. This list of knives may be referred to as the per se or "by definition" prohibited knives, although there are no statutory definitions.
Sub-section (b) further provides that if one is arrested upon a warrant for an alleged crime or arrested while committing a "breach or disturbance of the public peace" and possesses a "dangerous weapon" (which may be a knife other than one of the per se knives) he or she is subject to the same range of penalties which apply to simple possession of any of the sub-section (b) weapons. (See below discussion on "consequences").
Relevant Statutes: 
Chapter 269 Crimes Against Public Peace
10. Carrying dangerous weapons; possession of machine gun or sawed-off shotguns; possession of large capacity weapon or large capacity feeding device; punishment
10G. Violations of Sec. 10 by persons previously convicted of violent crimes or serious drug offenses; punishment
12. Manufacturing and selling knives, slung shots, swords, bludgeons and similar weapons
12F. Airport secure areas; possession or placement of a cutting device or prohibited weapon; punishment
Restricted Knives:
Stilettos, daggers, double-edged knives, ballistic knives, automatic knives with a blade longer than one and one half (1 ½) inches, and any device which enables a knife with a locking blade to be drawn at a locked position. These items are also referred to as per se "dangerous weapons."
Concealed Carry:
Concealed carry is not an issue.
Restrictions on Sale or Transfer:
Yes, see 269 § 12.
Restrictions on Carry in Specific Locations/Circumstances:
Yes, 269 § 10 (j) prohibits possession of any "dangerous weapon," which almost certainly includes knives, in any building or on the grounds of any elementary or secondary school, college or university without the written authorization of the board or officer in charge. . ." See below discussion on "dangerous weapons."
Statewide Preemption:
There is no statewide preemption.
Selected Massachusetts Municipalities with Knife Restrictive Ordinances:
Boston – Yes.
Concord – None noted.
Lexington – None noted.
Salem – Yes.
Discussion:
Automatic Knives
The relevant 269 § 10 (b) restriction applies to "any knife having an automatic spring release device by which the blade is released from the handle, having a blade of over one and one-half inches."
Massachusetts has not adopted the "bias toward closure" distinction. Knives that incorporate assisted opening technology with blades exceeding one and one-half (1 ½) inches are prohibited.
Blade Drawn at Open and Locked Position
Massachusetts prohibits the carry of any device which allows a knife with a locking blade to be drawn at the locked position. This was evidently intended to proscribe quick draw sheaths marketed for manually opened lock-blade knives such as the iconic Buck Model 110. While such "quick draw" devices have become uncommon, Massachusetts prosecuting officials have attempted to apply this prohibition to one-hand manual knives with "thumb studs" as well as "butterfly" knives without any associated sheath or other device!
Double-Edged Knives
Double-edged knives, along with stilettos and daggers are per se restricted knives that may not be lawfully carried on the person or in a motor vehicle. As a practical matter, any flat blade will have at least two edges although one of the edges may be the full thickness of the blade. The Massachusetts statute is intended to address double sharpened edges or double cutting edges.
AKTI suggests that only effective cutting edges as the term is defined should be considered when determining whether a knife is "double-edged." The AKTI suggested definition for effective cutting edge is:
Effective Cutting Edge
An edge capable of performing ordinary, routine cutting tasks associated with activities such as food preparation or food service, or other common uses, including but not limited to farming, animal husbandry, gardening, building trades, hunting, fishing or any trade or crafts.
Massachusetts has not adopted the above definition. The case of Commonwealth v. Albert Smith, 667 N.E.2d 1160 (1996) by the Appeals Court of Massachusetts (an intermediate appeals court) is mentioned as establishing a rule that even the slightest extent of sharpening or even a "swedge" constitutes a second edge. While Massachusetts courts tend to expansively construe knife laws, the Albert Smith case is of dubious precedential weight.
Mr. Albert Smith had been convicted of unarmed robbery and sentenced to a term of confinement at Cedar Junction correctional facility. He filed a lawsuit against the Department of Corrections asserting "illegal segregation and incarceration" while so confined at Cedar Junction. (We may speculate that solitary confinement is an example of illegal segregation.)
After being released from the imprisonment for an unarmed robbery he became involved in an armed robbery incident for which he was convicted and sentenced to confinement for 5 to 7 years at the Norfolk correctional facility. While he was so imprisoned, the lawsuit against the Department of Corrections was "settled" and he received a payment of $28,000. Two weeks later, and while still confined, he was observed carrying an object in a paper bag while walking in the "quadrant" between cell blocks. Smith did not comply with a request from corrections officers when asked about the bag and tossed it onto the roof. The bag was recovered and found to contain a "shank" or extemporized knife. He was charged with carrying a double-edged knife in violation of 269 § 10 (b), the general application weapon carry statute. Unlike many other states, Massachusetts has no specific statute regarding the possession of weapons by prison inmates. For instance, in New Hampshire, which adjoins Massachusetts, the prison inmates are subject to 647:7 Implements for Escape and Other Contraband. A graduate student on the campus of a Massachusetts university is subject to more stringent knife possession regulation than prison inmates.
Smith was convicted by a jury in April of 1992. In July of 1994, Smith asserted an appeal and sought a new trial. He was assisted by a different lawyer who raised various issues including selective enforcement and retaliatory or vindictive prosecution based on the prior illegal segregation lawsuit. He also included a claim that the "shank" had only a single edge and therefore he could not be convicted of carrying a double-edged knife.
The opinion of the Appeals Court in Commonwealth v Albert Smith correctly noted that the single edge / double-edge issue was raised for the first time on appeal. It nevertheless considered whether there was evidence upon which the jury could have found that the item was a double-edged knife. Specifically, the Court stated, "We may postulate the reasoning that would support the finding." It then described the "shank" as follows:
The weapon was a metal piece, 10 ⅝ inches long. For 7¾ inches of its length it was ⅝ of an inch across and ⅛ of an inch in thickness. Then the metal sharpened to a point with either side thinned to an edge.
It would be absurd to suggest that Albert Smith's "shank" would have been legal for inmates in the custody of the Massachusetts Department of Corrections to carry. Similarly, it would be an absurd result if it was found to be legal because only one side had been "thinned to an edge."
Albert Smith sought relief from the Massachusetts Supreme Court which denied his request. 671 N.E.2d 951 (1996).  It may be that the case should have been given non-precedential or unreported opinion treatment.  The Court of Appeals opinion has been cited in Massachusetts appeal courts only twice in the ensuing 24 years and in both instances, the citation did not relate to knives.
We suggest that 269 § 10 (b) should be amended to include the effective cutting- edge definition. In the meantime, knives that may have dual effective cutting edges should be avoided for carry purposes in Massachusetts.
Dangerous Weapon
Roughly "half-way" through the 400-word sentence that comprises 269 § 10 (b), the discussion turns to the issue of having in one's possession "a billy or other dangerous weapon" when arrested on a warrant or while committing a breach or disturbance of the public peace.
Disturbing or breaching is a common law misdemeanor in Massachusetts. A case from 1873 briefly describes the elements of the offense:
The provision against "disturbers of the peace" proscribes conduct that tends to annoy all good citizens and does in fact annoy anyone present not favoring it.  Commonwealth v. Oaks, 113 Mass. 8, 9 (1873).
It is an established and lawful practice that individuals who are arrested may be searched incident to the arrest. Massachusetts law provides that one may not be arrested for a misdemeanor except when "disturbing the peace." This creates a perverse incentive to expand the scope of disturbing the peace. For instance, in Massachusetts driving with an expired registration has been treated as a disturbance of the peace in an attempt to justify an arrest and then conduct a search incident thereto. Also, dangerous weapons may not be carried on school property per 269 § 10 (j). In any event, one should be aware that with reference to knives, a dangerous weapon includes: the pro se restricted knives listed above, any knife designed for the purpose of bodily assault or defense," as well as any knife used in a dangerous fashion.
Knives with weapon characteristics should be avoided.
Consequences
  A violation of 269 § 10 (b) is punishable by:
imprisonment for not less than two and one-half years nor more than five years in the state prison, or for not less than six months nor more than two and one-half years in a jail or house of correction, except that, if the court finds that the defendant has not been previously convicted of a felony, he may be punished by a fine of not more than fifty dollars or by imprisonment for not more than two and one-half years in a jail or house of correction.
A second or "like" offense carries a minimum of five years, with a maximum of seven years.
A violation of § 10 (j) possession of a dangerous weapon on school/university grounds is punishable by a fine of up to $1,000 and/or 2 years imprisonment.
Law Enforcement / Military
An exception for law enforcement officers is included in 269 § 10 (j). No military exemptions are provided in Massachusetts.
Updated February 24, 2020, by Daniel C. Lawson
Massachusetts AKTI Court Case Summaries: