Quick Legal Facts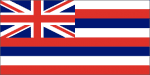 Statewide Preemption:
None.
Concealed Carry:
Not an issue.
Schools:
Hawaiian law provides a zero tolerance policy for weapons on school grounds.
Critical Dimensions:
None
At a Glance:
It is a misdemeanor to carry a dirk or dagger or to have such a knife in one's automobile. It is also a misdemeanor to simply possess a "switchblade" or "butterfly" knife.
Relevant Statutes:
134-51. Deadly weapons; prohibitions; penalty
134-52. Switchblade knives; prohibitions; penalty
134-53. Butterfly knives; prohibitions; penalty
302A-1134.6. Zero tolerance policy (schools) 
Restricted Knives:
"Switchblade" and "Butterfly" knives are forbidden. It is not unlawful to possess a dirk or dagger, but such knives may not be carried.
Concealed Carry:
Concealment is not an issue.
Restrictions on Sale or Transfer:
Neither "switchblades" nor "butterfly" knives may be sold or transferred.
Restrictions on Carry in Specific Locations/Circumstances:
Schools
None.
Selected Hawaii Municipalities With Knife Restrictive Ordinances:
Honolulu – None noted
Discussion:
 Automatic Knives
"Switchblade" and "gravity" knives are forbidden under Hawaii law. The § 134-52 definition is based on the 1958 Federal Switchblade Act and was enacted in 1959, the same year that Hawaii became a U.S. State. The Hawaii statute does not contain the wording of the 2009 amendment to the Federal Switchblade Act, which excludes knives with a "bias toward closure." We suggest that knives with assisted opening mechanisms be avoided. Manual one-hand operability is not restricted.
Butterfly Knives
Butterfly knives have been forbidden under Hawaiian law since 1999, when § 134-53 became law. A recent challenge to this law on U.S. Constitutional grounds was defeated in the case of Teter v Connors brought in the U.S. District Court, Hawaii.
Dagger/Dirk
The Hawaii "Deadly Weapons" law, § 134-51, as it pertains to knives, provides:
Any person, not authorized by law, who carries concealed upon the person's self or within any vehicle used or occupied by the person or who is found armed with any dirk, dagger, . . .  or other deadly or dangerous weapon shall be guilty of a misdemeanor and may be immediately arrested without warrant by any sheriff, police officer, or other officer or person.
The word "concealed" is superfluous. Carrying a dagger or dirk openly or having such an item within a vehicle is unlawful. Whether it is concealed or openly displayed, one is considered to be "armed" within the meaning of the statute.   State v. Ogata, 572 P.2d 1222 (1977).
The Hawaii Supreme Court construed "dagger" to be a "short weapon used for stabbing" in the case of State v Giltner, 537 P2d 14 (1975). The Giltner case involved a "diver's knife" with double edges, one of which was serrated:
The instrument recovered by the police is a 'Sea Hunter' model diver's knife, which is standard equipment for many divers engaged in deep-sea diving. It consists of a hard rubber handle with a blade measuring slightly less than 6 1/2 inches in length, one edge being serrated for most of its length and then curving convexly to the point. Since there is no indication from the statute itself or its legislative history that the Legislature intended to enlarge the definition of 'dagger' beyond its usual and ordinary meaning, we find that the trial judge erred in concluding that the knife in question was a 'dagger' within the meaning of the statute.
The Hawaii Supreme Court commendably recognized that a knife designed for underwater pursuits was not a weapon to be used for stabbing, notwithstanding blade shape.
Law Enforcement/Military
There are no exemptions for law enforcement or military members applicable to knives.
Consequences 
Violations of §§ 134-51 – 134-53 are misdemeanors punishable by confinement for up to one year.
 Updated by Daniel C. Lawson July 27, 2020.