Quick Legal Facts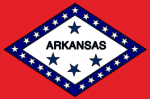 Statewide Preemption:
None.
Concealed Carry:
Concealment is not a factor. Unlawful intent is a factor.
Schools:
Deadly weapons may not be carried in publicly-owned buildings and/or facilities.
Critical Dimensions:
Three inches or longer-blade length if having intent to use it unlawfully.
At a Glance:
Arkansas law provides that it is an offense to carry a "knife" on the person, in a vehicle, "or otherwise readily available for use with a purpose to attempt to unlawfully employ the . . . knife . . . as a weapon against a person." This is set forth in § 5-73-120 which is captioned Carrying a weapon. There is no general restriction applicable to those who do not have a purpose (intent) to unlawfully employ a knife as a weapon.
Relevant Statutes:
5-1-102 (4). "Deadly weapon" (defines "deadly weapon")
5-73-109. Furnishing a deadly weapon to a minor
5-73-120. Carrying a weapon
5-73-122. Carrying a firearm in publicly owned buildings or facilities (also pertains to other "deadly weapons)
5-73-131. Possession or use of weapons by incarcerated persons
Restricted knives:
There are no restricted or forbidden knives under Arkansas law.
Concealed Carry:
Concealment is not an issue.
Restrictions on Sale or Transfer:
Furnishing a "deadly weapon," which may include cutting instruments, to a minor is a Class A misdemeanor. It is a Class D felony to furnish any knife to an incarcerated person.
Restrictions on Carry in Specific Locations / Circumstances:
The State Capitol grounds, the Arkansas Justice Building, various public buildings, and schools are restricted locations. Exclusions apply to rest areas and weigh stations maintained by the Arkansas Department of Transportation.
Statewide Preemption:
No.
Selected Arkansas Municipalities with Knife Restrictive Ordinances:
Little Rock – None noted
Rogers – None noted
Texarkana – None noted
Discussion:
"Place of Business" and "Journey" Exclusions
Sub-section 5-73-120 (c) provides for exceptions to the application of the general restrictions in various circumstances:
5-73-120 (c) It is permissible to carry a weapon under this section if at the time of the act of carrying the weapon:

The person is in his or her own dwelling or place of business or on property in which he or she has a possessory or proprietary interest;

. . .

(4) The person is carrying a weapon when upon a journey, unless the journey is through a commercial airport when presenting at the security checkpoint in the airport or is in the person's checked baggage and is not a lawfully declared weapon;
The "journey" exclusion is based on the fact that people traveling may find it necessary to "defend against the perils of the highway," Riggins v. State, 703 S.W.2d 463 (1986). We point out that vehicular accidents are a common peril of the highway and a knife may be a very useful tool for emergency rescue such as cutting a seat belt/harness.
"Knife" Defined
The Arkansas "Carrying a Weapon" statute, § 5-73-120, applies to the carry with a purpose of unlawful use, of a "handgun," "knife," or "club," which are defined terms. For purposes of this section, "knife":
means any bladed hand instrument three inches (3″) or longer that is capable of inflicting serious physical injury or death by cutting or stabbing, including a dirk, a sword or spear in a cane, a razor, an ice pick, a throwing star, a switchblade, and a butterfly knife.
Arkansas law does not specify how the length of the blade is to be measured. It is also unclear as to how length is applied to a "throwing star." With respect to more conventional everyday carry knives, we suggest the AKTI proposed standard, as it tends to yield a longer, and thus more likely compliant, measurement.
This definition is applicable only to the conduct proscribed by § 5-73-120.
"Deadly Weapon" Defined
The above-discussed definition for "knife" does not apply to sections 5-73-109 Furnishing a deadly weapon to a minor and 5-73-122 Carrying a firearm in publicly owned buildings or facilities. These sections impose restrictions on "deadly weapons" defined by § 5-1-102 (4) as follows:
(A) A firearm or anything manifestly designed, made, or adapted for the purpose of inflicting death or serious physical injury; or

(B) Anything that in the manner of its use or intended use is capable of causing death or serious physical injury.
This definition may include certain knives. We suggest a cautious and restrained approach. 
While the definition of "knife" found in § 5-73-120 may not expressly apply to §§ 5-73-109 and 5-73-122, the rule of statutory interpretation that statutes on the same topic, or in pari materia, should be interpreted in light of each other, supports the argument that the knives with a blade less than 3 inches are excluded. We do not suggest that a 3-inch allowance is, or would be, recognized by Arkansas.
Law Enforcement / Military
Exclusions are provided in §§ 5-73-109 and 5-73-122 for law enforcement officers, security guards, correctional officers, and members of the armed forces. An off-duty law enforcement officer may not carry a weapon into a courtroom if he or she is a witness or party in a civil or criminal matter.
Consequences
A person convicted for a violation of § 5-73-120. Carrying a weapon, a Class A misdemeanor may be confined for not more than one year and/or fined not more than $2,500. A violation of § 5-73-122. Carrying a firearm in publicly owned buildings or facilities is a Class C misdemeanor, punishable by confinement for not more than 30 days and/or a fine of not more than $500.
Updated March 11, 2020, by Daniel C. Lawson