Quick Legal Facts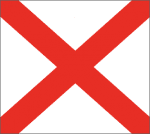 Statewide Preemption:
No.
Concealed Carry:
Not permitted for Bowie knives.
Schools:
Weapons are not permitted on school property.
Major Cities with Knife Ordinances:
Montgomery – Three-inch blade limitation.
Critical Dimensions:
None noted.
At a Glance:
An individual's preference for knives, and the manner of carry, is subject to minimal interference by Alabama law. It is an offense to concealed about the person a bowie knife or other knife of like kind and description.
Relevant Statutes:
13A-11-50 Carrying Concealed Weapons
13A-11-57 Selling, etc., pistol or bowie knife to a minor
13A-11-61.3 Regulation of firearms, ammunition, and firearm accessories
13A-11-72 Certain persons forbidden to possess firearm.
16–1–24.1 Safe school and drug-free school policy. . .
Restricted Knives:
There are no forbidden knives under Alabama law.
Concealed Carry:
Bowie knives and knives of "like kind and description" may not be carried concealed.
Restrictions on Sale or Transfer:
Bowie knives and knives of "like kind and description" may not be sold or transferred to someone less than 18 years of age.
Restrictions on Carry in Specific Locations / Circumstances:
Yes. See below discussion on schools.
Statewide Preemption:
No. § 13A-11-61.3 applies only to firearms.
Discussion:
Schools
Alabama state law § 13A-11-72 provides that is a felony to knowingly and with intent to do bodily harm carry or possess a deadly weapon on the premises of a public school. For purposes of this statute, "deadly weapon":
means a firearm or anything manifestly designed, made, or adapted for the purposes of inflicting death or serious physical injury, and such term includes, but is not limited to, a bazooka, hand grenade, missile, or explosive or incendiary device; a pistol, rifle, or shotgun; or a switch-blade knife, gravity knife, stiletto, sword, or dagger; or any club, baton, billy, black-jack, bludgeon, or metal knuckles.
While the § 13A-11-72 restrictions specify an element of knowing criminal/bodily harm intent, one should be aware that § 16–1–24.1 (Safe school and drug-free school policy. . .) allows, and encourages, school districts to establish policies to address, among other issues, the problem of weapons at schools. One should refrain from the possession of any knives on school property unless it is authorized by the policy as promulgated by the applicable school district.
Concealment-Bowie Knives
Concealment is not a significant factor when selecting a knife for everyday carry in Alabama. The type of knives evidently covered by the restriction are not inadvertently concealed. Guidance on what constitutes a "bowie knife" was provided by the case of Smelley v State 472 So.2d 715 (1985):
 A "bowie knife" ordinarily designates a long knife shaped like a dagger but having only one edge, and does not include a knife which opens and shuts and is not too large to be carried in a trousers' pocket as pocket knives are usually carried.
The case of Brewer v State, 21 So 355, decided in 1897 concerned the meaning of the "catch-all" language of "like kind and description":
a knife, having the shape of what is commonly known as a "butcher's knife," 11 inches in length, including the blade and handle, old, and worn down somewhat in the middle of the blade on the sharp side and coming to a sharp point, is a knife "of like kind or description" as a bowie knife, within the intent and meaning of this section.
If one desires to carry a knife having the characteristics mentioned, he or she is welcome to do so openly under Alabama law. It is difficult to be confident about "having the shape of what is commonly known as a "butcher's knife" is intended to restrict. The opinion of the court in the 1985 Smelley case clearly excludes knives folding knives, and arguably excludes any double edge fixed blade knife.
The judicially established standard or test for concealment in Alabama is whether the weapon "can be seen by an ordinary casual observer". Driggers v. State, 123 Ala. 46, 26 So. 512 (1899). The fact that a weapon is not seen by one person but could have been seen by others does not amount to concealment. Smith v. State, 96 Ala. 66, 11 So. 71 (1892).
The obsolescence of sections 13A-11-50 and 13A-11-57 has become obvious.  A pending legislative initiative, Senate Bill No. 5 2021, would, among other things, repeal 13A-11-50.  In the meantime, violations are punishable by a fine of at least $50, but not more than $500. One who violates the concealed Bowie prohibition may also "be imprisoned in the county jail or sentenced to hard labor for the county for not more than six months."
Updated February 20, 2021, by Daniel C. Lawson