Quick Legal Facts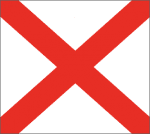 Statewide Preemption:
No.
Concealed Carry:
Not an issue.
Schools:
Weapons are not permitted on school property.
Major Cities with Knife Ordinances:
Montgomery – Three-inch blade limitation.
Critical Dimensions:
None noted.
At a Glance:
Alabama state law does not restrict the public carry of knives.
Relevant Statutes:

13A-11-57 Selling, etc., pistol or bowie knife to a minor
13A-11-61.3 Regulation of firearms, ammunition, and firearm accessories
13A-11-72 Certain persons forbidden to possess firearm.
16–1–24.1 Safe school and drug-free school policy. . .
Restricted Knives:
There are no forbidden knives under Alabama law.
Concealed Carry:
Not an issue.
Restrictions on Sale or Transfer:
Bowie knives and knives of "like kind and description" may not be sold or transferred to someone less than 18 years of age.
Restrictions on Carry in Specific Locations / Circumstances:
Yes. See below discussion on schools.
Statewide Preemption:
No. § 13A-11-61.3 applies only to firearms.
Discussion:
Schools
Alabama state law § 13A-11-72 provides that it is a felony to knowingly and with intent to do bodily harm, carry or possess a deadly weapon on the premises of a public school. For purposes of this statute, "deadly weapon":
means a firearm or anything manifestly designed, made, or adapted for the purposes of inflicting death or serious physical injury, and such term includes, but is not limited to, a bazooka, hand grenade, missile, or explosive or incendiary device; a pistol, rifle, or shotgun; or a switch-blade knife, gravity knife, stiletto, sword, or dagger; or any club, baton, billy, black-jack, bludgeon, or metal knuckles.
While the § 13A-11-72 restrictions specify an element of knowing criminal/bodily harm intent, one should be aware that § 16–1–24.1 (Safe school and drug-free school policy. . .) allows, and encourages, school districts to establish policies to address, among other issues, the problem of weapons at schools. One should refrain from the possession of any knives on school property unless it is authorized by the policy as promulgated by the applicable school district.
Updated December 31, 2022, by Daniel C. Lawson