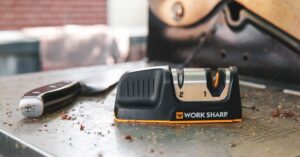 Work Sharp Sharpeners is the industry-leading manufacturer of knife and tool sharpeners that pioneered professional, flexible abrasive belt technology for the everyday knife user, making knife sharpening faster and easier than ever. Now Work Sharp is moving into the kitchen space with a complete lineup of new sharpeners.
Work Sharp has been listening to and learning from customers who want a better solution for their kitchen knife sharpening needs based on their success in the outdoor and DIY markets. So, they have developed a lineup of six new sharpeners that aim to serve those who want a superior kitchen knife sharpening experience!
"Moving into our customer's kitchen was a logical progression for our brand and products," says Steve Baker, Work Sharp Product Line Manager. "Our customers are engaged with us and have been telling us what they want, and the message was clear – they want a range of solutions that make sharpening and maintaining kitchen knives faster, easier, and more consistent than before. But they wanted this without the sound and feel of a power tool in the kitchen. So, we have developed a line of manual and power solutions that are intended for use in the home and on your back patio while you are BBQ'ing with friends and family."
From the simplicity of the Kitchen Edge Knife Sharpener (MSRP $9.95) to the feature-rich Professional Electric Kitchen Knife Sharpener (MSRP $169.95), there is a product for anyone who wants a sharp kitchen knife.
"Our lineup provides different sharpening technologies to accommodate a range of skill sets and price points," says Baker. "While the Kitchen Edge uses Convex-Carbide™ technology for sharpening, the Pull-Through Kitchen Knife Sharpener (MSRP $29.95) utilizes diamond abrasive technology for fast results and long life. We also offer a fast and easy to use electric Kitchen Knife Sharpener (MSRP $69.95) that delivers factory sharp edges with ease and a ceramic hone to maintain your edge daily. And for those looking for a traditional sharpening experience, we offer a Whetstone (MSRP $29.95) and a Ceramic Honing Rod (MSRP $29.95) that both provide angle guides for improved ease of use and fast results."

Work Sharp is proud to be an American company and a member of the American Knife & Tool Institute. Work Sharp has produced industry-leading sharpening tools in the USA for nearly 50 years and today is more than 100 co-workers strong and has sold over 8 million sharpeners. Visit WorkSharpTools.com to learn more about this exciting new Kitchen Knife Sharpening solutions lineup!