The American Knife & Tool Institute cautions knife manufacturers and the knife community regarding the recent amendment (S4202) to the New York State law and legal exposure for commerce in "Undetectable Knives" as well as possession.  We have concerns about the intent of the legislation and the potential ramifications of enforcement.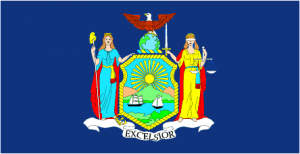 New York's Governor recently signed S4202 into law. It will take effect as of November 1, of this year (2019).  S4202 amends several portions of New York Penal Code Article 265 which covers knives and various weapons. As stated in the bill, its purpose is:
AN ACT to amend the penal law, in relation to prohibiting the manufacture, transport or shipment of undetectable knives and prohibiting the possession of such knives.
"Undetectable knife" is defined as follows:
"Undetectable knife" means any knife or other instrument, which does not utilize materials that are detectable by a metal detector or magnetometer when set at a standard calibration, that is capable of ready use as a stabbing or cutting weapon, and was commercially manufactured to be used as a weapon.
The primary knife possession statute in NY is § 265.01 which has two subdivisions:
Subdivision 1 – § 265.01 (1) includes 'switchblades,' 'ballistic knives,' cane swords, and other items which are per se prohibited. If you possess one, you are guilty.
Subdivision 2 – § 265.01 (2) covers 'daggers', 'razors', 'stilettos', and effective Nov. 1, 2019,  'undetectable knives'.
With the category of items listed in Subdivision 2, there is also an unlawful intent element, in addition to possession. So individuals in New York can still own or possess a knife listed in § 265.02 (2) provided there is no intent to use it unlawfully against another.
Section 265.10 pertains to the manufacturing, transportation, and disposition of certain weapons. Under this section, it is unlawful to dispose of (sell) knives and other weapons listed in subdivision 1, but not so with respect to subdivision 2 knives.
Since, the amendment places undetectable knives in subdivision 2, it will not be unlawful to sell 'undetectable knives.'
Any person who disposes of any of the weapons, instruments or appliances specified in subdivision one of section 265.01, except a firearm, is guilty of a class A misdemeanor, and he is guilty of a class D felony if he has previously been convicted of any crime. (§ 265.10 (4)) (emphasis supplied).
While it will not be unlawful to sell or dispose of undetectable knives, it will be unlawful to manufacture, transport, or ship as merchandise any such item under § 265.10.  The amendment places undetectable knives in the same category with 'switchblades' and 'ballistic knives' and other per se prohibited items as listed in subdivision (1) of § 265.01.
We have not been made aware of any problems in New York State with undetectable knives, but would expect that, if there were, that the legislative remedy would not focus on just the suppliers of these items.  The expectation would be that undetectable knives would be treated consistently in all relevant sections of Article 265.
We question, if there was a legitimate problem with undetectable knives, why were they not treated in the same manner as 'switchblades' where it would not be legal to 'dispose' or even possess them?
We urge everyone whose products or business activities may involve undetectable knives in New York State to carefully consider S4202 and its implications. We must avoid situations like the extortion in New York City in 2010 on merchants involving so called 'gravity knives.'
New York Knife Laws
AKTI Voices Outrage Over Extortion of Knife Retailers by the Manhattan DA's Office (2010)