By TJ Scimone
Since you've found the American Knife & Tool Institute (AKTI), you probably already know the importance of knives in your daily life.  You not only need to be confident to carry your knife, but you also want to be confident about the knife you purchase. Thinking about a new knife purchase?  You may be asking: Will you need several different purpose-built knives? Is there a style that will cover all your requirements? If you're buying for a youngster and intending to start knife training, are you comfortable with the safety features? Will it cut what you need it to cut? How much care will it require?  Will it last? All of these are, in a sense, asking the same question: How can you avoid buying the wrong knife and wasting your money?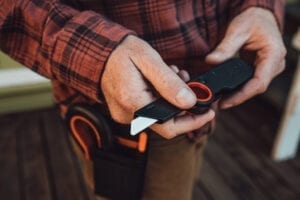 It doesn't take long to get confused. There are seemingly a million different ways a knife can be built. It's tough to distinguish between the features you need, the features you might want, and the features that are pure marketing buzz. The best way to cut through the noise is to understand the rationale behind various design features. This roundup of considerations will help you separate hype from utility and find the best fit before you invest in this important tool.
Utility: Will it Cut Your Materials?
Knives are first and foremost tools. If they can't perform, it doesn't matter how safe they are or how great they look in your toolbox. But there are a lot of different performance features to consider, and your choice will ultimately come down to your materials. Are you looking for an everyday carry that can handle whatever comes your way? Or do you need a purpose-built workhorse to slice through a single material with its own quirks and needs?
Blade Design: Materials
Blade design includes both the blade material and the design of its cutting edge, and there's more variety in this category than you might expect. Let's start with blade material.
Typically, blades are made from a few different kinds of metals or alloys, and steel is often the basis of blade material. Different elemental steel combinations (such as stainless steel or carbon steel) offer variations in toughness, edge retention, and corrosion resistance. Generally speaking, stainless steel excels at corrosion resistance but has poor edge retention, while carbon steel is tough and retains its edge. However, it rusts easily and requires more maintenance.
Newer players in the knife industry offer ceramic blades. These are not made from the same material as your grandma's teacups. They're instead zirconium oxide, which is mined, sometimes mixed with other materials, pressed, fired, and ground. Alternately called advanced or engineered ceramics, this material is magnitudes harder than steel and provides excellent edge retention. In addition, it never rusts.
The main drawback to ceramic is that it is brittle and can shatter when subjected to a sideload. Because it's so hard, it's inadvisable to sharpen an advanced ceramic blade at home—sharpening must be done on a diamond wheel. Whether you consider "no maintenance" a pro or a con is really up to your lifestyle.
Blade Design: Edge
The goal of a blade edge is to be as sharp as possible, right? Not quite. Its fundamental goal is to cut something. But there's another reason for edge sharpness and it has nothing to do with effective cutting.
Metal is relatively soft and will quickly dull beyond usefulness. As a workaround, traditional metal blades are ground to a dangerous sharpness so that when they dull after a few uses, they're still effective. This increases the life of the blade but sacrifices safety in the process. Most ceramic blades mimic this level of sharpness (despite their superior edge retention) simply because a dangerous level of sharpness is what consumers have come to expect.
While it's true that some materials absolutely require a razor-sharp blade (think fabrics and tissue for surgical scalpels), most don't. There are new ways to build and grind blades that provide effective cutting power while lowering the risk of lacerations. (More on that in the safety section.)
Handle Considerations
Will you mostly perform a large, straight cut, as used for breaking down boxes? Are you working in a tight space? How much force do you expect you'll need to use? How much precision will you need? These considerations inform your handle choices.
Regardless of the cut, you always want to find the most comfortable grip and one that gives you control. Ergonomics becomes even more important if you'll be working with the knife over long periods of time, as repetitive strain is an oft-forgotten but potentially debilitating injury.
Beyond ergonomics, size, and shape, the handle material can be important if you expect to put your knife through heavy-duty use. For most cutting tasks, no special material is required, so the handle material becomes a personal preference, much like clothing. What feels good in your hand or your glove? Is easy cleaning important to you? There are as many handle materials as there are knives. Ideally, you take the time to hold your knife before you buy, so you know how it'll feel.
Safety: Will It Protect You?
There's no way to overstress the importance of safety. Anyone who uses a knife should have proper knife safety training. But the tool itself is also a huge factor for safe cutting. It's important to know standard safety features, such as retraction mechanisms, but safety design doesn't stop there. Knowing what's out there could mean the difference between a safe cut and a trip to the emergency room.
Cutting Depth
A fundamental safety rule for using knives properly is to know and use the cutting depth you need. There's no good reason to use a 6-inch blade to cut cardboard that's a quarter-of-an-inch thick. A too-long blade puts you and the contents of the box at risk. On the other hand, if you're slicing through fiberglass insulation batting, you're better off using a longer blade so you don't have to apply extra pressure or make more passes through the material to cut it.
What if you're looking for a generalist tool? Think about what you're likely to cut, and be sure the knife can handle that. It's unlikely that you'll need a blade any longer than an inch. Some manual retraction knives have multiple locking positions for the blade, allowing you to use a shallow blade when possible and a longer blade when necessary.
Retraction Mechanisms or Blade Concealing
The safest blade is one that can be exposed for use, then retracted. These handle types all deal differently with the balance between utility and safety.
Concealed blade: The blade is enclosed in a wraparound handle such that you can't touch its edge. This is ideal for materials that can be hooked and cut, like string, but won't work for initiating the cut at the center of a material or for any cut that requires precision.
Fixed or folding blades: These handles offer one cutting depth only. They tend to be very sturdy and able to handle a number of materials. On the other hand, they're among the least safe in terms of design, and the blade typically can't be replaced without buying a new handle.
Manual retraction: In this case, the blade locks into one of several preset positions when it's exposed. This gives you some choice over cutting depths. Full retraction into the handle is very safe, but manual retraction still relies on the user to remember to retract the blade after cutting.
Automatic retraction: Here, the blade is spring-loaded so that it's exposed only when the user holds a slider in place. As soon as the slider is released, the blade retracts automatically into its housing. This prevents accidentally leaving the blade exposed when it's not in use, and keeps the room safer if you slip and drop the knife while cutting.
Smart retraction: This is the safest by far. In order to keep the blade exposed, the user has to hold the slider out and maintain pressure against the cutting material. So if there's a slip while the slider is still held out, the blade retracts as soon as it senses the loss of cutting pressure, making it far less likely to hit a leg, torso, or friend. Smart retraction can confusingly also be referred to as "automatic retraction," so be sure to read descriptions carefully.
Ergonomics
Muscle strain is an injury too. Industrial workplaces especially look for ergonomic handle options because workers frequently perform repeated cutting motions over the course of a shift. Those with limited dexterity or hand strength will also benefit from a handle design that's easy to grip and reduces user effort.
Edge Design
The biggest injury risk with knives is, of course, lacerations.  In the world of blades, there is such a thing as a Goldilocks medium. A blade that's too sharp will slice right into the skin without offering much resistance. A blade that's too dull will require extra force to cut, risking a loss of control. You can sharpen quick-dulling metal blades when necessary to maintain the best edge. While this requires more time and attention on your part, it also gives you control over the edge.
Traditionally, ground ceramic blades will likely remain in the "too sharp" zone for much longer than metal, as they have superior edge retention. Depending on your material and your willingness to maintain the blade, this might work best for you. Newer ceramic safety blades combine the best of both worlds with an edge that widens the cutting zone, making it more difficult to cut skin, and retains its shape for longer.
Lifestyle: Will You Reach For It?
Your day-to-day needs make the difference between a knife you use frequently and with confidence, and a knife that gathers dust (and resentment, if you paid a lot for it) in the corner. In short, knives need to be convenient, easy to use, and lasts long enough to justify the investment.
Convenience
Portability, maintenance, blade cleaning, and blade change mechanisms are all considerations for convenience. Some knives feature lanyard holes or leather tethers. Some have onboard magnets to keep them on metal shelving or a toolbox. Will you need to sharpen the blade? How often will you need to change the blade, and are there extra tools required to do so? If yes, you'll have to keep those tools on hand. Cleaning is both a convenience and safety factor: How easy is the blade to clean? How will you have to hold it in order to clean it? These are all questions to ask before handing over your money.
More Ergonomics
If your knife is not comfortable to operate, you won't reach for it. Some are weighted, balanced, big or small, requiring fine or gross motor skills. Like clothing, there's an element of personal choice here: What feels good? This consideration becomes more important if you know you'll be using your knife for extended periods of time.
Durability
A knife that doesn't last is always a disappointment. Whether it's the blade or the handle, make sure you understand how long it's expected to last. And, of course, always use your knife as designed (it's not a screwdriver!) to keep it in good working order.
A lot of knife features fall into more than one category (ergonomics is both a safety and lifestyle issue, for example), which underscores how important they are. But ultimately, a feature's importance is based on the owner's needs. Understand what you need, ask yourself the right questions, and you'll be ready for a solid investment in your next knife.
Thanks to TJ Scimone, Guest Contributor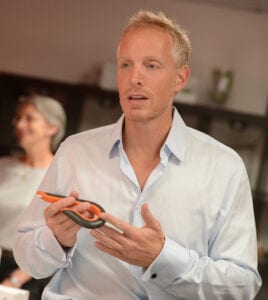 TJ Scimone is the founder and CEO of Slice, Inc.  Since 2008 he's made safety his top priority, creating a unique line of safer cutting tools that feature finger-friendly® blades