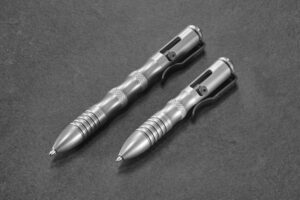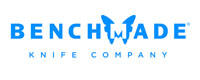 Benchmade is committed to creating premium tools with purpose-driven design; these pens continue that mission. Their EDC-inspired design ensures that they are easy to carry, while also being comfortable to write with. They both feature precision machined knurling and grooves, in addition to a slick AXIS® style bolt-action mechanism. Both Shorthand and Longhand models use Fisher Space Pen cartridges, ensuring they will work, no matter the conditions. Both models are ready to travel the globe or be the go-to pen for the office.
The solid construction and ergonomics of these pens ensure that they can be used for more than just writing a letter if the worst-case situation calls for it. And for that reason, Benchmade thinks these pens may have more might than a sword, simply because you can carry one of these with you just about everywhere, unlike a sword…
Like every Benchmade knife, these pens are created at their Oregon City, OR factory.
Benchmade is a co-founding member of the American Knife & Tool Institute and an active member of the Board of Regents.