Summary of 2013 Oklahoma Knife Law Change
(April 22, 2013) –  Oklahoma Bill Passes! – Effective November 1, 2013
"Spring type knives" i.e. assisted opening with use of a spring will no longer be on the list of prohibited weapons.
____________________
Oklahoma Bill Would Remove "Spring Type Knife" from Prohibited Weapons List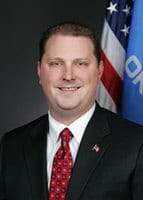 (February 5, 2013) – Rep. Jon Echols (R-90) introduced legislation to eliminate confusion with "spring type knives" which could be construed as switchblades or assisted opening knives. HB 2170 will eliminate the phrase "spring type knives" from the of items considered prohibited weapons in the state of Oklahoma.
Thanks Rep. Echols for your efforts on this!
Encourage your legislators to support this pro-knife bill.
Find Your Oklahoma Legislators or track legislation
____________________
Sooners – Sign up as a Free Grassroots Supporter to receive any email notices of Call to Action.