Co-Founder and Regent of the American Knife & Tool Institute Honored for His Contributions to the Knife Community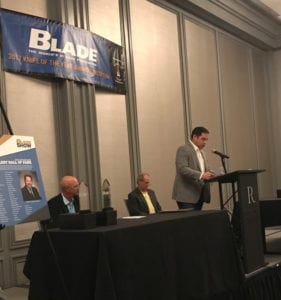 Les de Asis, CEO of Benchmade Knife Company, Oregon City, Oregon, was recently honored his contributions to the knife community.  Les was inducted at the 2017 BLADE Show into the Cutlery Hall of Fame©.  Active members of the Cutlery Hall of Fame elect an annual inductee by a vote prior to each show.
A co-founder of the American Knife & Tool Institute in 1998, Les continues on as a member of the Board of Regents, serving the organization to find solutions to problems faced by knife owners and the knife industry.  He and CJ Buck, CEO of Buck Knives, Inc., worked to bring the knife community together and create the vision for the nonprofit organization advocating on behalf of the industry and all knives owners.
Jon de Asis, son and Senior Director of Operations at Benchmade, accepted the presentation on behalf of his father who was unable to attend due to a previous commitment.  Jon was introduced by Mel Pardue, custom knifemaker who has designed many knives for Benchmade.  Jon read Les' acceptance and here are a few highlights:
"I would like to thank all the Cutlery Hall of Fame members for their support of my nomination.   Being inducted and proudly joining this extraordinary assemblage of craftsmen, artisans and business leaders is certainly the proudest moment and highest honor of my career.
I would like to dedicate this honor, first off, to my family, and to all of the fabulous people, past and present, who have worked with me shoulder to shoulder in making Benchmade Knife Company into the fabulous organization and community it has become;  and especially  to all those that carry, use, collect and support our products.
I have been constantly intrigued by all the personalities, processes, materials, artistry and innovation that are present in the Custom Knife World and challenged in how to translate them into a unique, high quality manufacturing environment able to serve an ever growing customer base.
I confess, it wasn't easy creating a world class company, but the journey – one knife at a time – was worth the effort!"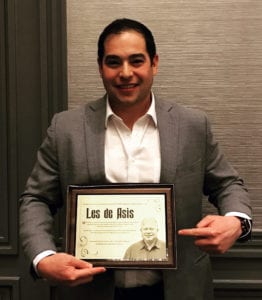 Les de Asis was the first president of AKTI and served two terms, chaired the Anti-Counterfeiting Committee, and participated on the Legislative Committee.
"We are so pleased that Les de Asis has been recognized by the knife community with this honor.  He joins CJ Buck, AKTI co-founder, who was inducted in 2016 for his contributions to the industry through our organization and both are highly deserving of this recognition for truly making a difference, having the foresight to commit to the work and expense of formation of AKTI, contributing of their valuable time and resources to its success and helping the knife industry thrive," said Jan Billeb, AKTI Executive Director.
Congratulations to Les de Asis from the Board of Regents of the American Knife & Tool Institute and all of our members and supporters.
Criteria to be inducted into the Cutlery Hall of Fame include that a person worthy of this recognition:
Demonstrate extraordinary service to the knife community;
Display honesty, character and integrity;
Advanced the industry by creativity of their works or contributions;
As an ambassador or outstanding contributor furthered the positive impact of the knife industry on the world at large, and;
In summary, have demonstrated a worthiness to be a member of this prestigious group.