"Common Sense Award" Recognizes Efforts to Further Common Sense Legislation for Traveling Knife Owners
The American Knife & Tool Institute (AKTI) presented three key Senate staffers with the "Common Sense Award" this fall in Washington, D.C.  The annual award was designed to honor Members of Congress who have worked across party lines to further common sense legislation that benefit law-abiding knife owners throughout the nation. Three Senate staffers so impressed the organization with their integrity, cooperation and efforts to ensure bi-partisan cooperation that they each were presented the award this year.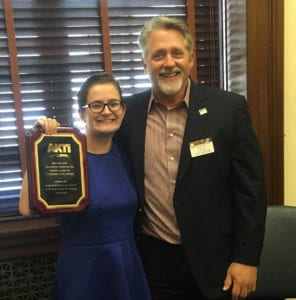 Accepting AKTI's "Common Sense Award" from CJ Buck, AKTI President, were Aniela Butler, Legislative Assistant to Senator Mike Enzi (R-WY), Ben Widness, Senior Advisor to Senator Ron Wyden (D-OR), and Jason Smith, Legislative Counsel, Senate Committee on Commerce, Science and Transportation.
Senators Enzi and Wyden introduced S. 1092, AKTI's Interstate Transport Act, a continuation of their and AKTI's efforts since 2013 to ensure knife owners have a federal protection for varying state knife laws while traveling.  The Interstate Transport Act would create federal protection for knife owners, allowing legal interstate travel with knives, provided the knives are transported to and from states where the law allows possession of said knives, and they are transported in locked containers.
"Aniela, Ben and Jason worked above and beyond to work through questions from Senate offices and resolve unexpected confusion with determination and professionalism," said CJ Buck, President of Buck Knives, and AKTI President.  "Their efforts helped this legislation pass the U.S. Senate Committee on Commerce, Science and Transportation on June 27th, and to the Senate for consideration."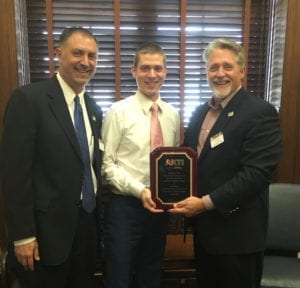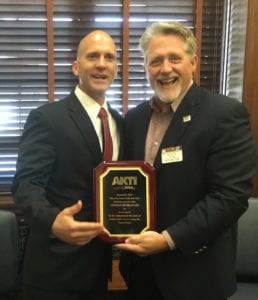 With this presentation, AKTI honored these staffers for their work on the Interstate Transport Act, legislation that will provide lawful knife owners federal protection they have never had from the current patchwork of state and local knife laws.
"It has been a real privilege to work with the Senators' offices and the Senate Commerce Committee, but especially these individuals who on behalf of the Senators and their constituents are working for a sensible law with real protection for knife owners," said Jan Billeb, AKTI Executive Director.  "We are proud to present AKTI's "Common Sense Award" to Aniela Butler, Ben Widness and Jason Smith."