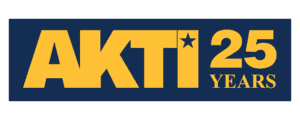 Keeping Knives in American Lives!
Please join our 25th Anniversary Celebration at the Blade Show.  This year we're celebrating 25 years of Keeping Knives in American Lives.  The American Knife & Tool Institute has a proud history of successfully making a difference in protecting knives, removing restrictions, and providing valuable information.  Read Highlights of AKTI's History and Successes.
An evening of enjoying getting together at the Blade Show will be Friday, June 2, 2023, in Atlanta, Georgia.  Doors open at 6 pm for drinks and appetizers.  There will be a silent auction and door prizes. You'll still have time for dinner reservations.
Tickets are $25/per person.  Purchase your ticket online or by calling (307) 587-8296.  Limited tickets will be available on Friday at the AKTI Booth #23.