Summary of Indiana 2013 Knife Law Changes
Effective July 1, 2013
No longer illegal to:
Manufacture
Possess
display
offer, sell, lend, give away, or purchase any automatic (switchblade) knife
CAUTION – The Hoosier State does not have a knife preemption law. Be sure to check out local ordinances regarding knives. For example, South Bend's Code of Ordinance 2005 § 19-444 prohibits the carry of switchblades, daggers and hunting knives in city parks.
____________________
Governor Signs Bill HB 1563 to Legalize Switchblades
UPDATE (May 15, 2013) – The 2013 Indiana State bill to legalize "automatic" (switchblade) knives was signed by Governor Pence and the legislation enacted as Public Law No. 289-2013.
Part of a larger piece of legislation regarding fishing and wildlife issues, the type of knife now illegal AT THE STATE LEVEL in Indiana is a knife with a "detachable blade that can be ejected from the knife using gas, a spring or another device in the handle."
____________________
Indiana Knife Bill Heads to Governor Mike Pence's Desk
UPDATE ( April 25, 2013) – Yesterday the Indiana House accepted the "Conference Committee Report, today the Senate accepted it by a unanimous vote that passes and amends HB 1563 to include:
FOLLOWS [EFFECTIVE JULY 1, 2013]: Sec. 2. It is a Class B misdemeanor for a person to manufacture, possess, display, offer, sell, lend, give away, or purchase any knife with a detachable blade that
opens automatically–; or-
may be -propelled
ejected from the handle as a projectile/p>
-by hand pressure applied to a button, device containing- means of gas, a spring, or any other device contained in the handle of the knife.
Once signed by Governor Pence, the legislation will be effective July 1, 2013.
____________________
Indiana Knife Bill Needs Movement in House
UPDATE (February 27, 2013) – The Indiana Senate Bill 181 to remove all restrictions on manufacture, possession, display, sell, lend, give away or purchase of automatic knives (switchblades) has been referred to the House Committee on Public Policy. This bill needs to be move quickly as the 2013 Indiana legislative session ends on the 29th of April.
____________________
SB 231 Passes Indiana Senate Unanimously
UPDATE (January 25, 2013) – SB 181 to remove restrictions on automatic knives passed the Indiana Senate yesterday 47-0. Indiana may soon be added to the majority of states that do not prohibit automatics (switchblades).
If you live or travel in the State of Indiana, time to contact your Representatives to encourage them to vote YES when the bill comes to the floor. Email them from here.
____________________
2013 Indiana Knife Legislation Would Remove Restrictions to Automatic (Switchblade) Knives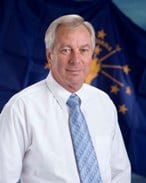 Cody, WY (January 16, 2013) – Senator Jim Tomes (R-49) recently introduced Senate Bill No. 181 which removes a provision that makes it a Class B misdemeanor for a person to manufacture, possess, display, offer, sell, lend, give away, or purchase certain knives with blades that open automatically. This legislation is very similar to an effort AKTI supported in 2007 in Indiana and we hope attitudes have changed and this effort will prevail. We need more legislators to focus on criminal intent and eliminate laws that criminalize knives and the citizens that use them as valuable tools.
As a veteran of the 101st Airborne, Senator Tomes appreciates the importance of having a tool that is readily available, especially in an emergency, where the benefits of quick, one hand opening can make a difference on saving a life. Thanks to Rep. Tomes for taking this initiative on personally without being asked.
____________________
Hoosiers – Be sure you are signed up as a Free Grassroots Supporter to receive any email notices of Call to Action.