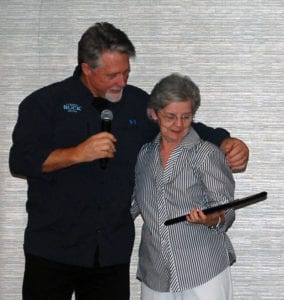 Goldie Russell, President of A.G. Russell Knives, was recently honored by the American Knife & Tool Institute with the presentation of AKTI's "Industry Integrity Award" for her dedication and contributions to the industry and to the organization.
Goldie served on the AKTI Board of Regents for eleven years, providing valuable and unique insight from her perspective as president of A.G. Russell Knives, headquartered in Rogers, Arkansas.  She has been a strong believer in the mission and initiatives of AKTI to protect the industry and give knife users the freedom to use the tools of their choice.
She stepped up to serve as president of AKTI in 2007, during an unexpected vacancy, and served in that position until 2011.  During the presentation, current AKTI President, CJ Buck, noted that Goldie provided the necessary leadership and strength in 2009 to pull together and hold together the coalition  that helped AKTI's successful efforts to amend the Federal Switchblade Act of 1958 with AKTI's signature "bias toward closure" language.  This success saved all folding knives from a U.S. Customs re-definition of illegal automatic knives.  Goldie's determination and integrity ensured that all knife owners were protected.
While business commitments meant stepping aside as a Regent of AKTI, Goldie continues to be one of AKTI's strongest ambassador and recruiter of members, and missed as an active participant on the Board of Regents.