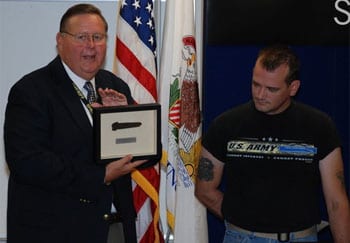 (September 23, 2011) – A Marengo, Ill., man can credit a Gerber knife and the two brave men who used it for saving his life in July.
David Kieffer was driving his Chevrolet S-10 pickup on Route 20 in Marengo when he was rear-ended by a semi-truck. His vehicle caught fire while he was trapped inside.
Dan Narciso, a professional stuntman, and James Halterman, a National Guard veteran with three tours of Afghanistan, were nearby and came to Kieffer's aid. Halterman used his Gerber Covert 154CM knife to cut the seatbelt and the two men pulled Kieffer from the burning pick-up.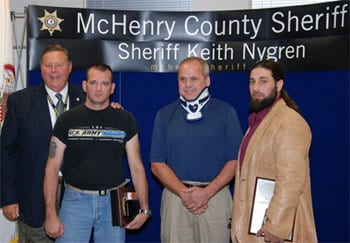 Firefighters found the burned knife in the wreckage and gave it to Kieffer. He, in turn, sent what was left of the knife with a message to Gerber's customer service department, and Gerber company representatives had it framed with a message of thanks for the heroic deed.
The framed Gerber knife, along with a brand-new model, were presented to Halterman in a September 23 ceremony put on by the McHenry County (Ill.) Sheriff's Office to commend Narcisco and Halterman for their act. Sheriff Keith Nygren also presented Citizen Lifesaving Awards to the pair.
Photos: Top: Sheriff Keith Nygren presents to James Halterman the knife used to cut David Kieffer's seat belt. Credit: McHenry County Sheriff's Office. Below: Sheriff Keith Nygren, James Halterman, David Kieffer, Daniel Narcisco. Credit: McHenry County Sheriff's Office.