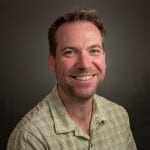 CRKT has named Frederick Karl to their newly created position of Brand Manager – Licensed Products. With over twenty years of experience in product development and marketing, Fred has been focused on the outdoor industry for over twelve years and brings a wealth of knowledge to the company.
In his role at CRKT, Fred will lead the development and execution of licensing initiatives, and expand on its product marketing capabilities.
"Fred is another strong addition to the talented CRKT team," said Mark Schreiber, CRKT Executive Vice President.  "His combination of experience and industry knowledge will help us to deliver on license opportunities that will benefit our customers and will continue to grow the CRKT brand."
Fred's prior work experience includes roles as Director of Product Development for leading and trusted companies in the industry as well as an owner of his own product development and marketing firm. A graduate of Rochester Institute of Technology, Fred has always hit the ground running in all aspects of business experience and he expects to do the same at CRKT.