CRKT is proud to unveil three new Ken Onion knives to commemorate the addition of Assisted Opening to their 2021 lineup. These models all feature Ken's award-winning Assisted Opening mechanism, which allows for smooth, rapid, one-handed operation. This launch also marks the re-entry of Ken's popular Shenanigan design back into production, with two new Shenanigan models being released, in addition to a sleek, slim everyday carry design called the Stylus™. To mark this release, CRKT will host an enter to win a one-of-a-kind knife from Ken Onion, to be held in the second half of April.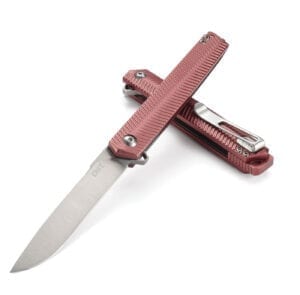 Designed to suit every pocket you carry in, the Stylus™ is an everyday carry folding knife with a sleek low-profile from Ken Onion. It features a Satin 3.18" drop point style blade made of 12C27™ Sandvik. The maroon Aluminum handles are strong, lightweight, and provide a textured grip in the hand. The Stylus™ also features a cutout flipper opening, liner lock, and deep carry pocket.
All Assisted Opening models released in 2021 also feature IKBS™ ball bearing pivot system for super smooth opening.
"It takes the Assisted Opening mechanism and turns it into a swiss watch," says Ken Onion on the addition of IKBS™ to Assisted Opening. "You can feel all the different equilibrium points throughout the cycle of the blade. It makes for a much more snappy, lively action to the knife."
Originally released nearly a decade ago, Ken Onion's Shenanigan™ design is making its return to CRKT's production line, with two new models. The Shenanigan™ is a workhouse everyday carry, folding knife. Available with black or maroon glass-reinforced nylon handles, this dependable blade features a prominent flipper opening, 3.35" hollow grind blade in a stonewash finish, liner lock, and IKBS™ ball bearing pivot system. Available with Veff Serrations™ or in a plain edge.
For a chance to win a custom Stylus™, handmade by Ken Onion, enter CRKT's Instagram contest starting on April 16th with the drawing on April 26th, 2021.