CRKT, a brand with a rich history of innovation, craftsmanship, and collaboration with leading industry designers today launched two new premium Facet™ folding knives, the Rivet and the Viral. Developed in conjunction with renowned knifesmith Ken Onion, the new Facet™ knives combine the timeless design of Ken's original custom version with a high-grade Bohler M390 blade steel, titanium handles, and IKBS™ bearings for smooth, fast deployment.
Crafted in Italy, these limited-edition knives feature accents more commonly found in custom creations. True to its name, the Rivet boasts a striking, laser-engraved, WWII-inspired rivet pattern on its handle, while the Viral invokes a more apocalyptic, walking-dead feel. Like the original production model, both knives feature a subtle taper of the handle that allows it to flow seamlessly to the versatile, drop point, satin-finished blade. Combined with a sturdy pocket clip, generous jimping on the knife's spine for added grip, and Onion's unique take on a liner lock that secures the blade in the open position, this complete package results in a knife that is both a functional tool and arguably a piece of art.
"A stalwart Ken Onion design, the new Facet knives are both elegant and extremely functional, and are a true testament to our shared vision of what a premium pocket knife should be," said Doug Flagg, VP of Marketing & Innovation for CRKT. "Bringing high-end materials, fit and finish into one of our tried and true designs represents the continued evolution of the CRKT brand and we think consumers will really like the end result."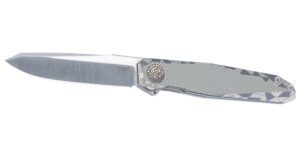 Product specs for the new Facet™ folders include: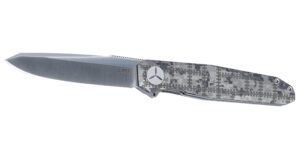 Blade: Length: 3.50″; (88.87 mm)
Blade Edge: Plain
Blade Steel: Bohler M390
Blade Finish: Satin Rivet
Blade Thickness: .12" (3.12mm)
Overall Length: 7.75" (196.85 mm)
Weight: 3.0 oz. (85.05 g)
Handle: Titanium
HRC: 59-61
Style: Folding Knife w/ Liner Lock Viral
Retail Price: $275
Each new Facet will be limited to 500 units, and to celebrate the launch, CRKT has issued fifty heavy-duty, commemorative coins for each model. Designed by Ken's son Kenny, a machinist and custom maker himself, the special edition coins will be placed at random into Rivet and Vital knives shipped to consumers, adding a special buzz to delivery day in anticipation of a potential surprise keepsake.
For more information, visit CRKT at www.crkt.com.
CRKT has been a member of the American Knife & Tool Institute since 1998 and supports AKTI as a Board of Regent.