Custom knives donated by Ron Lake, Ken Onion, Bob Terzuola  and other well-known custom makers plus special factory editions will be auctioned to thank and support AKTI
The first "Giving Back" Event of the American Knife & Tool Institute (AKTI) will be held on Friday evening, June 3rd in Atlanta, Georgia.
Custom knives by well-known makers Tony Bose, Ron Lake, Ken Onion, D'Holder, Jim Hammond, Matthew Lerch, Tony Marfione, Kiku Matsuda, Brian Tighe, Bob Terzuola, Lucas Burnley, Alan Folts , and Mickey Yurco will be live auctioned during the BLADE Show at the Renaissance Waverly, Atlanta.
"Custom makers have shown tremendous support donating knives to our first 'Giving Back' fundraiser," said event chair Bill Raczkowski of Gerber.  "This is an excellent opportunity to own a knife by one of these great makers."
Custom knifemakers and AKTI company members are "Giving Back" to AKTI as thanks for ensuring their ability to make and sell their knives and to the charities of their choice.  Proceeds from the live auction of custom knives will go 50% to AKTI to help fund legislative and education efforts.  The remaining 50% will go to the charity of maker's choice.
"Company members have donated great specialty and commemorative knives that will be offered as silent auction items from 7 pm to 9 pm," explained Raczkowski.  "There will also be several one-of-a-kind items for the collector."
Benchmade, Boker, Buck Knives, Camillus, Chris Reeve, CRKT, Gerber, SOG and W.R. Case have contributed to the silent auctions.  Items include Boker's Applegate Commemorative serial #1, Buck Knives' 50th Anniversary 110 Folding Knife set, CRKT's 20th Anniversary Ltd Edition and signed Camillus knives by Grady Powell and Jared Ogden, to name a few.

"The American Knife & Tool Institute quietly and diligently works for everyone in the knife community promoting knives as essential, valuable tools, working with legislators at the state and the federal level to clarify knife laws, and providing valuable educational information," said CJ Buck, AKTI President.  "We cannot thank these makers and company donors enough for their tremendous support. How can you go wrong spending an evening dedicated to the future of knives, with people who are passionate about knives?"
Tickets to attend the Friday evening event, June 3rd from 7 pm – 9 pm, can be reserved now.
Details about the custom knifemakers, their knives, and the charities AKTI's Giving Back event will support will be posted as available.  Check out the makers' websites for information about their creations.
Tony Bose
Lucas Burnley
Alan Folts
Jim Hammond
D'Holder
Ron Lake
Matthew Lerch
Tony Marfione
Kiku Matsuda
Ken Onion,
Bob Terzuola
Brian Tighe
Mickey Yurco
Don't Wait!  Reserve your tickets now.  Live auction, silent auctions, drinks and Hors 'd oeuvres. Prizes compliments of Spyderco.
Boker's Applegate 100th Anniversary Commemorative  – Serial #1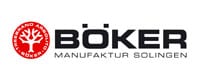 Donated by Boker USA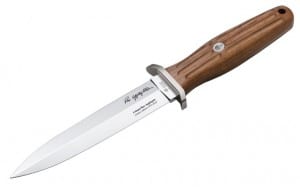 This piece is based on Boker's reissue of the Applegate-Fairbairn Fighting Knife (model 120543AF), but features milled rosewood handles and 154CM blade steel. Comes complete with a commemorative box and certificate of authenticity. Blade length: 6". Overall length: 10¾".  This is serial #1 out of 199 in the U.S.
Boker Special Run Thorn Mokuti – Serial # 001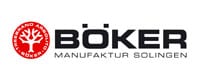 Donated by Boker USA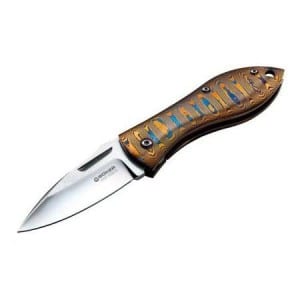 Jim Burke of Mississippi designed the Thorn Mokuti.  Chad Nichols, also of Mississippi, was the blacksmith.  The Boker Thorn features a solid Mokuti handle, and a Mokuti back shell with a titanium frame lock. The two-tone polished blade is premium powder metallurgy S35-VN stainless steel with extreme high edge retention. 199 piece limited run produced in two strictly limited series, one for Europe, and one for the U.S., each with a correspondingly coded serial number. Also comes with a certificate and in a high quality collector's box.
Buck Knives® Special Edition 110 Folding Hunter® 50th-Anniversary Box Set Knives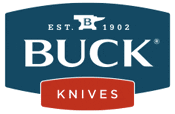 Donated by Buck Knives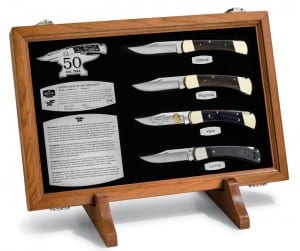 Only 110 box sets made
Includes four history-rich 110 Folding Hunter models
Certificate of authenticity printed on stainless steel
Buck Knives is celebrating their 50th anniversary of the legendary 110 Folding Hunter model. Own a piece of this history with the Buck Knives 110 Folding Hunter Special Edition 50th-Anniversary Box Set. Handsome cherrywood display case with a glass lid includes The Federal (a replica of the original 110 Folding Hunter), The Magnolia (a replica of the first 110 Folding Hunter to incorporate forged sides and squared-off corners), The Weld (with etched tribute to Al Buck who took Buck Knives to prominence) and The Lochsa (the modern design of the 110 Folding Hunter). Only 110 of these sets have been made and each comes with a certificate of authenticity printed on stainless steel.
CRKT's 20th Anniversary Ltd Edition

Donated by Columbia River Knife & Tool
In celebration of the 20th Anniversary of their company, Columbia River Knife & Tool®  produced a special 500 piece limited edition of the Buy Tighe™, designed by knifemaker Brian Tighe. The original handmade knife was awarded The Most Innovative Custom Knife at the 2012 Blade Show.
An unusual design, the Buy Tighe utilizes double Klecker Locks. This is basically a double lockback with blades that open with a flipper. The primary difference between the Klecker Lock and a traditional lockback is that the locking bar and spring are integral to the knife frame. Both blades are easily opened with one hand with a simple flick utilizing the flipper.
The precision milled titanium handle frame has been coated with bright blue Ti-Nitride and then ground and polished to a high satin finish. The result is a beautiful two-tone handle. The 3-1/2″ blades are 154-CM stainless at 59-61 Rc., with a fine satin finish. The primary blade is marked CRKT 20 years.
Measures 5″ closed and weighs 6.0 oz. Includes a beautiful mirrored Plexiglas box that allows the knife to be safely displayed on your desk with the blades open.