(November 24, 2014) – Thanks to knife expert Xan Martin, California attorneys in Orange County have a better understanding of knife law and different knife mechanisms.
The American Knife & Tool Institute and some of its member companies were very pleased to assist Mr. Xan Martin to provide a display and seminar last August in Fullerton, California.  Knife expert Xan Martin spoke to a capacity crowd of public defenders, investigative staff and private practice lawyers.  They stood in the doorways and spilled into the hall to hear Mr. Martin speak on switchblades, their structure, and the differences between switchblades and the category frequently called assisted-openers.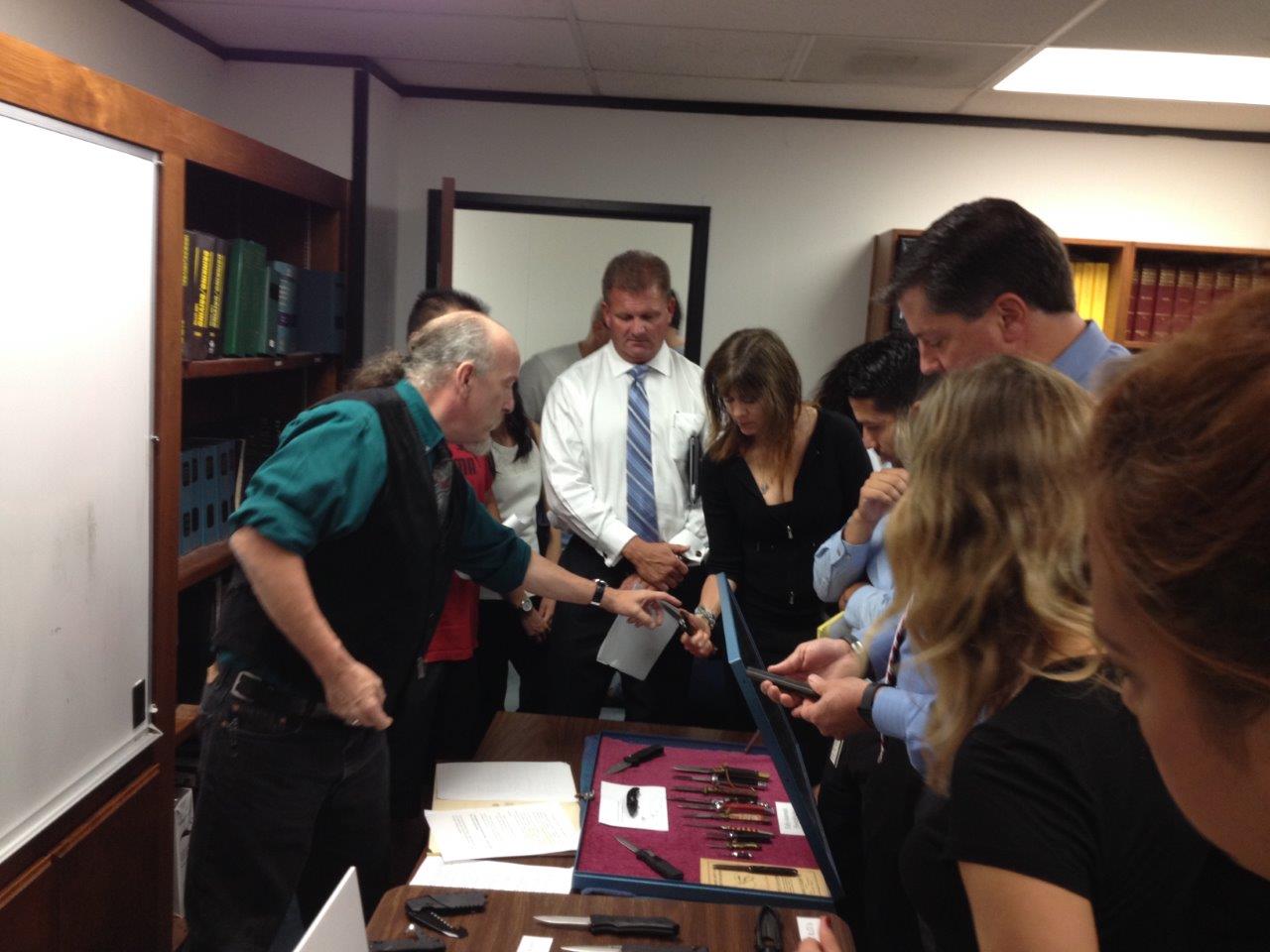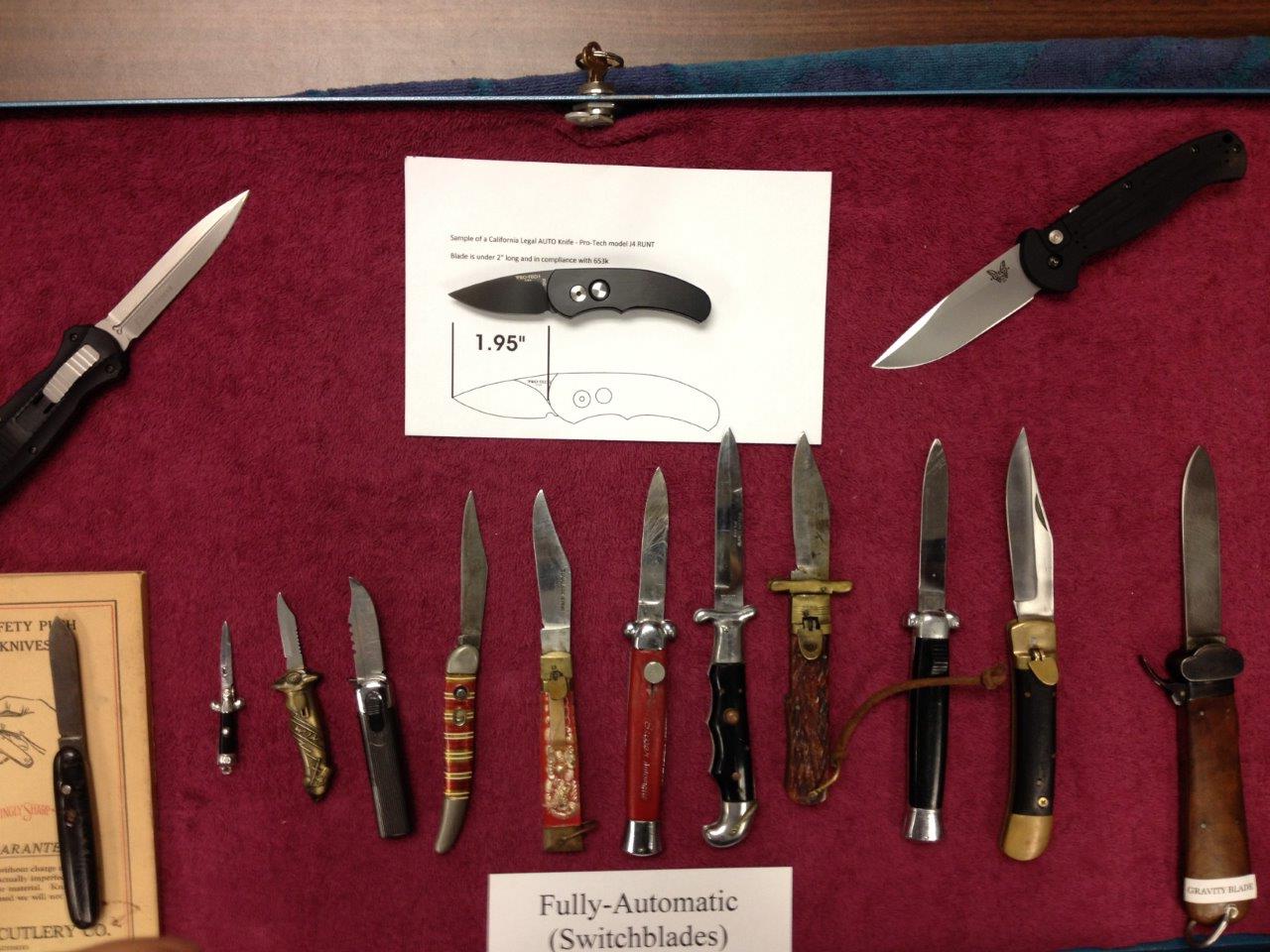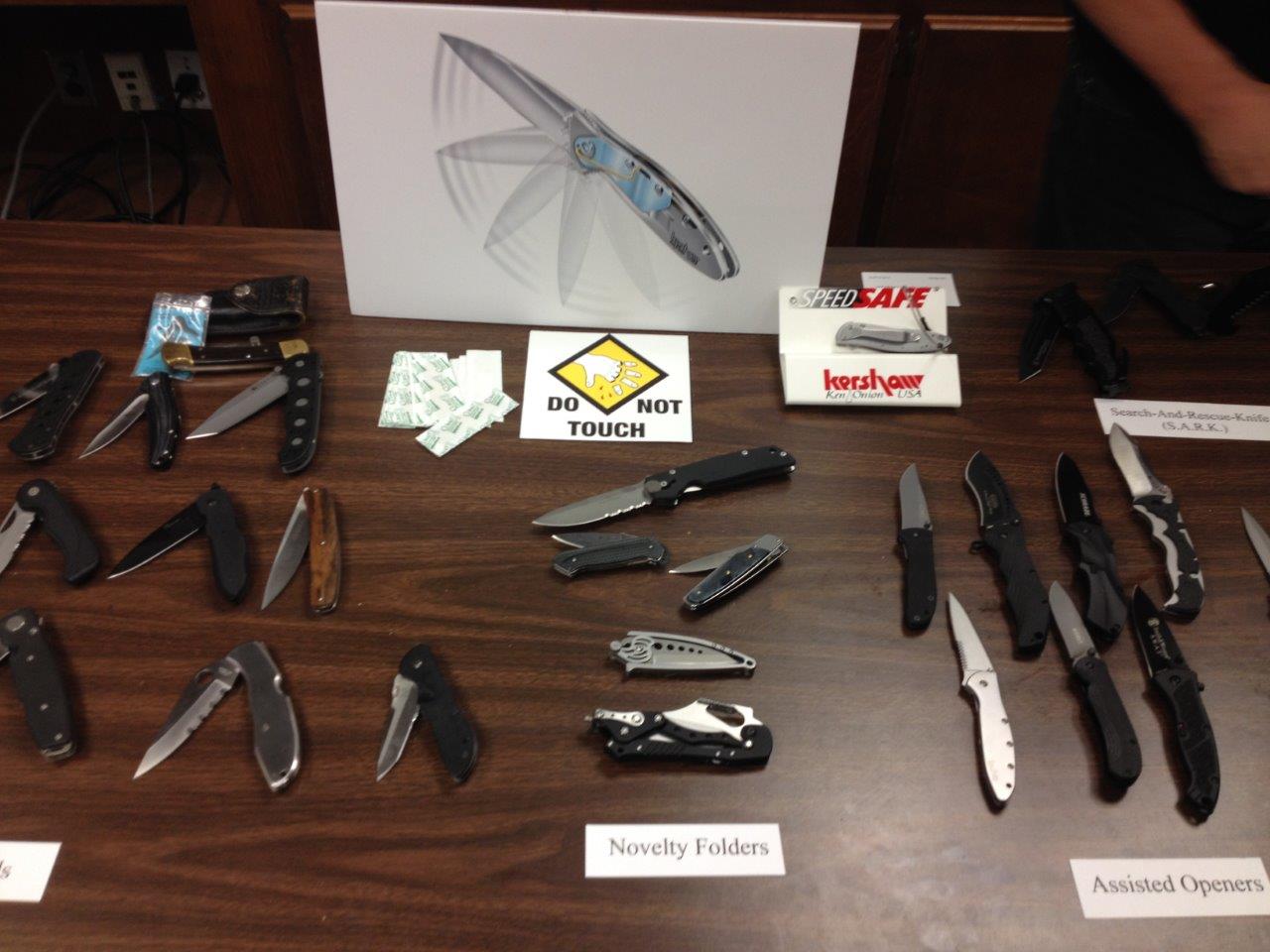 Assistant Public Defender Irene A. Pai commented, "It was a great education for the public defenders and the private bar who were in attendance. There is no question it is sheer ignorance that causes many of these (knife) prosecutions and Mr. Martin's seminar helped illuminate this."
The seminar covered changes to the Federal Switchblade Act, Section 1244, the exemption for assisted openers; an in-depth explanation of the current California penal code, with the addition of SB274 into the legal language.  Mr. Martin also covered the legal definitions of "thumb stud," "detent mechanism" and both the classic and legal definitions of dirk, dagger, knife and hunting knife, with displays of each available for examination.
There was a question and answer period and a close-up, hands-on look at literally dozens of new and classic switchblades, assisted opener thumb stud variations, and novelty knives.  AKTI members even provided some product for a sneak peak at some of next year's line of rapid deployment knives.
Attendees could safely handle and examine (some people for the first time) several types of knives from each of the categories displayed. Mr. Martin expertly fielded questions as he explained each knife.
"Senior (i.e. cynical and jaded) attorneys remarked that it was the best seminar they had ever attended. Investigative staff remarked they had never learned so much in any seminary or training they had," noted Pai. "Mr. Martin made the information accessible, understandable and all in attendance left with a better than basic understanding of the fundamentals regarding knives, their legality and their history.  His superior knowledge and ability to explain the complex internal working of knives in a simple, clear and engaging way transfixed the audience."
Guests were given notes of the lecture, copies of AKTI legal definitions, and other handouts supplied by the American Knife & Tool Institute.
"This type of seminar was much needed and long overdue," said Mr. Martin.  "Laws have been on the books in California for 12 years and yet very few attorneys know anything about them."
"We have been very pleased to work with Mr. Martin for several years as he has been as an expert witness on knife prosecution cases," reported AKTI Executive Director Jan Billeb.  "We sincerely thank him for his efforts that help the American Knife & Tool Institute in educating law enforcement about knives and knife laws in order to provide fair and consistent enforcement for knife owners."
Read more about AKTI's sponsored revision to California law in 2001.
Read about Mr. Martin's expert testimony in appellate court cases upholding the law.
Read about AKTI's involvement in the changing Section 1244 of the Federal Switchblade Act
Support AKTI with your membership and contributions to our Legislative Fund to continue supporting repeals and rewrites of knife laws.