Summary of 2013 Alaska Knife Law Changes
Effective September 16, 2013
Legal for an adult to possess or transport a switchblade or gravity knife;
Includes bias toward closure in definition of switchblade and gravity knife to avoid confusion with assisted opening or one-hand opening knives;
No prohibition on manufacturing switchblades or gravity knives;
Minors under the age of 18 can only purchase a switchblade or gravity with written parental consent;
Reserves to the state, with limited exceptions for municipalities, the authority to regulate knives. (Knife Preemption)
Chapter No. 54
_____________________
Governor Parnell Signed 2013 Alaska Knife Bill
UPDATE (June 20, 2013) – Governor Sean Parnell signed several key bills today for gun and knife owners, including HB 33 introduced by Rep. Mark Neuman, which Alaska titled "Knife Rights Act."
The American Knife & Tool Institute thanks Rep. Neuman, who attended our session in 2011 explaining problems with several state's knife laws, for following through and getting knife restrictions in Alaska eliminated and definitions clarified.
Rep. Neuman introduced HB 33 after his initial bill HB 55 ran out of time to be considered in 2012. Thanks to the efforts of Rep. Mark Neuman and for support from Speaker of the House Mike Chenault, Representatives Max Gruenberg, Tammie Wilson, Charisse Millett, Steve Thompson, Kurt Olson, Chris Tuck, Dan Johnson, Saddler, and Grabriell LeDoux, plus Senators Peter Micciche, Cathy Giessel, Fred Dyson, Lesil McGuire, and Mike Dunleavy, Alaskans and visitors no longer need to be concerned about that is or isn't a legal knife in Alaska.
_____________________
House Concurs with Senate – Alaska Legislation Headed to Governor
UPDATE (April 12, 2013) – By an unanimous vote of 37-0 the Alaska House agreed to the amendments of the Senate to HB 33. Next step is signature from Governor. It will become effective 90 days from signing.
_____________________
Senate Approves Knife Legislation
UPDATE (April 9, 2013) – The combined legislation passed the Senate today with a vote of 20-0 and will now be sent back to the House for concurrence. It is expected this will happen quickly as the session ends in a few days. The Senate kept the original preemption language and new definitions for gravity and switchblade knives and added language that will
remove the prohibition on manufacturing switchblades or gravity knives;
allow an adult to possess or transport a switchblade or gravity knife;
allow a minor under the age of 18 to only possess a switchblade or gravity with written parental consent.
"As the bill passed through the Senate, I was pleased to work with Senator Fred Dyson of Eagle River on crafting legislation that allows an adult to own one of these gravity knives or switchblades," Representative Neuman said. "This legislation also provides new economic opportunity by making it legal to manufacture these specialty knives in Alaska. Alaskans are now provided the opportunity to possess and utilize these tools whether they are hunting, fishing, or on the job site."
_____________________
Two Key Alaska Knife Bills Combined
UPDATE (April 2, 2013) – Yesterday was a landmark day for Alaskan knife owners. HB 33 and SB 11 were combined. What is needed now before the session ends on April 14 is for HB 33 to pass the Senate and receive a concurrence in the House. Doing so will make it legal for an adult 18 years and older to own a Switchblade or Gravity knife. The American Knife & Tool Institute continues to stay in touch with Rep. Mark Neuman's office to provide support.
_____________________
SB 11 Moved Out of First Committee – Senate SB 11 Would Repeal Knife Prohibitions!
UPDATE (March 28, 2013) – SB 11 was passed out yesterday (4-0) from the Senate Committee on State Affairs and is now in the Senate Judiciary Committee.
A similar bill SB 11 was introduced by Senator Fred Dyson (R-F) in January and has been sitting in the Senate Committee on State Affairs. This bill would add the definitions of gravity and switchblade knives to include bias toward closure, and include knife law preemption but it would also in the words of the sponsor Senator Dyson:
"SB11 repeals the prohibition in the law for adults to possess knives identified in Alaska Statute as a 'switchblade' or 'gravity knife'; adds language that these knives may not be sold or transferred to a person under 18 years of age without the prior written consent of the person's parent or guardian; and further states that an unemancipated minor under 16 years of age may not possess a switchblade or gravity knife without the consent of a parent or guardian of the minor."
_____________________
Alaska Bill to Better Definite Switchblades and Enact Knife Preemption Passes House
UPDATE (March 26, 2013) – The Alaska House has passed HB 33 and it moves to the Senate.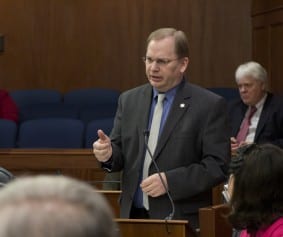 "House Bill 33 will protect Alaskans who carry one of these pocket knives from running afoul of local laws by reserving the right to regulate knives to the State, and define spring-loaded hunting, fishing, or utility knives as legal," Neuman, R-Su-Valley, said. "Spring-loaded knives are an important tool for working Alaskans, and our outdoorsmen and women. We shouldn't be punished nor lose our tools to seizure or forfeiture."
The Alaska Supreme Court, in State vs. Strange (1990), has also had to consider how to define gravity knife and switchblade in the absence of a statutory definition.
HB 33 now moves to the Alaska Senate for consideration and possible reconsideration with SB 11 (see below).
The Alaskan session ends April 15th, so contact your Senators and ak them to vote yes on this bill this year.
_____________________
"Knife Rights Act" Passes First Out of First Committee
UPDATE (March 2, 2013) – HB 33 has passed unanimously out of the House Committee on Judiciary.
_____________________
Rep. Mark Neuman Reintroduces Important Knife Legislation Titled "Knife Rights Act"
Anchorage, AK (January 16, 2013) – We're pleased to report that Rep. Mark Neuman of Alaska's District 15 reintroduced knife legislation that failed to receive action in 2012. For more background information see Alaska Knife Legislation Moves to Next Session.
Alaska House Bill 33 for 2013 will accomplish two important changes to Alaska's knife laws. First, the definition of gravity knife and switchblade knife will be revised to include our "bias toward closure" language which ensures that your everyday knives are not mistakenly categorized as illegal gravity or switchblade knives. See Understanding Bias Toward Closure and Knife Mechanisms for a full explanation of this terminology that the American Knife & Tool Institute has successfully used in legislation to protect knife owners.
Second, HB 33 will enact knife preemption so that state law takes precedence over city, county or other local knife laws. See About Knife Preemption for more background.
Thanks to Rep. Mark Neuman who has championed this bill since 2011 to assure knife rights thanks to the many cosponsors of this piece of legislation. The American Knife & Tool Institute was pleased to have Rep. Neuman attend one of our presentations on the importance of providing knife owners with clarity of definitions and consistency of laws throughout the state.
______________________________
Alaskans – Be sure you are signed up as a Free Grassroots Supporter to receive any email notices of Call to Action.*