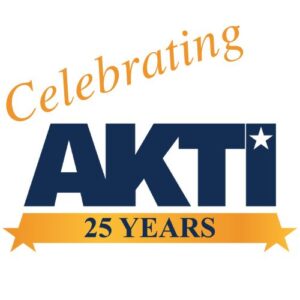 When the American Knife and Tool Institute (AKTI) was initially formed in 1998, several of the knife industry's leading brands quickly supported the start-up nonprofit.
As AKTI marks its 25th anniversary this year, some of those early member knife brands – and a few more – are helping celebrate the milestone by donating several knives and multi-tools.  The knives are engraved with AKTI's 25th-anniversary logo and will be used for auctions, giveaways, and prizes throughout the year.
"With the AKTI logo, these become special edition knives that speak to the cohesiveness and comradery of the knife industry," said Jan Billeb, Executive Director of AKTI.  "As we celebrate our successes throughout the year, we're fortunate to have so many knife brands helping to mark the occasion."
Ten different knives, including fixed blade, folding, kitchen knife, and one multi-tool style, are in the AKTI Anniversary Collection.  A complete set of donated items will be among the silent auction items at AKTI's 25th-anniversary celebration on the evening of June 2 at Blade Show.
While the Blade Show event is the first opportunity for knife enthusiasts to get their hands on the AKTI Anniversary Collection, there will be plenty of other chances throughout the year.
"We'll be using these knives at different times as we celebrate 25 years of work for the knife industry and knife owners," said Billeb. "We'll deliver additional details in our emails and social media accounts so folks who want these special knives will have the opportunity."
AKTI thanks these companies for their generosity in their donations, American Outdoor Brands, Buck, CRKT, Fox Cutlery, Gerber, Leatherman, Spyderco, and W.R. Case.
For any brands wishing to participate in this recognition of AKTI's successful advocacy, contact AKTI at (307) 587-8296 or email akti@akti.org.