Senate Bill Introduced to Protect Knife Owners Traveling from State to State
UPDATE (December 15, 2014) – Unfortunately this piece of legislation did not move in the current legislative session.  The American Knife & Tool Institute, headquartered in Senator Enzi's home state, has been assured that Senator Enzi will continue to work with us to re-introduce a bill to address the problem of knife owners traveling from state to state where knife laws can vary tremendously.
---
Cody, WY (January 27, 2014) – In response to the American Knife & Tool Institute's (AKTI) efforts to encourage consistent knife laws from state to state, U.S. Senator Mike Enzi (R-WY) introduced U.S. Senate Bill S. 1955 last week.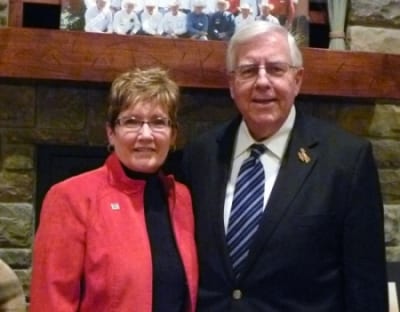 The bill, co-sponsored by Senator Mike Lee (R-UT) is also known as the "Knife Owner's Protection Act of 2014," and will solve problems for people traveling through states that have different knife laws from their home state or destination state.
AKTI has increasingly received questions and complaints from law-abiding citizens who carry knives and are confused about conflicting state laws and knife definitions. To help solve the problem, board members of AKTI met with legislators in Washington, D.C. in September 2013 to encourage consistent knife laws. We asked for support of legislative protection for knife owners and users when traveling with their knives.  In meetings with legislators AKTI presented examples of the problems knife owners have encountered.
Passage of the Knife Owners' Protection Act (KOPA) will allow citizens to transport knives over state lines for lawful purposes, even when state or local restrictions would otherwise prohibit possession of that specific type of knife or length of blade.
"As an outdoorsman and a hunter, I know that knives are an essential tool for sport and various occupations. The right to carry a hunting knife or pocket knife while traveling should be protected, even if you pass through a city or state that isn't knife friendly," U.S. Senator Enzi said.
"I'm proud to be working with the American Knife and Tool Institute and their members on this bill and I appreciate all their work on behalf of knife owners across America. With their help we can put an end to the charges, fines and arrests that happen to people lawfully traveling across state lines for carrying what is legal in most parts of the country."
The proposed Knife Owner's Protection Act is an important key to protecting everyone who travels with knives. The huge burden on knife users of trying to know, understand and comply with several states' laws will be replaced by these reasonable regulations:
Knife users may transport their knives by normal travel including overnight stops, common carrier misrouting or delays, and other emergency or normal stops related to a journey through states (provided there is no intent to commit a punishable offense).
Knives may not be directly accessible from the passenger compartment of the motor vehicle. If there is no compartment separate from the passenger compartment, then the knife must be in a locked container, glove compartment or console.
If transported other than by motor vehicle, a knife must be in a locked container.
An individual may carry an emergency knife or tool that has a blunt tipped safety blade or guarded blade, or both, for cutting seat belts. That type of knife or tool does not need to be locked.
KOPA does not apply to the transport of a knife in an aircraft where passengers are subject to screening by TSA.
"We were very pleased when meeting with legislators from several states that the Wyoming delegation of Senator Enzi, Senator Barrasso and Representative Lummis were eager to help us solve this problem for hunters, fishermen and other travelers," said Jan Billeb, AKTI Executive Director. "We sincerely thank Senator Enzi and his staff for taking the lead on our proposed legislation and we look forward to continuing to work with them through the legislative process."
While Senator Enzi was preparing exact wording for the proposed legislation, U.S. Representative Matt Salmon (R-AZ) introduced H.R. 3478 in the U.S. House, which is also known as the Knife Owner's Protection Act of 2014, reportedly at the request of another organization.
"While the House bill was slightly different than our proposal," said AKTI president Rod Bremer, "we agreed that Senator Enzi should introduce a bill with basically the same language as the H.R. 3478 in order to expedite the legislative process and assure success for knife owners."
After legislative counsel had drafted final bill language, the Senate offices for Senators Enzi and Lee consulted with Rep. Salmon's staff to make sure the bills concur. Similar language between the bills improves its odds of passing through both legislative bodies with less committee time and increases the chances of success of it becoming law quickly. Additional Senate sponsors are expected soon, including several of the legislators from AKTI members' states.
"We want to thank Dan Lawson, AKTI Legal Contributing Counsel, of the firm Meyer, Darragh, Buckler, Bebenek & Eck, for his assistance in writing the initial legislative proposal," said CJ Buck, AKTI Legislative Committee Chair, "and his invaluable assistance in meeting with legislators and staff and answering their questions."
S. 1955 has been referred to the Senate Committee on Commerce, Science and Transportation.
Sign up as a free Grassroots Supporter to receive updates on this legislation's progress and any possible Calls to Action.