UPDATE (July 1, 2012) – South Carolina's knife preemption bill HB 4609 failed to move this session. For more information on knife preemption see About Knife Preemption. The American Knife & Tool Institute continues to work with Rep. Mike Pitts and other South Carolina legislators for reasonable and responsible knife laws.
_________________________
South Carolinans – Be sure you are signed up as a Free Grassroots Supporter to receive any email notices of Call to Action.
_________________________
Cody, WY (March 26, 2012) – After hearing a presentation by CJ Buck, American Knife & Tool Institute (AKTI) Legislative Chair, AKTI President Bill Raczkowski and Dan Lawson, AKTI Legal Contributing Counsel, last fall about the importance of knives in the outdoors and the problems inconsistent laws create for individuals, South Carolina Rep. Mike Pitts offered to introduce knife legislation to help the residents of his state.
Dan Lawson provided technical assistance to HB 4609 which Rep. Pitts introduced the middle of January. HB 4609 will prevent any governing body of any county, municipality or other political subdivision in South Carolina from enacting or enforcing any local ordinance that regulates knives.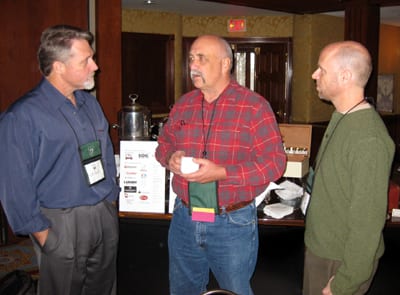 "As a former police officer in Greenville, I experienced first hand the problems for our citizens when laws regarding firearms and knives are not consistent from city to city or county to county," noted Rep. Pitts in visiting with AKTI Board of Regent members at the National Assembly of Sportsmen's Caucuses' annual meeting. "I was pleased to offer assistance to the American Knife & Tool Institute and its members in their ongoing effort to assure that the hunters and fishermen of our state are protected in their use of knives."
Rep. Mike Pitts serves as President of the Executive Council of the National Assembly of Sportmen's Caucuses (NASC). The Executive Council plays a critical role in protecting hunting and fishing rights and preserving our conservation heritage. He has represented District 14 in the South Carolina House of Representatives since 2002.
"Including knives in the existing firearm preemption found in Section 23-31-501 adds to the protection of the rights of South Carolina residents and visitors as knife users not only for outdoor activities, but in their everyday lives," commented CJ Buck, Buck Knives and Board of Regent of the American Knife & Tool Institute. "This adds to the American Knife & Tool Institute's success in South Carolina. In 2008 we removed language that made South Carolinians guilty of a weapon's violation for any knife with a blade over two inches in length. Now the standard is whether or not there is any criminal intent in using a knife as a weapon," he added.
AKTI President Bill Rackowski thanked Rep. Pitts, noting "The American Knife & Tool Institute is very pleased to work with legislators such as Rep. Mike Pitts who appreciate the value of knives as tools in Americans' daily lives."