Knives Available on NASC Silent Auction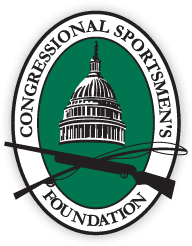 The American Knife & Tool Institute (AKTI) has proudly partnered for several years with the Congressional Sportsmen's Foundation (CSF), a network of pro-sportsmen elected officials that advance the interests of America's hunters and anglers – users of sporting knives.
The National Assembly of Sportsmen's Caucuses (NASC) Sportsman-Legislator Summit is the premier legislative event of the year that brings together state legislators, nonprofit organization representatives, key staff from state and federal fish and wildlife agencies, the outdoor industry, and other conservation policy professionals.  This two-day event was started by CSF in 2004, and representatives from AKTI have attended to network with bipartisan state legislators to advise, initiate and support legislation in their states that are pro-knife, pro-outdoor activities.
Members of the Congressional Sportsmen's Caucus have avidly supported AKTI's efforts to make sure that outdoor enthusiasts can use the knife of their choice without confusing and restrictive knife laws by introducing bills at our request on the state and federal levels.
With the coronavirus pandemic, CSF has turned the annual NASC summit into an online event, including a silent auction.  AKTI has contributed the knife package below to the online silent auction, which is now in progress but ends December 9, 2020, at 8:00 PM Eastern.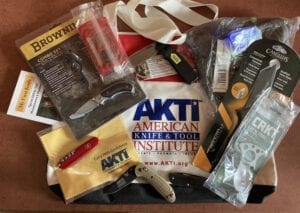 Item #137
AKTI canvas bag
Benchmade Mini Griptilian
Boker Plus
Victorinox Swiss Army Red Special
CRKT Homefront

CRKT Eat'n Tool
Camillus Beast

Browning Combo knife and bottle opener
Schrade cap
AKTI luggage tag
AKTI letter opener
AKTI My First Knife brochure