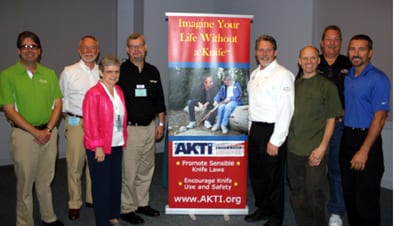 Atlanta, GA (June 10, 2012) – Each year Blade Magazine acknowledges the best of the industry at their annual awards banquet held during the Blade Show and International Cutlery Fair in Atlanta. The American Knife & Tool Institute was honored during this year's banquet with the Blade Magazine 2012 Industry Achievement Award.
Accepting the award on behalf of the American Knife & Tool Institute (AKTI) was Executive Director Jan Billeb: "It was a real pleasure to accept the Industry Achievement Award from Blade Magazine on behalf of the Board of Regents and all members of the American Knife & Tool Institute who have diligently worked since 1998 to ensure that our liberties to make, own or use knives or edged tools have not been further restricted, and to successfully remove knife law restrictions. We are pleased that Blade Magazine recognizes the achievements of our organization on behalf of the knife industry and all knife owners. There is still a lot of work to be done to make reasonable and responsible changes state by state, and we appreciate the support of the entire knife community."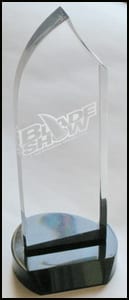 Most recently, in May, the Louisiana governor signed AKTI legislation that made it very clear that a knife with a bias toward closure is not an illegal switchblade. Bias toward closure language is a concept that has stood the test of time since AKTI introduced it in California over a decade ago. Several states, including Texas and Kansas, have since adopted it, as well as it being incorporated into the Federal Switchblade Act. This language clarifies that assisted opening knives are not classified as illegal switchblades or gravity knives. See more information about the bias toward closure concept and AKTI's past successes honored by Blade Magazine.
Currently, AKTI is working with legislators in South Carolina to pass preemption language, Pennsylvania to remove all knife restrictions, Michigan to remove the switchblade prohibition and other restrictions, Alaska to incorporate the bias toward closure language, as well as in several other states to remove or lessen knife restrictions.
AKTI President Bill Raczkowski, in an interview after the ceremony, commented, "Thanks to Blade Magazine for honoring AKTI with an Industry Achievement Award, acknowledging the proactive efforts of our organization. Our members sincerely appreciate the many ways that Blade Magazine and the Blade Show help us spread the word about the importance of AKTI's efforts to keep knives in American lives."
Also receiving an Industry Achievement Award at the banquet was Knife Rights, founded in 2006, for its legislative efforts.