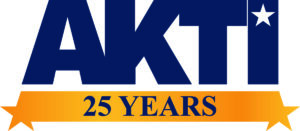 As 2023 gets underway, the American Knife and Tool Institute (AKTI) is proud to celebrate 25 years of serving as the leading, cohesive voice of the knife industry.
Founded in 1998 by a handful of knife companies that saw a need for a national nonprofit advocacy and education organization that embraced all segments of the knife community, AKTI has grown its diverse membership that includes the biggest and most visible brands in the knife industry alongside retailers, distributors, custom makers, and individuals.

Benchmade, Buck Knives, Gerber, and Spyderco were founding board members of the organization that has worked since its inception to provide valuable information, education, and collaborative problem-solving to address some of the most pressing issues within the industry. In true grassroots fashion, every industry segment, including publishers, individual knife makers, and other organizations, was encouraged to engage during the formative years.
"The issues AKTI has met head-on have certainly evolved over time," said Jan Billeb, who was named AKTI Executive Director at the 1998 Las Vegas SHOT Show announcement of the organization's formation and has remained at the helm of the organization ever since. "We've tackled knife ownership legislation and manufacturing prohibitions at the state and national level, counterfeiting, intellectual property, and improving knife education. Some of our efforts now include further revisions of state knife laws and addressing social media censorship of the industry."

Columbia River Knife & Tool, Blue Ridge Knives, The Hammond Group, KnifeCenter, and 23 individual members are among the original group that has supported the organization constantly since 1998.
Mark Schreiber, president of CRKT, is the president of AKTI's Board of Regents. He said he's impressed and buoyed by the organization's successes in 25 years of advocacy work within the knife industry.

"I'm most proud of AKTI establishing itself as the leader in thoughtful, cohesive change that has positively impacted the industry and knife owners," Schreiber said. "From changing legislation to educating the next generation of knife owners, AKTI has helped grow the entire industry."