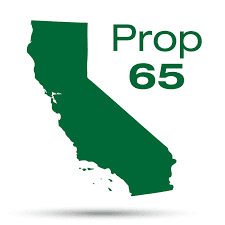 In response to proposed rulemaking amendments to California's Proposition 65 warning requirements, the American Knife & Tool Institute submitted the following comments of opposition on behalf of the knife industry.  The proposed changes would change the length of the warning, cause companies hardship to comply, and do nothing to address the reasons why o ver warning occurs.
March 24, 2021

Office of Environmental Health Hazard Assessment

The American Knife & Tool Institute (AKTI) is a non-profit organization (501(c)6) representing all segments of the knife industry.  Thank you for the opportunity to submit comments regarding the

Office of Environmental Health Hazard Assessment's ("OEHHA") Notice of Proposed Rulemaking: Amendments to Article 6, Clear and Reasonable Warnings Short-form Warnings dated January 8, 2021 ("Proposed Rulemaking").

AKTI does not favor the Proposed Rulemaking Amendments.  In 2015, OEHHA noted that the warning requirements needed to be overhauled to "reduce the number of unnecessary warnings, make the warnings more informative, and provide certainty for businesses who must comply with the warning requirements of the Act."  The current "long-form" and "short-form" warning requirements went into effect just over two years ago, following an extensive regulatory process that took years to complete.  These proposed changes do not provide any certainty for businesses. They will require our member knife companies who are currently using the short-form warnings to overhaul their Prop 65 warning programs completely.  OEHHA's guidance from May of 2019 told businesses that Article 6 had "no size limitations for which products could utilize short-form warnings."  With this change, a new, arbitrary 5-square inch or less surface area limitation has been applied.   This limitation does not seem appropriate, given the warnings and other wording that must be used to meet other requirements, and at times in multiple languages.

The Proposed Rulemaking will only add fire to the Prop 65 litigation landscape by providing additional opportunities for the filing of frivolous private enforcement lawsuits against businesses, including small concerns with as few as 10 employees.  From 2010 to 2020, the total number of 60-day notices issued by private enforcers increased by more than 346%, and during that same time period, businesses have settled more than $185 million in Prop. 65 lawsuits.  This litigious climate puts a great deal of pressure on companies trying to manage their Prop 65 compliance plans.  Changing the length of the Prop 65 warning will not address the systemic reasons why over warning occurs.  It will cause additional confusion and impose businesses with new, unnecessary costs.

OEHHA has not provided evidence of whether changing the warnings will make them more effective from a consumer perspective.  Are the short form warnings that disclose that the product may cause exposures to chemicals (in general) that California believes may cause certain harm sufficient?  Is there evidence to show that a warning is more effective to a consumer if it identifies the actual chemical name (that formal name that may or not mean anything to consumers)?

The Proposed Rulemaking will have an adverse economic impact on businesses of all sizes currently using the short-form warnings.  In order to comply with these new requirements, businesses will need to invest time and capital to update labels and online warnings –   an unnecessary financial hit utilizing resources that could be better spent in other areas, particularly as companies are trying to deal with the many challenges brought on by the COVID-19 pandemic.

For the reasons noted above, AKTI requests that the Proposed Rulemaking amendments to Article 6 be withdrawn.

Best regards,

Jan Billeb, Executive Director
John Sullivan, AKTI President
Proposition 65 – What is it? and How Does it Impact Me?