Would clean up Nevada law regarding automatic knives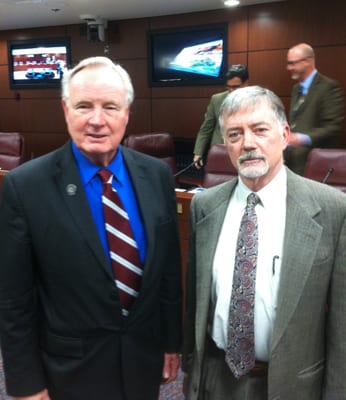 UPDATE (March 3, 2015) – AKTI legislative consultant, Dan Lawson, testified at a public hearing of the Senate Committee on Judiciary in support of SB 141 to make substantial changes to Nevada knife laws. Law enforcement testified in opposition to removing the archaic and undefined terms dirks and daggers.
You can review the testimony and questions on AKTI's YouTube channel.
The committee will be discussing the legislation further. Contact them now and politely ask for support of legislation to remove restrictions for knife users.
---
(February 12, 2015) –  The American Knife & Tool Institute thanks Nevada State Senator Don Gustavson (R-14) for introducing 2015 NV SB 141 to improve Nevada state knife laws.

Senate Bill 141 will clean up some serious inequity in Nevada state knife law by removing prohibitions on automatic knives.
Nevada law currently provides that a county sheriff may issue a permit authorizing the sale of switchblade knives only to persons from another state, territory or country. N.R.S. 202.355(3)(a). In other words, a person visiting Las Vegas from another state or country could legally purchase a switchblade from such a permitted vendor. The sale has the blessing of the state, as long as the knife does not stay in Las Vegas.
Thanks to an active Facebook fan of AKTI from Nevada, last year we were put in touch with Senator Gustavason to discuss possible revision to the Nevada knife laws.
With Senator Gustavson's agreement, last summer his legislative assistant began drafting wording for the bill and working with AKTI to plan for support from other Nevada legislators.  AKTI has been working with Senator Gustavson's office to educate other legislators on the merits of this change. Senator Settlemeyer agreed to co-sponsor and Assemblymen Fiore, Dickman, Jones, O'Neill and Wheeler are joint sponsors.
The bill has been referred to the Senate Committee on Judiciary.  Contact them now and ask for support to change Nevada knife law.  A hearing on this bill will be held on February 27th and AKTI has been asked by Senator Gustavson to be present.
---
The 2015 session of the Nevada Legislature began on Monday, February 2, 2015 and is scheduled to adjourn on June 3rd.
Contact Your Nevada State Senator
Contact Your Nevada State Assemblyman
Track Nevada State Legislation
---
Nevadans – Sign up as a Free Grassroots Supporter to receive any email notices of Call to Action.